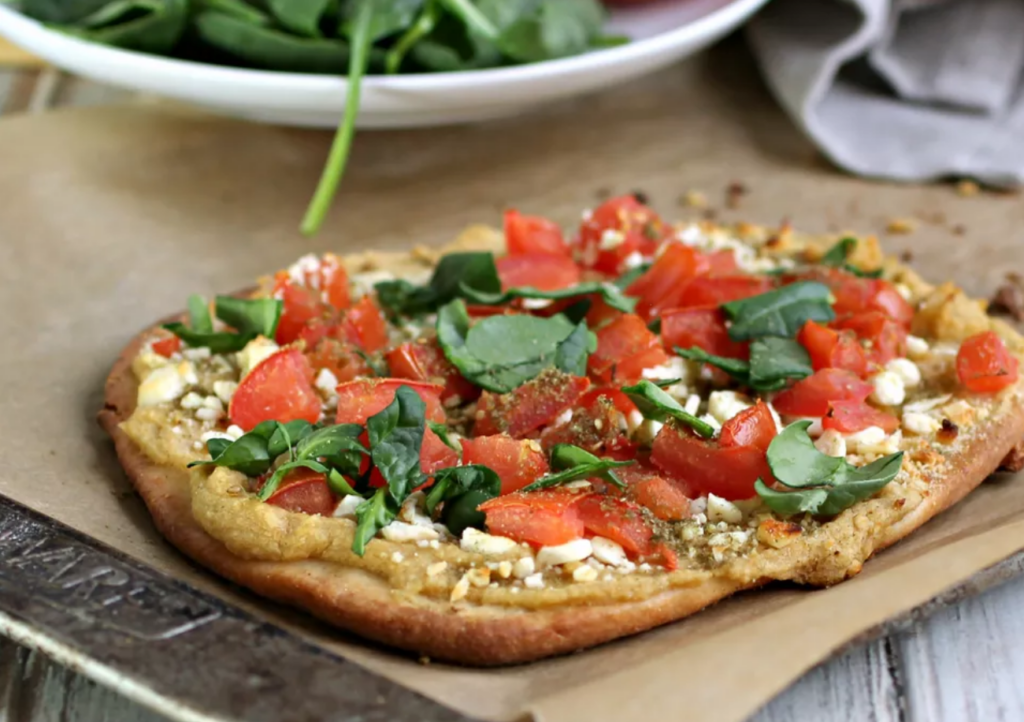 Pizza is not exactly a Middle Eastern staple, but when you're used to cooking with Middle Eastern ingredients and spices, it's easy enough to create a little fusion. While this pizza may look like the Italian flag, it's flavors and ingredients are firmly rooted in the Middle Eastern kitchen.
Pita bread or naan makes an easy substitute for standard pizza dough and gives you the crunchy, thin-crust effect of a New York style pizza. If baking hummus in the oven sounds strange to you it's only because you haven't tried it.
Gooey mozzarella cheese is nice but sharp, tangy feta is so good. The green comes not from basil, but from baby spinach leaves. Finally, with all due respect to oregano, za'atar is everything!
Recipe courtesy Anita Schecter from The Spruce Eats.
Middle Eastern Pizza
Ingredients:
1 round of pita bread or naan bread
2 tablespoons hummus
2 tablespoons feta cheese (crumbled)
1 tomato (seeded and diced)
1/2 cup baby spinach leaves (roughly chopped)
1/4 teaspoon za'atar spice
Directions:
Gather the ingredients.
Preheat the oven to 400 F.
Spread the hummus evenly on the pita or naan bread. Sprinkle with the tomatoes, crumbled feta cheese and za'atar.
Place the pizza on a baking sheet lined with parchment paper and bake for 15 to 20 minutes or until the bread is a light golden brown.
Remove from the oven and sprinkle with the chopped spinach.
Serve and enjoy!