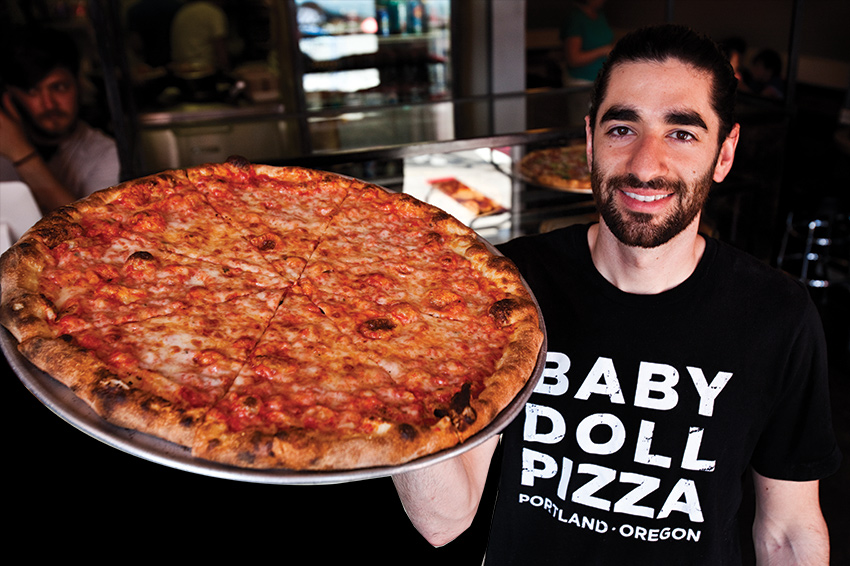 Photos by Claire Cushing
Baby Doll Pizza owner Travis Miranda was given an important piece of advice by his late Grandpa Irv: "If you want to make a buck, kid, do pizza in Oregon." So, after moving to Portland from New York (with a stop in Eugene), he opened a pizzeria in the burgeoning foodie enclave on Southeast Stark near 28th Street.
"There was a need for a good-quality slice pizza place in PDX; I felt that a pizza shop was a good starting point for a food business venture," Travis explains. Baby Doll Pizza opened its doors in June of 2012.
Food is a family affair for Travis. His uncle owns Barry's Espresso Bakery & Deli in Eugene (804 E 12th Ave.), which Travis describes as a "New York-style deli with Jewish delicacies." Travis worked there for three years after graduating from the Culinary Institute of America in Hyde Park, NY.
Travis imbues his own enterprise with a New York influence: "We do the New York-style, crisp thin crust." He takes special pride in his housemade ingredients. He makes his own sauces, grinds his own meats, and even makes the ricotta and mozzarella cheeses from scratch.
While customers love to order the classic cheese and pepperoni slices, Baby Doll Pizza also sells a lot of special vegetarian pies like spinach with tomato, ricotta, mushroom and garlic; roasted peppers with feta, olives, artichoke hearts, garlic and red onion; and the decadent white pie, a yummy combination of ricotta, mozzarella, parmesan, caramelized onions and garlic with a tasty sesame crust. "Our vegan slices are a big hit, too!" says Travis.
Baby Doll offers a rotating selection of local and regional wines and beers on tap and by the bottle. Caprese, green and Caesar salads as well as housemade ice cream round out the menu. (Last fall, Travis acquired a commissary kitchen, which allows more space for ice cream preparation.) The pizzeria delivers to selected areas on Portland's Eastside.
Travis has a lot of exciting culinary plans. For example, he recently acquired Contrary Coffee on Southwest Fifth Avenue. Of this venture, he remarks, "It's a great location, and we are planning a great coffee concept for the space. I really like and appreciate the 'third wave' coffee shops that are opening. I would love to take that dedication and approach to coffee, but make it approachable for everyone without the pretension."
Travis caters bar and bat mitzvah celebrations through Congregation Shir Tikvah, where his mother is a longtime member. He also donates pizza to families in need.
Baby Doll PIzza: 503-459-4450 | 2835 SE Stark St., Portland | babydollpizza.com