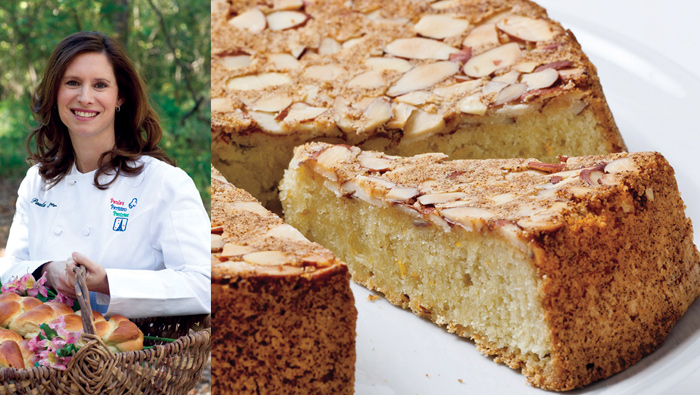 Pastry chef Paula Shoyer originally intended to be a doctor or lawyer. "I always loved to bake my whole life," she explains. "But it never crossed my mind that it would be a profession. No one said to go to culinary school. I went to college to be a doctor and ended up being a lawyer for six years. Then I lived in Europe, where I went and took a pastry course. The next thing I know, I have a catering business. It's one of those stories where an opportunity presents itself." These days, Paula juggles a busy schedule of baking, writing, public speaking and consulting. "I'm freelancing, making appearances for groups of 20-200, writing articles and doing consulting for food companies who want better kosher desserts.
I really just love anything related to food," she says.
Paula's culinary travels have taken her all over the world. Last year, she visited Israel to promote her third cookbook, The New Passover Menu. Sometimes she can be found in France, where she trained as a pastry chef and says, "I've written articles about kosher food and bakeries in Paris." She has even traveled to Hong Kong to connect with the Jewish community.
Soon Paula's itinerary will bring her to Portland. On Dec. 2 at 7:30 pm, she will lead a special Hanukkah baking workshop for women in connection with the Portland Kollel women's group Shine. When asked what she usually demonstrates at this type of event, she says, "I like to do a cake, a cookie, a pie or tart. I'll do my open-faced galette tart, and for a cake I'll do an almond and olive oil cake. I also try to make sure that the menu I choose touches on different levels of baking. I like to teach a lot of cooking and baking tips that people will be able to take home with them."
One of the challenges Paula most enjoys is optimizing the flavors and textures of dairy-free baked goods. She often uses a solid fat for cookies, while she is more likely to use vegetable or canola oil in a cake. She finds inspiration in the many dairy-free ingredients at the market.
"If I want to make a carrot cake with cream cheese frosting, I can make soy-based cream cheese. And there are so many wonderful milk substitutes … cashew, macadamia nut milk. Today it's so much easier than it used to be."
Paula also likes to come up with recipes for gluten-free pastries. "A lot of people are doing gluten-free these days. I use ground almonds a lot as a substitute (for flour)."
The chef isn't afraid to experiment. "Sometimes I have to throw something in the garbage. But most of the time I'll learn from it anyway."
For information on the Hanukkah baking event, contact Eve Levy at eve@portlandkollel.org or 720-315-4267. For tickets, visit eventbrite.com/e/the-kosher-baker-tickets-18802374408.
ALMOND AND OLIVE OIL CAKE
Serves 8 to 12
The use of olive oil in cakes dates back farther than the Hanukkah story itself. Olive oil was used in baked offerings at the Temple. This is a super easy teatime cake that reminds me of simple cakes I have eaten in Italy. If you are feeling decadent, serve this with whipped cream.
¾ cup (90g) sliced almonds (with or without skins)
1 cup (200g) sugar
3 large eggs
½ cup (120ml) extra virgin olive oil
1 cup (125g) all-purpose flour
½ cup (60g) ground almonds
1½ teaspoons baking powder
¼ teaspoon salt
1 teaspoon almond extract
½ teaspoon orange zest (from one orange)
Spray oil containing flour
Preheat oven to 350°F (180°C). Trace an 8-inch (20-cm) round pan on parchment paper and cut it out with scissors. Spray the oil and flour on the pan, press in the parchment circle; and spray the top of the parchment and sides of the pan. Sprinkle and spread the sliced almonds on the bottom of the pan to cover it.
In a medium bowl, beat the sugar, eggs and olive oil for about one minute at medium speed until creamy. Add the flour, ground almonds, baking powder, salt, almond extract and orange zest and beat until combined. Pour the mixture over the sliced nuts. Bake for 35 minutes, or until a skewer inserted in the middle of the cake comes out clean.
Let the cake cool in the pan for 10 minutes and then run a knife around the sides. Turn the cake onto a wire rack and let it cool. Serve the cake almond side up. Store it covered at room temperature for up to four days or freeze for up to three months.
Kosher Baker Paula Shoyer in Portland
Baking demonstration: 7:30 pm, Dec. 2, at Bargreen Ellingson Test Kitchen, 3232 NW Industrial St. $36.
VIP Package: 10 am-noon exclusive baking session with Paula Shoyer, autographed cookbook (includes 2 tickets to evening session). $180.
eve@portlandkollel.org or 720-315-4267