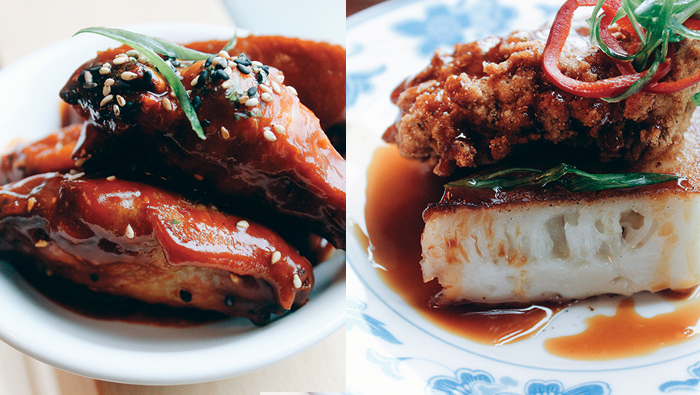 As the weather starts to cool down, there's nothing quite like a comforting bowl of ramen. It's so satisfying to slurp the thin wheat noodles. But sometimes, it's hard to find ramen that doesn't contain pork. Fortunately, pork-averse diners can enjoy an alternative at the Asian fusion restaurant Boke Bowl, which has two locations in Portland.
Boke Bowl chef Patrick Fleming makes an art of the vegetarian ramen broth. "I have a caramelized fennel broth; it's vegan and gluten-free. I take a lot of fennel, using a San Francisco chef's technique, kind of like you would caramelize an apple. I cook slowly over medium-high heat, and then put in anise, juniper and Szechwan peppercorns. Then I deglaze with sake and end with a bunch more fresh veggies like celery, onions and fresh fennel. So there's a couple different layers of fennel. Then I season with tamari and cook it down with mirin and sake."
Ramen isn't the only treat that Patrick has in store for his diners. Surprisingly, one of his most popular items is the Brussels sprouts salad. "It's flash-fried Brussels sprouts with house-brined smoked tofu and a Thai fish vinaigrette… it doesn't have any shellfish, maybe anchovy. Even people who don't like Brussels sprouts like that salad."
Customers at Boke Bowl can "accessorize" any soup or salad with add-ons like fried chicken or slow-poached eggs.
Another popular menu item is the house-smoked brisket steamed buns. Explains Patrick, "I really like comfort food. There's a reason why American barbecue is so popular – it's smoky, sweet and a little spicy. I think of that when I am creating something."
Patrick thinks about the commonalities of various flavor profiles when brainstorming a new dish. "The Carolinas and Korea always have … salty, sweet, smoky, spicy. It's interesting on the palate."
He uses a Chinese mustard base with sugar and apple cider vinegar on his brisket steamed buns.
The weekend dim sum brunch at Patrick's Northwest location is especially friendly to special diets. Those who find it frustrating to wade through all the pork dumplings and buns at some places will have no issues at Boke Bowl. "That's what's great about our dim sum; it's really unique, with a lot of vegetarian and vegan items, non-pork based items. Jewish customers come and they love it. And we have a lot of offerings for young and old people; our food is not too spicy."
Patrick's latest project is Boke Dokie, a food cart that features his Korean fried chicken and fried tofu sandwiches. He's especially proud of his tofu. "Tofu is something I enjoy, but (I felt like) no one could season it well enough. We get locally made tofu and brine it in a salt, sugar, anise and juniper mixture for a couple days, and then cold-smoke it. We fry it to order; it is tasty and flavorful."
Boke Bowl provides catering services both on- and off-site, and delivery is available through various services such as Caviar and Delivery Dudes.