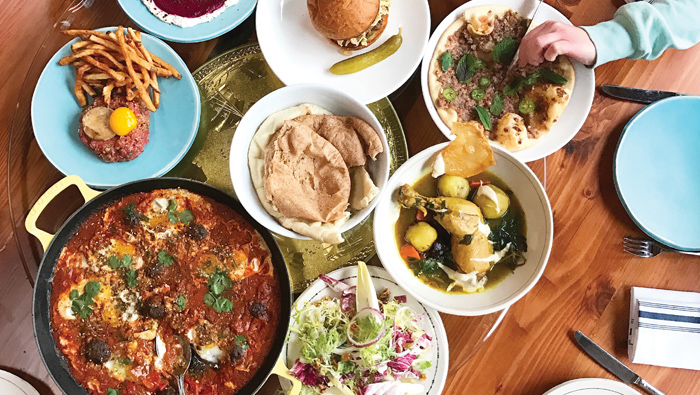 For many years, Chef Jenn Louis has been known for her handmade pasta and flavorful New American cuisine. But a recent trip to Israel left her so spellbound that she did a culinary 180. Jenn explains, "There's this one restaurant I went to just outside of the Old City in Jerusalem. We sat down, and they brought all these different stews and braises and pickles and sauces and spreads. And it was just like the most soulful table of food ever. And it just made me so happy." When she returned to Portland, she set about transforming her award-winning Lincoln Restaurant into the Israeli-informed Ray.
Jenn feels that the depth and breadth of Israeli cuisine are not often represented outside of the country. She aims to change this with Ray, which offers a stunning menu of "vegetable-forward" food accented with harissa, sumac and ras el hanout. There are small and large plates and vegetables, as well as two salads, variations on hummus and fresh breads. The cocktail menu is populated with beverages that tickle the Jewish funny bone: "Call Your Mother" and "Manischewitz Sour."
The bright magenta beet hummus, which is served with lavash, plays the natural sweetness of beets against the sour tang of labneh. It's really hard not to fill up on the addictively soft, hot bread. Salted dates come with a surprise of almonds in the middle.
Lentils and rice with fried onions, a dish known as mujaddara, is possibly the best version this writer has tried. Jenn offers a bit of biblical history about the dish: Jacob purportedly bought Esau's birthright with it.
Jenn has crafted Ray's menu to offer something for everyone. "The cuisine naturally accommodates vegetarians, vegans, gluten-free, dairy-free, so it's very inclusive," she says. Carnivores can order the skirt steak or braised lamb, while vegetarians will find options including falafel with Israeli pickles, shakshuka and Israeli salad. Kids are sure to enjoy the shawarma fries and a lamb burger with corned beef bacon. (Families might opt to sit near the TV and two retro video games.)
Desserts include mandelbrot, chocolate cake and this writer's favorite: a moist lemon olive oil cake made crunchy with semolina, served with a dollop of whipped cream and candied citrus peel. Fresh mint leaf tea is an excellent accompaniment.
Reservations are highly recommended.
Ray: 3808 N Williams, raypdx.com, 503-288-6200