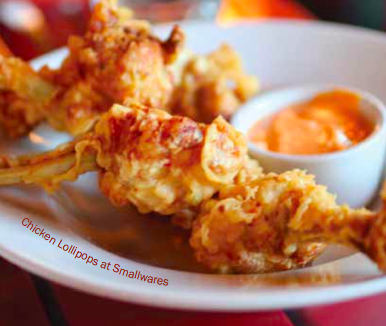 Summer is the perfect time to linger over a selection of small plates. Portland's restaurants take advantage of the season's fresh produce, creating dishes with a variety of tastes and textures. A light meal of small plates stimulates the palate without overwhelming the appetite. Enjoy an evening walk along the waterfront, and then sample some of these delightful offerings.
No one does small plates like the Spanish (and the Catalonians, for that matter). At the tapas bar Ataula (1818 NW 23rd Pl., 503-894-8904) you can choose from a variety of Spanish/Catalonian items like tortilla de patatas, organic greens in a sherry-shallot dressing, tuna es- cabeche and salt-cod fritters served with smoked piquillo aioli. Sop up the garlic mayo with pa amb tomaquet (bread with tomato and extra-virgin olive oil).
Davenport (2215 E Burnside St., 503-236-8747), the brainchild of former Evoe chef Kevin Gibson, serves a con- stantly changing menu. The small plates are outstanding. Recent selections have included salt cod fritters with Seville aioli, roasted smelts and roasted beets with pistachios. If you can't get a reser- vation, don't be dismayed; the restaurant accepts walk-ins.
The lovingly restored Ladd Carriage House is the site of the gastropub Raven & Rose (1331 SW Broadway, 503-222-7673). The pub's menu of small plates includes a cheese and chutney tasting as well as Welsh rarebit made with a sauce of Logsdon Farmhouse ale and English cheddar. Finish your meal with a hefty slice of mud pie with a scoop of salted-caramel ice cream.
Ración (1205 SW Washington St., 971-276-8008) offers up a modernist interpretation of the Spanish small plate using ingredients like smoked tea butter and sous vide eggs (Ferran Adrià would be proud). The restaurant's small plates are almost too beautiful to eat. Curds of housemade ricotta lie beneath shoots of green garlic, yellow violet petals and cipollini, while brined Oregon cod is enhanced with black garlic puree and black sesame crackers. Sit at the bar and watch the artists at work. If you're a vegetarian or pescatarian, call the restau- rant the day before you visit and order a special five-course tasting menu.
While the Sapphire Hotel (5008 SE Hawthorne Blvd., 503-232-6333) is known for its creative cocktails, the lounge also serves an appealing menu of small plates. You can share a dish of artichoke and arugula dip, or nibble on some sesame-marinated ahi tuna poke with avocado. Small jazz groups perform on Sunday nights from 8 to 10 pm.
True to its name, Smallwares (4605 NE Fremont St., 971-229-0995) is built entirely upon the concept of small plates. The restaurant's "inauthentic Asian" menu features yummy chicken lollipops with sriracha mayo, a salad of beets and pears dressed with a basil- citrus aioli, and parsnip miso soup. Reservations are recommended for the 40-seat restaurant.