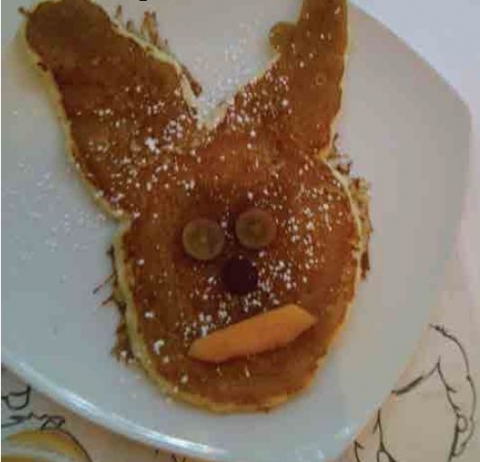 Family is still in town, and you've cooked up a storm for Hanukkah – who has time to make breakfast? Fortunately, Portland abounds with a variety of morning meals from stick to-your-ribs scrambles to dim sum. Delight your kids with a make-your-own pancakes outing or impress your elders with a breakfast fit for Julia Child.
Broder: Get in line. People come from miles around for the grilled fruit fritters and Danish pancakes with lemon curd at this renowned Scandinavian café. Iron-skillet baked eggs are served with walnut toast and your choice of additions like arugula, chèvre and shaved romanesco – or try baked Northwest salmon with dill, shallots and preserved lemon. Don't forget to sample the smoked trout Swedish hash.
2508 SE Clinton St., 503-736-3333. Brunch served until 3 pm. First come, first served.
Daily Cafe: This casual café is a favorite haunt of Pearl denizens who enjoy a changing menu of brunch specials and pastries. The steel cut oats with brown sugar and bananas is a healthy and tasty way to start the day.
902 NW 13th Ave., 503-242-1916. Breakfast served until 11 am on weekdays, all day Saturday and till 2 pm on Sundays.
The Heathman Hotel: A brunch at the Heathman is always a treat. It is hard to beat the decadence of Belgian waffles with pumpkin butter and Chantilly cream or fluffy omelets overstuffed with lox and cream cheese. Julia Child's famous oeufs mollets are on the menu (just ask for them without the short ribs). Healthy eaters can order the curried squash tofu hash or the house granola with honey yogurt. There are even bunny-shaped pancakes for the kids!
1001 SW Broadway, 503-790-7752. Breakfast served till 11am on weekdays, brunch until 2pm on weekends. Reservations recommended.
Mama Mia Trattoria: This beloved Italian restaurant has recently been lauded for its creative weekend brunch menu. Housemade rosemary scones, brioche French toast, polenta pancakes and four-egg, four-cheese scrambles served with Yukon Gold potatoes are sure to bring a smile to everyone in your family. Make sure to try the house-cured salmon Benedict. There are also vegetarian, vegan and gluten-free options for all diets. (Editorial note: Mama Mia is a personal favorite of this columnist.)
439 SW 2nd Ave., 503-295-6464. Breakfast served from 9 am-1 pm on
Saturdays and Sundays.
Slappy Cakes: This super-fun pancake joint has recently become an international sensation; so far, it has opened new locations in four Asian countries. Lucky Portlanders don't have to fly to Tokyo to fry their pancakes right on the table. You can choose from six different batters and a list of sweet or savory mixins. Have a sweet tooth? Create a tropical delight with dried pineapple, shredded coconut and bananas. Or go the savory route with vegan sausage and local goat cheese. Top your creation with crème fraiche, organic yogurt or lavender honey. Don't feel like pancakes? No worries – there are blintzes, a seasonal vegetable scramble and huevos rancheros.
4246 SE Belmont St., 503-477-4805. Open weekdays from 8 am-2 pm, weekends from 8 am-3 pm. Waits are long during prime brunch times.
Tasty n Alder: No discussion of the Portland brunch scene is complete without mentioning the mini-Tasty empire. The lines are long for Tasty n Sons, Chef John Gorham's original restaurant in North Portland, but you can enjoy some of the same menu items (with a minimum of wait time) at Tasty n Alder downtown. Stack up the small plates (chocolate potato doughnuts, baked prunes with Taleggio cheese, pineapple muffins) or go for something more substantial (baked egg bread pudding, frittatas with butternut squash, leeks and Gruyère). No matter what you order, you are sure to leave with a full stomach.
580 SW 12th Ave., 503-621-9251. Brunch from 9 am-2 pm. Reservations for 7-10 people only.
Toast: A local favorite since 2007, Toast serves up impossibly generous breakfast dishes. Take a stab at the "Rain Man and Rain King," an overwhelming plate of sautéed veggies, greens and potato hash topped with a poached egg and parmesan, or try your luck with the "Eye Popping Omelet," which is stuffed full of herbed ricotta, spinach and red peppers. Health nuts may opt for organic oatmeal or house-made granola – and, of course, toast!
5222 SE 52nd Ave., 503-774-1020. Open from 8 am-2 pm daily.
Wong's King: For a little something different, head over to the Jade District. As you sit at a large round table, you can watch endless carts full of delicacies go by. The servers lift the lids on a variety of steamed, fried and baked items like steamed rice-flour chicken buns, sticky rice in lotus leaves, turnip cakes and even vegetarian "goose." Your kids are sure to love the sesame-studded donuts filled with sweet red bean paste.
8733 SE Division St., Suite 101, 503-788-8883. No reservations during dim sum hours (9:30 am- 3 pm).
Kerry Politzer is a lifelong foodie who moved to Portland two years ago. She has written for Dessert Professional, IN New York, and WHERE Traveler.