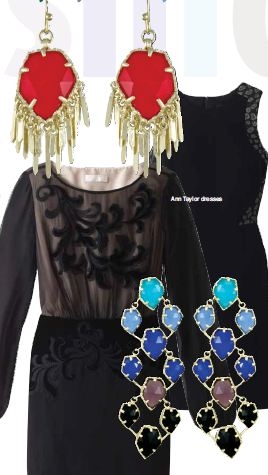 Since the economy took a nosedive, I have witnessed and experienced a cooling-off period in fashion. Prior to 2008 when the economy was hot, dressing chic, accessorizing to the max and frivolous shopping spending were the norm. Since then, spending and dressing have become largely more practical as well as more creative, as we have found ways to stretch our shopping dollar to maintain a sense of style and freshness in our wardrobes.
This year, unlike the most recent years, I'm ready to go glam again – especially for New Year's Eve! I'm ready to spend a little, dress up a little and celebrate me and my style a little. Most importantly, I'm ready to have fun with fashion again. I hope you are too! Here are my top picks for a glamorous New Year's Eve:
Extensions – There are so many fun, fashionable hair extensions available now that look amazing and make you feel amazing. In the past, they have been expensive and time-consuming to put in. However, new products like Platinum Seamless are affordable, last for weeks and take just one hour to complete.
Dangly earrings – Nothing says glamour like brightly colored chandelier or long earrings. So bright and bold – a must for New Year's Eve! I love Kendra Scott's jewelry, which you can customize by color and more.
Dresses – Go black, go bold or stay home! An old standby and wardrobe staple is the little black dress. Pair a fab new black cocktail dress with your hot new hair and long earrings and you're instantly glamorous. Or this year go bold with bright colors in orange, red and more. You'll instantly feel like the life of the party in a brightly colored party dress. And the more color, the fewer accessories you need; opt for a black patent shoe and bag and you're done!
To crown Kendra Scott's year of globe-trotting, she entices you with one last world excursion, this time to the majestic land of snow-capped mountains and a skyline lit by the beautiful aurora borealis. Inspired by the northern lights, a breathtaking rainbow in the night sky, glimmering, iridescent stones like iridescent drusy, gunmetal drusy and iridescent agate come to life in this brilliant collection. These dazzling gems from Kendra Scott's Aurora Collection epitomize the enchantment of the holiday season.
Kira Brown is a certified personal stylist and fashion writer. Kira has interviewed many fashion icons including Tim Gunn, jeweler Neil Lane, international makeup artist Jemma Kidd and Ken Downing of Neiman Marcus. Kira also offers virtual style consultations for women and men. Contact her at kira@fashionphoenix.com.