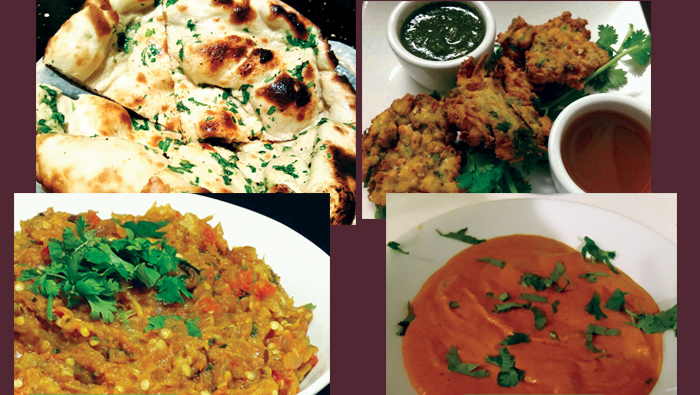 Fans of the beloved Bombay Cricket Club were crestfallen to find that it had closed after 21 years. Diners loved the restaurant's comprehensive menu of Indian and Middle Eastern specialties. Fortunately, the excellent Maruti Indian Restaurant has opened in the club's place. And while Maruti may not boast the most extensive menu, its offerings are tasty, healthy and completely vegetarian – a bonus for those who want to keep their meat and dairy separate.
Co-owner Rudra Parmar describes Maruti's cuisine as "homecooked-style food for the public." The London-born Parmar moved to the United States in 2011 and found something missing in the Indian restaurants on the West Coast. Together with his wife, restaurant founder Falguni Khanna, he resolved to create a restaurant that served "pure Indian food, how it should be." He explains, "We don't cut any corners. Our food is a blend of Gujarati and Punjabi cuisine, and we've created a menu where you don't miss the meat."
Maruti's menu consists of a selection of small plates, salads, biryani dishes and main courses. Parmar is particularly proud of the restaurant's bread. "We make the dough in-house and measure each one to make sure that it's correct. A lot of restaurants just roll out the dough randomly, but we measure each one to make sure it's perfect." Vegan butter is available.
Parmar recommends that a first-time customer start with an apple-avocado salad made with organic mixed greens and a plate of the paneer fritters. "(The fritters) are not heavy, the taste is amazing." Then, diners can enjoy the paneer tikka masala, which is Indian cheese in a creamy tomato sauce, and a smoky eggplant dish known as baingan bharta. "We also have amazing cocktails," says Parmar.
Maruti offers traditional Indian desserts as well as two housemade raw vegan pies that are made with cashews and almonds. The restaurant owners, who are the parents of a 3-month-old girl, have also made sure to offer a kids' menu.
Everyone will find something to enjoy at Maruti Indian Restaurant. "You don't have to be a vegetarian, just check us out. We cook with a lot of love into our food," says Parmar.
Maruti Indian Restaurant: 1925 SE Hawthorne Blvd., 503-236-0714, maruti-restaurant.com. Closed Tuesdays.