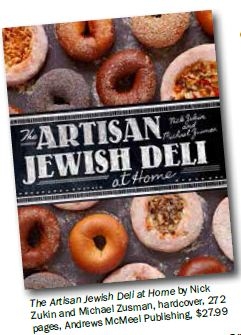 Have you ever lamented the lack of Jewish cuisine in your neighborhood? That old standby, the traditional delicatessen, increasingly seems to be something of the past. Time was, you could stop by your local deli for a pound of smoked whitefish salad or a quart of matzo ball soup. Now, unless you are lucky enough to live near one of the last thriving delis, you must rack your brain for Bubbe's beloved recipes.
With the publication of "The Artisan Jewish Deli at Home," Nick Zukin and Michael Zusman aim to fill this void. Zukin, co-founder of Portland deli Kenny & Zuke's, and Michael Zusman, a food writer and baker, have compiled a cookbook that includes 100 recipes for Jewish dishes. The recipes range from traditional to modern, decadent to diet-friendly. While some of the recipes have their origin in the well-known Caplansky's and Stopsky's delicatessens, others come courtesy of the Zukin and Zusman family kitchens. The cookbook is peppered throughout with interesting tidbits of Jewish culinary history. For example, did you know that pastrami sandwiches originated as an on-the-job treat for New York
garment workers?
The writers bring a Portlandian artisanal focus to their conception of Jewish cuisine. Their Backyard Barbecue Pastrami recipe provides instruction on how to brine, spice and smoke your own pastrami; the elaborate process takes about five days. The recipe for Stopsky's Pretzels, which includes food-grade lye, necessitates the use of rubber gloves and eye protection; the homemade dough rope is fermented for 24 hours before baking. But don't be intimidated – the Chunky Ginger Applesauce takes about 20 minutes to prepare, while the Herbed Matzo Brei and Bagel Chips couldn't be simpler. While the cookbook includes plenty of traditional favorites like knishes, latkes, chopped liver and brisket, you might be surprised by the Chinese Broccoli, Pastrami and Cheddar Scones, and Zucchini Latkes with Tomato Relish. There is also a recipe for Steak-n, a beef-based substitute for bacon, and a Left Coast Gefilte Fish made with salmon and halibut.
Weight watchers will appreciate Zuke's 'Diet' Salad and Deli Health Salad, while schmaltz lovers will learn how to render chicken fat and use it in recipes like Caplansky's Smoked Meat Knishes and Wise Sons' Corned Beef Hash. Dessert is not neglected; there is a whole chapter devoted to rugelach, hamantaschen, babka and macaroons. The end of the book contains a helpful appendix of sources for hard-to-find ingredients, as well as a list of some of the authors' favorite artisan delis. Omitting traditional favorites like Montreal's Schwartz's Deli and New York's 2nd Avenue Deli, they focus on newer entries into the deli scene: DGS Delicatessen in Florida, Josh's Delicatessen & Appetizing in Washington, D.C., and, of course, Portland's Kenny & Zuke's Delicatessen.
For more information about The Artisan Jewish Deli at Home, visit facebook.com/ArtisanJewishDeli.