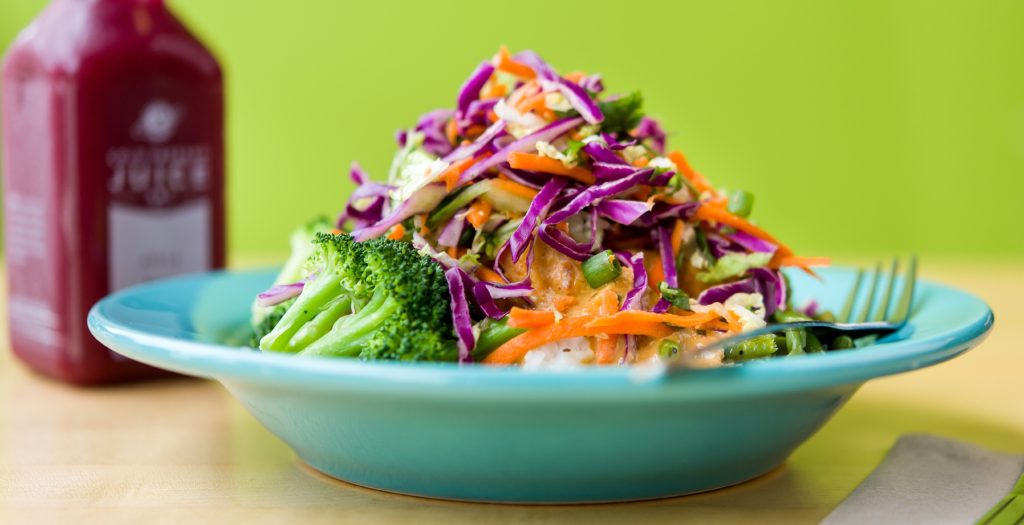 PHOTO: Thai Bowl with brown rice, marinated tofu, garlic green beans, steamed broccoli, cilantro lime slaw and peanut-lemongrass sauce.
For almost 20 years, Laughing Planet has been one of Portland's favorite places to get healthy food in a hurry.
"I like to think of us as parent friendly," says CEO Franz Spielvogel of the popular chain. "People are so short on time these days, so I think we offer a guilt-free replacement to cooking at home. More and more people are trying to eat healthier… there is an obesity epidemic that is tied directly to our food system (too much sugar, unhealthy fat, too many processed foods)."
Franz notes that Portland tastes continue to evolve. Vegan and vegetarian restaurants are on the rise, though many people still indulge in decadent foods.
The original Laughing Planet Café opened more than 20 years ago in Bloomington, IA. In many parts of the country during that time, there was a void in the healthy fast-casual market. A lot of the food at "health food restaurants" tended to be tasteless and bland.
Laughing Planet founder Richard Satnick, who later teamed up with Franz, had a special liking for the rich flavors of Mexican food. He crafted wholesome, veggie-packed burritos that formed the basis of what is served at Laughing Planet today: portable, flavor-packed meals.
The chain, which now operates in three states, specializes in healthy bowls, burritos and fresh juices. The Thai Bowl and Bollywood Bowls are big hits with customers, as is the classic grilled chicken burrito. The restaurants often offer special bowls with surprising flavors. When asked how he comes up with the concepts for these specials, Franz says, "I try to offer global flavors using local ingredients. We look at culinary trends, travel trends and health and try to combine the three (aspects) into a simple, yet tasty dish."
Dietary restrictions are happily accommodated at all of the restaurants. "I think this is where we really shine," Franz remarks. "Vegan, paleo, keto, no-gluten, Whole 30 – we've got you covered." He says that Laughing Planet's flexibility, transparency and knowledge about various diets are resulting in a continuously expanding customer base.
Laughing Planet just opened a store in Vancouver on the Camas side at Fisher's Mercantile. The business hopes to operate in five states within the next couple of years. Right now, health-conscious Oregonians can visit the locations in Corvallis, Bend, Portland and Eugene.