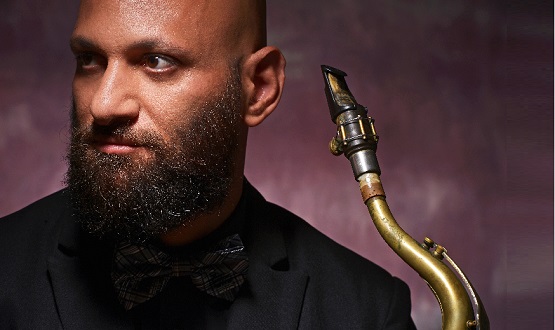 PHOTOS: Above,  Saxophonist Eli Degibri from Israel; right, Biamp PDX Jazz Festival Artistic Director Don Lucoff.
The Biamp PDX Jazz Festival (formerly known as the Portland Jazz Festival) is Portland's most renowned celebration of jazz music. Every year, the event features some of the finest international and local acts.
Recently, jazz festivals in other cities have been diluting their musical focus and populating their programs with artists only tangentially related to jazz. In contrast, Portland's festival continues to honor the importance of this great musical art. One reason for this is the artistic direction of Don Lucoff, who became involved with the festival's parent organization, PDX Jazz, in 2008.
To maintain the festival's jazz focus, Don says he takes his cue from Portland's sophisticated audiences.
"We've heard from artists that (Portland) is a very appreciative, in-the-know audience, some of whom have decidedly mainstream jazz tastes," he says. "I program to the aesthetics of this market. My focus is on emerging, established and legacy artists. But we're also about generating and developing the next generation of jazz audiences."
Don has been involved with jazz since he was a young adult. He started off as a jazz radio host in California and went on to enter the realm of jazz publicity, working with the Playboy Jazz Festival, Peter Levinson Communications, MCA Impulse! Records and Blue Note Records in New York.
"I consulted with Blue Note for 20 years, working with Bruce Lundvall and Michael Cuscuna," says Don. "Because of my deep ties with them, Bill Royston (PDX Jazz co-founder) saw an opportunity to engage me on the 2009 festival. We produced a comprehensive Blue Note tribute, and my job was to market and publicize the 2009 festival. That's how I started working here in Portland."
Though Don is based in Philadelphia, he has been telecommuting to Portland for the past decade. He is deeply committed not only to the annual festival, but to promulgating jazz in Portland all year long.
"Our organization is partnering with the Lan Su Garden, the Portland Art Museum, Literary Arts and Discover Jazz, which is an adult education program where we hold lectures," he says. "During the festival period, we are focusing our middle and high school education programming, "The Incredible Journey of Jazz and Jazz in the Schools," on celebrating Black History Month."
Don wants readers to know about the strong Jewish angle at this year's festival.
"We are bringing in (saxophonist) Eli Degibri from Israel; he received a five-star review in DownBeat Magazine," says Don. "Degibri, who serves as director of the Red Sea Festival in Eilat, is participating in our tribute to (late Jewish saxophonist) Michael Brecker, who performed at the Red Sea Festival several times. The March 2 tribute is called Wide Angles, and the musical director is Gil Goldstein, who composed and arranged the music for Michael's large ensemble that was recorded in 2003. The next night, Eli will close with a tribute to Hank Mobley with all Israeli musicians." (See below)
Don has engaged Jewish and Israeli artists throughout the years, and he worked on outreach efforts with Congregation Beth Israel for the 2011 festival. During that year's Bridges and Boundaries celebration, the festival recognized the accomplishments of Jewish jazz artists including Israeli saxophonist Anat Cohen.
Judaism has always been an important part of Don's life. As a child, he was a member of the politically active Temple Isaiah in Los Angeles, where he heard Robert Kennedy speak just days before his assassination. When he moved to Philadelphia as an adult, he cofounded a synagogue softball team that now participates in a 14-team league of Orthodox, Conservative and Reform synagogues. Don named his son Jordan because his child was born on the day Jordan signed a formal peace agreement with Israel. Just before this interview, Don had returned from an emotional trip to Terezin in the Czech Republic.
Don's future plans include expanding the reach of PDX Jazz.
"We're looking forward to the opportunity to explore new venue relationships throughout the metro area," he says. "That's really the work that we're continuing to do, so that we're seen and heard by an expanding jazz audience."
2019 BIAMP PDX JAZZ FESTIVAL
WHEN: Feb. 20-March 3
WHERE: Multiple venues
SCHEDULE/TICKETS: pdxjazz.com/events
ISRAELI MUSICIAN ELI DEGIBRI
March 1, Noon-1 pm
Jazz Conversation at the Oregon Jewish Museum and Center for Holocaust Education, 724 NW Davis St., Portland. Gil Goldstein and Eli Degibri talk jazz as part of OJMCHE's free brown bag lunch series.
March 2, 7:30 pm
Wide Angles: Remembering Michael Brecker at Revolution Hall, 1300 SE Stark St., Portland. With Guest Soloists Eli Degibri, Maria Grand, Chris Potter & Marcus Strickland.
March 3, 7:30 pm
Tel Aviv-NYC-PDX: Eli Degibri Quartet at The Jack London Revue, 529 SW 4th Ave., Portland. Soul Station – the Music of Hank Mobley.