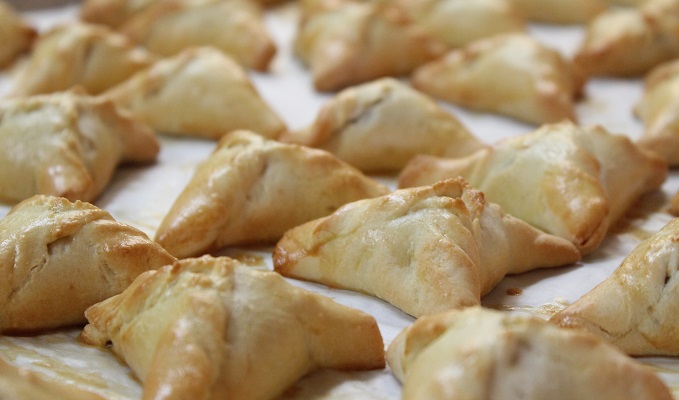 They've been baking pastries together for a long, long time, first for synagogue use and then as a community event and fundraiser. The Shaarie Torah Sisterhood's annual hamantaschen marathon gets going Feb. 4 this year. Expect the best, as they turn out thousands of fruit- and poppy seed-filled pastries that look like Haman's tri-corner hat. They celebrate Esther, the queen who thwarted Haman's plot to kill Jews in ancient Persia.
Marje Jacobson joined the bakeoff in 1961 when Shaarie Torah was on Park Avenue, and Rabbi Yonah Geller was the congregation's new leader. "It was a little disorganized at first," Marje says. "Diane Nemer ran around telling people what to do. You heard 'too much flour, not enough!' People who couldn't do anything right kept busy hand-rolling balls of fruit."
Marje remembers Shammos Chaim Resnick and his wife, Helen, making sure everything was kosher. Helen also shopped, made the Kiddush and hand-rolled dough. The prune and poppy seed fillings were her recipes. Diane Nemer scouted for ingredient donations, keeping the list top secret so other groups wouldn't dilute their source's generosity.
"Esther Mink and Fannie Tanzer had rolling pins from the old country," Marje says. "Fannie rolled perfect circles, but some people thought the kitchen counters were too high or too low. We sealed the hamantaschen so they'd stack, but people argued they should be open so the filling showed. Women told jokes while they worked. Sometimes it got a little risqué. One time someone brought her daughter along, and that kind of wrecked our joke-telling session."
"Those first years they made either 400 or 400 dozen," Marje adds. "Now we bake about 2,700 dozen, and we do it in 12 days. In the '60s, my father made miniature rolling pins that we still use today, and the Sunday school started baking. Some of those kids now come in as adults. Last year, Diane Nemer's grandson, Adam, brought in his own kids. I heard his 7-year-old daughter say, 'Don't you think that's too much filling?' Diane had strong genes."
The operation has streamlined and expanded over the years. Volunteers weigh ingredients, use a pasta machine for consistent rolling and a Ninja grinder for lemons, and are on their second Hobart Commercial Mixer.
Some traditions continue. Frieda Cohen, the hamantaschen grande dame, started baking around 1948 following her mother's example. Thelma Solomon specializes in packing, Diane Zidell makes everyone lunch and local hero, Arlene Gintz, washes dishes.
"We need all kinds of volunteers," says Procurement and Organizing Chairwoman Charlotte Tevet, adding the minimum age is 12. "We appreciate any amount of time. They can come all day or just for a couple hours. We need people to sort, mix, roll dough, prepare filling, prepare ovens, clean up and ship. Some jobs are standing and some can be done sitting. We're working with huge quantities, 1,000 pounds of flour and 400 pounds of sugar."
Charlotte's year begins in November with letters to previous and potential donors. We've received generous donations of flour, sugar, eggs, oranges and lemons," she says. "Cash and gift cards help buy dried fruit, poppy seeds, baking supplies and other essentials."
Next comes revising, printing and mailing order forms and an Excel spreadsheet to keep it straight, since about 80% of the customers change their order before Purim is through. Grinding begins in February including mixing 100 pounds of prunes with raisins, dates, coconut and walnut jam, and then repeating the process for the apricot and poppy seed fillings.
"Baking sheets have 48 hamantaschen each," Charlotte says. "We're Shaarie Torah's largest fundraiser, and we have a lot of fun."
Still both Charlotte and Marje insist fundraising is not the main objective. "We want to celebrate the holiday," Marje says. "We don't want to lose the smells and tradition, and we get multi-generations together. I made it my goal to have everyone come and enjoy."
Volunteer for hamantaschen baking during the weeks of Feb. 4, Feb. 11 and Feb. 18, Sundays through Wednesdays, 9 am to 3 pm, and Tuesdays 5 to 9 pm. Contact Charlotte Tevet at ctevet2004@yahoo.com or 503-246-2458 or just show up.
Order hamantaschen by visiting shaarietorah.org or by calling the synagogue at 503-226-6131 or Barbara Weiland at 503-816-5438.