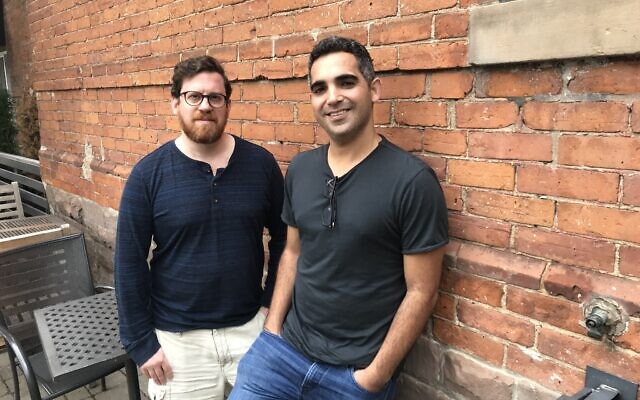 Photo: RetiSpec COO Roy Kirshon, left, and CEO Eliav Shaked. (Robert Sarner/ Times of Israel)
By Robert Sarner
Israeli expatriate biomedical engineers Eliav Shaked and Roy Kirshon may be far from old age but one of its dreaded curses  – Alzheimer's disease (AD) – figures prominently in their lives. As business partners in an artificial intelligence medical imaging start-up in Toronto called RetiSpec, they've developed a new way for early detection of AD, the main cause of dementia among older adults.
In recent years, the World Health Organization has signaled the growing scourge of dementia (attributed mostly to AD) as a global epidemic. Tied, in part, to an aging population, an estimated 47 million people around the world now suffer from AD or related dementia.
"The problem today is the point at which you diagnose Alzheimer's," Shaked, 37, told The Times of Israel during a recent interview with him and Kirshon at a Toronto outdoor cafe. "By then, there's already a neurodegenerative process that's affecting the way the person thinks and reasons, which is caused by a pathological change in the brain that started 10 or 20 years before those clinical symptoms."
An irreversible, progressive brain disorder with no known cure, AD is one of the main causes of death among adults over 65 in the United States. In the past 20 years, deaths from AD there have increased significantly faster than those from other major causes. It now afflicts 6 million Americans and is expected to reach 14 million by 2050. The Alzheimer's Association of Israel says around 150,000 Israelis have the disease while in Canada the current number is almost 600,000.
Given AD's growing death toll and the massive social and economic burden of caring for millions of patients, the disease looms large on society's agenda. That's heightened the interest and support RetiSpec has attracted for its work to replace current diagnostic procedures for identifying AD which are costly and impractical.
RetiSpec's diagnostic tool, named RS1, provides a far simpler, less expensive alternative to the discomfort and inconvenience of current practices – a spinal tap or PET scan – for detecting AD early. It's hoped this will help in developing more effective treatments and, ultimately, a prevention for AD.
"By the time Alzheimer's is now diagnosed, it's already way too late," says Shaked. "The horse is out of the barn. This is the reality clinicians and neurologists face today. If COVID has taught us one thing, it's that early, accurate diagnostics are key in assessing epidemiological cases and supporting therapeutics."
Dr. Sharon Cohen, a behavioral neurologist specializing in diseases of memory and cognition who is an expert on Alzheimer's research and clinical care, echoes Shaked's view. As the medical director of Toronto Memory Program, a medical facility established in 1996 dedicated to the diagnosis and treatment of Alzheimer's and related disorders, she's the principal investigator in a current validation study of RetiSpec's technology.
"Early diagnosis is important," says Cohen, "even if some people say, 'why diagnose early and just extend the time that a person lives with bad news.' But we think about it differently. There's a lot to be done when you make an early diagnosis. It helps get on with the business of preparing appropriate care and improving the quality of life and support for patients and their families. It also helps facilitate research into treatment and finding a cure."
The ball is rolling
Founded in 2016, RetiSpec is a Canadian company with eight employees, including Shaked as CEO and Kirshon as COO. Another Israeli, Alon Hazan, recently joined as Head of Artificial Intelligence.
Beyond their partnership, Shaked and Kirshon are longtime close friends, having met in 2008 at Tel Aviv University where both were studying biomedical engineering.
In the latest boost for their company, Shaked and Kirshon concluded a partnership agreement in October with Gentex Corporation, a major US-based global hi-tech electronics firm, to engineer, manufacture and commercialize RS1, which uses retinal imaging to look at the back of the eye as a small window to the brain.
It was the most recent in a series of auspicious developments for RetiSpec. Last November, it won the annual iGan Partners' Pitch to Heal Event, securing a $250,000 investment from iGan. A month earlier, it received an award from the Alzheimer's Drug Discovery Foundation to accelerate commercialization of the company's retinal imaging technology. Supported by Bill Gates and Jeff Bezos, among others, the award of up to $500,000 includes a direct investment in the company.
In 2019, the Ontario Bioscience Innovation Organization chose RetiSpec as one of several high-potential health science companies for its Capital Access Advisory Program.
RetiSpec has also received funding from the Toronto-based Ontario Brain Institute and Centre for Aging and Brain Health Innovation. Recently, Shaked and Kirshon completed a second successful funding round with both Canadian and Israeli investors.
"What we've developed is non-invasive, quick, easy-to-use and allows for the user, the clinician, to get the results right there on the spot," says Shaked, who received his BA and MA in bioengineering at Tel Aviv University and has long been passionate about the human brain. "We've focused a lot on ensuring the device's user-friendliness and addressing key needs from a clinical perspective for this to be a successful clinical utility."
RetiSpec's RS1 consists of a hyperspectral retinal camera and attached software involving artificial intelligence. It analyzes how light reflects off the back of a person's eye to identify bits of harmful amyloid proteins and other evidence that indicate AD, even before the patient shows symptoms. The device draws on technology developed by Robert Vince and Swati More at the University of Minnesota's Center for Drug Design.
In contrast to current options, RS1 provides a painless, more accessible biomarker screening done in only 10 minutes. It's intended for use in the office of an eye doctor whose retinal cameras would be modified with the addition of RetiSpec's software and supersensitive camera mounted on standard machines now used by optometrists and ophthalmologists for routine retinal exams.
"Retinal imaging is something that exists today," says 36-year-old Kirshon. "You do it when you go to your optometrist. What we know how to do is to make those cameras smarter, with a little accessory and software that can acquire images much richer in data allowing us to see things that beforehand were impossible to see using normal retinal imaging."
"Preliminary results and findings from our current clinical validation studies really boost our confidence and help us understand the incredible potential in bringing this device to market," says Shaked, whose participation in 2015 in the Google-supported Singularity University's Global Solutions Program for entrepreneurs in California's Silicon Valley inspired him to create RetiSpec. "We've brought together a lot of serious, global partners who believe in what we're doing, believe in our team and are helping us get to the point that we'll be in the market, but it's not an easy process."
Shaked and Kirshon hope all the final testing necessary for the regulatory process will be completed by the end of next year, with the device available for purchase by clinicians in 2022.
"So far, what we see is very promising," Cohen told The Times of Israel. "Interim results suggest an accurate diagnostic, comparing well against the gold standard of Alzheimer's disease diagnosis which is a spinal tap or PET scan. Of course, we await the final data, which we expect by January, but we're encouraged by the preliminary analysis. The rationale for it makes a lot of sense and in terms of patient acceptance and tolerating the retinal scan, the results have been excellent."
The hope is that earlier detection of AD provides an opportunity for timely therapeutic intervention that can slow or even somehow halt the disease's progression. It's taken on greater relevance following news in August that American pharma giant Biogen won a US Food and Drug Administration (FDA) priority review of its much-anticipated but controversial AD drug, with a decision expected in March. If approved, it would become the first treatment to reduce clinical decline in people with AD.
"If you're able to either tackle the pathology at the stage before it gets too late or prevent it from even getting there from the get-go, that's what's missing in Alzheimer's disease," says Shaked, who was born in Beersheba but spent most of his youth in the Tel Aviv suburb of Ganei Tikva. "That's when you can turn it into a chronic disease from something that's now fatal."
This article was excerpted from The Times of Israel article from Nov. 21, 2020. Read the article in its entirety at timesofisrael.com/israeli-duos-early-alzheimers-detection-test-brings-cure-one-step-closer.