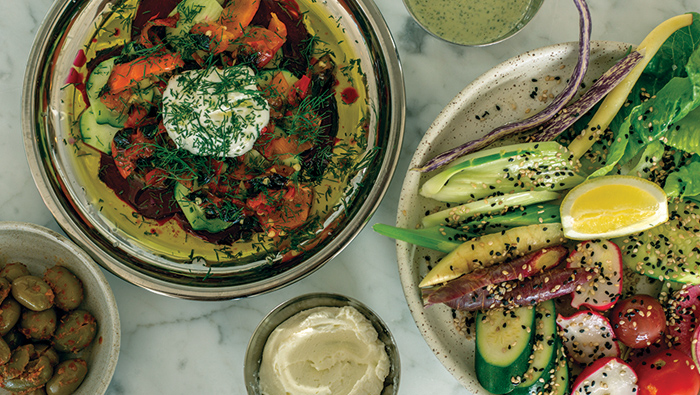 The fresh vegetables and intriguing flavors of Israeli cuisine are cropping up all over Portland. While food carts like Wolf & Bear's introduced us to ingredients such as amba as early as 2009, the Israeli food trend has really taken off in the past few years. Feast Portland, our renowned annual food festival, regularly flies in chefs like Michael Solomonov of Zahav. Mediterranean Exploration Company and Shalom Y'all are overflowing with diners. Chefs like Sam Smith and Jenn Louis are reimagining Israeli food, making it their own.
When asked why Israeli cuisine is becoming so popular here, Feast Portland co-founder Mike Thelin remarks: "I think a lot of it has to do with exploration. A lot of what influenced cuisine for a long time, a lot of places, not just here – was French, Italian or Spanish food. Israeli, or even Middle Eastern food, you didn't see a lot of. You didn't see a whole lot of experimentation happening within that space, but a lot of chefs are choosing to explore that now. A lot of these folks have Israeli or Jewish heritage and want to showcase the food that inspired them and their families growing up. I would expect that current to absolutely continue; everyone you talk to from that part of the world comes back and talks about all these incredible dishes and beautiful vegetable-centric cuisine."
Thelin connects Israeli cuisine to the farm-to-table movement that is so prevalent in this region. "(This movement) gave us the sort of expectation that food ought to be seasonal. At the Portland Saturday Farmers' Market, we are thinking of how we are going to prepare all of this local produce with an Israeli influence. I think it's a really special thing."
The Israeli influence was very much in evidence at this year's Feast Portland. At the Sandwich Invitational event, the dynamic team of Michael Shemtov and Bryan Lee Weaver (Butcher & Bee, Nashville) featured amba on their fried avocado flatbread. Shemtov explained that this pickled mango condiment came to Israel via Iraq and India. The chefs also participated in one of Feast Portland's highlights: the Shabbat Shalom dinner at Michael Madigan's KitchenCru. This sold-out event also showcased the amazing culinary talents of New Orleans-based Alon Shaya as well as our own Kasey Mills and Jenn Louis.
Diners were treated to Shaya's freshly baked pita and a trio of intensely flavored sauces: serrano-spiked skhug, spicy harissa and an original onion/carrot concoction of Weaver's. After a flurry of small bites, plates of eggplant and slow-roasted cabbage appeared. A hearty lamb and roasted tomato pot pie was served next, and finally, a Yemenite chicken curry, baked egg shakshuka and a creamy tahini semifreddo festooned with chocolate curlicues.
After a standing ovation, Louis got up to explain the universal appeal of Israeli cuisine. "It's super diverse. It's Ethiopian, it's Libyan, it's Yemenite, it's Russian. It's an incredible melting pot, a fun palate for a chef to play with."
Mediterranean Exploration Company and Shalom Y'all's John Gorham, who came to Israeli cuisine from the Sephardic angle, echoed this sentiment. "It's a cuisine of many different countries; all the Jews who went there after the war brought back their cuisines. There was a time when the food was very simple. And then, 20, 30 years ago, a new generation really wanted to celebrate their homelands. That's when the explosion happened; the rest of the world is following suit now."
The restaurateur, who opened Mediterranean Exploration Company with his partner, Ron Avni, and Executive Chef Mills, is delighted with the restaurant's success. "It's doing very well for us. Mediterranean Exploration Company is going on three years now; that restaurant has only gotten more and more popular every month that we've been open." The team's newest project, an Israeli street food stand at Pine St. Market, serves up bowls of silky hummus and generous pita sandwiches. Future plans include opening an Israeli restaurant in Oregon's wine country.
Louis, who has been named Best New Chef by Food & Wine Magazine, regularly features Israeli ingredients and dishes at Lincoln Restaurant. The chef, who once lived in a kibbutz, loves to experiment with items such as pomegranate molasses, tahini and a spice blend known as Ras el Hanout. One of Louis' recent dishes was a beet hummus with labneh, carrots, okra and clove dukkah (an Egyptian condiment commonly used in Israel).
Tusk chef Sam Smith makes his own version of dukkah, which he sprinkles atop grilled sweet potatoes. Smith has explored Israeli cuisine for many years; together with Solomonov, he opened Philadelphia's modern Israeli restaurant Zahav. He then spent some time exploring Italian cuisine, but decided to come back to the cuisine he loved most. "I sort of realized that the food I had been making with Michael was where my heart was, so I wanted to take that idea, make it my own and take inspiration from that," he says.
For Smith, Israeli cuisine is something that brings people together. "The style is really attractive to people; it's interactive, sharing. At Tusk, people are passing plates, tearing off pieces of bread. When the food is interactive, it's forcing you to have dialogue with the people around you instead of just sitting there having it be a static experience. It's a lot more fun, and it creates a lot more connection between the people sitting at the table."
Smith derives much inspiration from trips to Israel. "You sit down and you're getting bread almost everywhere, and all these little vegetable dishes to start your meal. And one thing that was very inspiring was the way that they cook grilled skewers directly over charcoal. I am doing that at Tusk." At his restaurant, Smith offers a variety of meat skewers such as chicken marinated with basil and sumac or ground lamb with hot peppers, cumin and black pepper.
The chef is excited to see more Israeli ingredients on local menus, and he sees this trend snowballing. "I'm seeing things like sumac and Aleppo pepper on more restaurant menus, which is really great. I think a lot of people will start getting inspired, and we will start seeing more of those flavors."