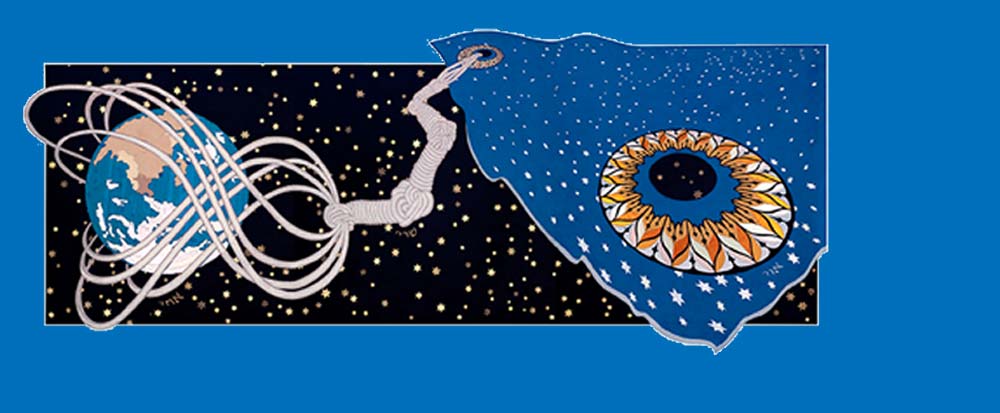 Portland artist Sara Harwin's work "Illuminated Letters" will once again be featured at the Oregon Jewish Museum and Center for Holocaust Education. This time, the exhibit is displayed in the front window of the museum as part of the city's Winter Light Festival and will be activated in the evenings from Feb. 5 through 29.
Sara's artistic career has been devoted to creating imagery that celebrates transcendent and spiritual experiences. She uses many different media to shape her vision of elegant simplicity that is the result of in-depth study. "Illuminated Letters" was originally installed at OJMCHE in 2014 as a single set of panels. That work has since continued to develop into a sacred spiritual environment.
The work draws upon the ancient tradition of illuminated manuscripts and sacred geometry, creating large panels and hanging mobiles. The imagery uses strong jolts of color, (sacred imagery), pattern and movement to achieve an innovative blend of visual and textual commentary on Jewish life and thought. Sara utilizes diverse techniques, including acrylic painting, paper cuts, mixed media and fiber art.
Sara created the exhibit "to be a visual entry point to Judaism." The project presents 18 core concepts of Judaism through an artistic lens. A Judaic artist whose ceremonial and ritual artwork is used in synagogues and homes across Oregon and around the country, Sara knows the impact art can have on understanding and emotions.
She was featured on the February 2014 cover of Oregon Jewish Life, and at that time Sara said about the exhibit, "This project is something I am presenting to the Jewish world at large in the hope people will find it useful and inspirational and a way of connecting," she says. "I want to bring people to a deeper understanding and engagement in Judaism."
"Illuminated Letters" is an artistic lens into the journey of creation. Light is represented in the form of ancient Hebrew letters within the Heavens. These illuminated letters gather into groups of three, forming 18 root concepts found in the Torah. The letters of these roots (shoreshim in Hebrew) attach to multi-faceted geometric forms, which fall through the atmosphere to Earth.
According to Sara, this new installation, "Brings the story to a new audience by being included in the Portland Winter Lights Festival 2020, which is all about light and lighting up the darkness," she says. "(It) brings additional words to tell the story of the 'Letters of Light' in the Heavens."
Sara is excited to be giving a noontime talk on Feb. 12. "This talk will showcase the additional components that have been added to the first panels bringing the whole into a 'sacred space,'" she says, "I will support the talk with scale models and an architectural video of the intended space and flow."
For more information on Sara's work, visit illuminatedletters.net.
Noon Time Talk with Sara Harwin
When: Feb. 12, noon-1 pm
Where: OJMCHE, 724 NW Davis St., Portland
Tickets: Free and open to the public
This talk is part of the OJMCHE series of informal lunchtime conversations. Bring a lunch or buy a brown bag lunch in Lefty's Cafe and join us in the museum's auditorium for a lively give and take as we share and explore ideas, experience and expertise.
Information: ojmche.org/events