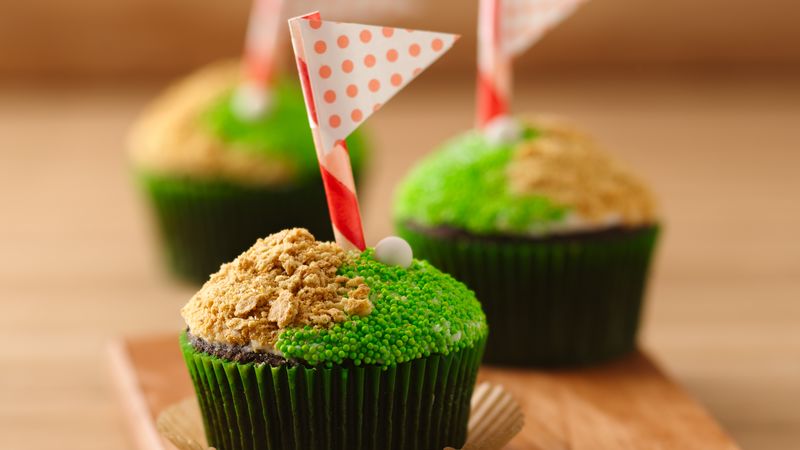 Vanilla frosting provides a delicious addition to these chocolate cupcakes with golf-themed decorations – a perfect dessert to be served on Father's Day.
Recipe courtesy Betty Crocker Kitchens.
INGREDIENTS
Chocolate Cupcakes
2 cups all-purpose flour
1 1/4 teaspoons baking soda
1 teaspoon salt
1/4 teaspoon baking powder
1 cup hot water
2/3 cup unsweetened baking cocoa
3/4 cup shortening
1 1/2 cups granulated sugar
2 eggs
1 teaspoon vanilla
Vanilla Buttercream Frosting
6 cups powdered sugar
2/3 cup butter or margarine, softened
1 tablespoon vanilla
3 to 4 tablespoons milk
Decorations
3 graham cracker squares, crushed
About 1/3 cup Betty Crocker Decorating Decors green candy sprinkles
24 colored straws
Colored paper and tape
24 white gumballs or other round white candies
INSTRUCTIONS
Heat oven to 350°F. Place paper baking cup in each of 24 regular-size muffin cups.
In medium bowl, mix flour, baking soda, salt and baking powder; set aside. In small bowl, mix hot water and cocoa until dissolved; set aside.
In large bowl, beat shortening with electric mixer on medium speed 30 seconds. Gradually add granulated sugar, about 1/4 cup at a time, beating well after each addition. Beat 2 minutes longer. Add eggs, one at a time, beating well after each addition. Beat in 1 teaspoon vanilla. On low speed, alternately add flour mixture, about a third at a time, and cocoa mixture, about half at a time, beating just until blended.
Divide batter evenly among muffin cups, filling each about two-thirds full.
Bake 20 to 25 minutes or until toothpick inserted in center comes out clean. Cool 5 minutes; remove cupcakes from pans to cooling racks. Cool completely, about 30 minutes.
In large bowl, mix powdered sugar and butter with spoon or electric mixer on low speed. Stir in 1 tablespoon vanilla and 3 tablespoons milk. Gradually beat in just enough remaining milk to make frosting smooth and spreadable. Frost cooled cupcakes.
On one side of each cupcake, sprinkle about 1/2 teaspoon graham cracker crumbs for "sand." On other side of cupcake, sprinkle generous 1/2 teaspoon green sprinkles for "grass."
Cut straws into 3 1/2-inch lengths. Cut colored paper into flags. Tape each flag to one end of each straw piece; poke into cupcake. Gently press one gumball into each cupcake for golf ball.