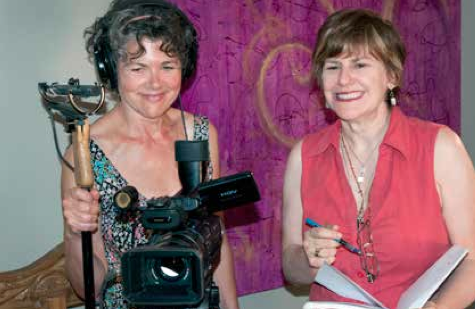 Holy Rascals, a nonprofit media company for spiritual education launched by two Portland women in 2004, now produces an on- line radio show and webinars, and this month launches a series of live events beginning with the first Holy Rascal Revival.
Inspired by the pioneer-era tent revivals, the April 26 Holy Rascal Revival is envisioned as a joy-filled day of InterPlay led by Cassandra Sagan and spiritual culture jamming led by Rabbi Rami Shapiro. "These events make it safe to explore joy and have fun while being spiritual and connected to life," according to Holy Rascal co-founder Cathy Zheutlin.
Holy Rascals began when Cathy and Marcia Danab met Rabbi Rami at a kabbalah workshop in Portland. They were impressed by the man Cathy describes as "wise, irreverent, inter- spiritual (as opposed to interfaith), witty and authentic." Marcia has since left the project, but Cathy has been joined by fellow P'nai Or member Wendy Russell.
"Rabbi Rami had an idea for a film featuring wisdom- keepers from different faith traditions," says Cathy. "We had a list of elders/teachers" and planned to ask them to "share your wisdom."
What they didn't have was a "story" to carry the film. So began the Holy Rascals tradition of "failing forward," says Cathy. "We let it evolve. The inspiration is still the transmission of wisdom."
With the advent of YouTube, they realized "what we do works better on YouTube – short dialogues, not long movies." Beginning with the 45-minute "Kiss of God" featuring a dialogue between Jewish Renewal founder Rabbi Zalman Schachter-Shalomi and Father Thomas Keating, a Catholic monk who founded Contemplative Outreach, they have posted about 25 films to YouTube – a great way to spread the rascals' message but not a source of revenue to be able to produce more videos.
"The issue for us as filmmakers was finding the time and money to edit," notes Cathy, who makes her living as a massage therapist.
Cathy and Wendy did win second place in a Canadian film contest for their three-minute video on spirituality and work called "No Separation." The filmmakers are also working on a full-length documentary on facing death inspired by Wendy's husband's work as a music thanatologist who plays his harp for dying patients.
Holy Rascals memberships (starting at $25/year), webinars and live events are designed to address the funding challenge.
While Cathy is a filmmaker and enjoys being behind the camera, Wendy formerly did webinars for an online advertising company. The first Holy Rascals webinar was "How to be a Holy Rascal," with Rabbi Rami. The second webinar, which began in March and continues through April, features Ashland Rabbi David Zaslow elaborating on the interfaith reconciliation featured in his book Jesus: First-Century Rabbi.
Cathy and Wendy also produce a weekly online radio show hosted by Rabbi Rami. "How to be a Holy Rascal" airs on Unity Online Radio at 9 am (Pacific time) every Wednesday. Podcasts of previous shows are available on the Holy Rascals website.
"I hesitated hosting the show; I just wasn't sure I had it in me," says Rabbi Rami. "But Wendy and Cathy, who produce the show, said they would do the hard work of booking guests and building a community of listeners, so all I had to do was talk; and talking is the one thing I'm good at. So I love doing the show."
Plans are also under way for more live events in the fall. All the Holy Rascals events will have a social action component. "Our bigger vision is to take Holy Rascals Revival on the road," says Wendy. "We want to go to smaller communities and help support whatever the social justice issue is in their town … help them bring politeness and play to their issue."
Holy Rascals are firmly rooted in Jewish tradition says Rami.
"Eve was the first Holy Rascal, stealing wisdom from God and bringing it to humankind (Genesis 3). Abraham was another, insisting that God, the Judge of all the world, do justly, and then going on to define justice for that God (Genesis 18:25). The Prophet Micah's insistence that what God wants from humanity is justice, compassion, and humility (Micah 6:8), and Hillel's reinventing Torah by claiming that 'what is hateful to you do not do to another' is the whole of the Torah (Talmud, Shabbat 31a), when in fact that teaching never actually appears in the Torah, are two more examples of Jewish holy rascality.
"I hope that the Holy Rascals project can reacquaint Jews with our ancient rascality."