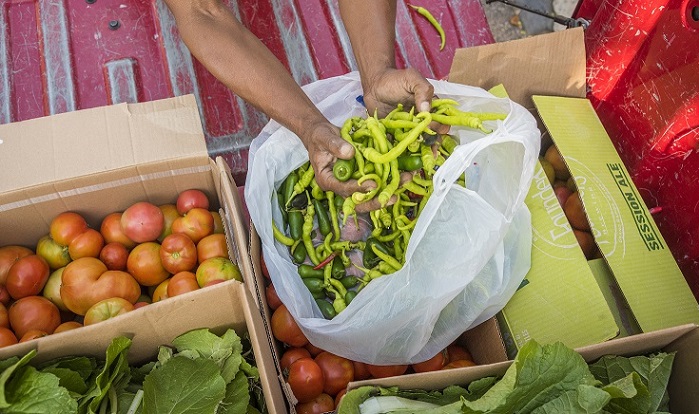 PHOTO: On the way to a food pantry. Photo by  Rob Cardillo
Do you always squeeze in an extra tomato plant, another row of beans or hill of zucchini? It seems like a good idea at the time, until they all start to produce all at once. Your family, friends and co-workers start to hide as you try to pawn off yet another bag of zucchini or tomatoes. Here is a solution that satisfies your gardening obsession and feeds the hungry in your community. Designate some growing space to a Giving Garden and donate the harvest to your local food pantry. (Find a pantry near you at ampleharvest.org/find-pantry. Neighborhood House, Urban Gleaners and Lift Urban Portland are among many Portland area pantries that accept fresh produce).
Feeding America reports that 41 million Americans struggle with hunger. And many are children and seniors. Gardener's Supply Company is inviting gardeners to lend a hand. They surveyed food pantries to find out what types of fruits and veggies people most enjoy eating, and those that store well. You'll find a simple Giving Garden plan for beets, carrots, cabbage, Swiss chard, kale and winter squash at gardeners.com. Best of all these late maturing vegetables will be ready for harvest all at about the same time, so you can make your donation in just one trip.
Get the children in your life involved in growing and giving. Gardening increases focus, decreases stress and elevates children's moods. Giving helps children grow into caring well-rounded adults. Plus, if they grow the vegetables, they are more likely to eat them!
Be sure to capture a few photographs of your donation to inspire others to follow your lead.
With the "Garden to Give," program, everyone who participates is a winner. The real prize is making a difference while doing something you love. Once you've experienced the benefits of sharing fresh produce with the hungry in your community, you are likely to find yourself making regular donations of garden fresh fruits and veggies to those in need… and feeling great about it, too.
Melinda Myers has written more than 20 gardening books, including Small Space Gardening. She hosts The Great Courses "How to Grow Anything" DVD series and the nationally syndicated "Melinda's Garden Moment" TV & radio segments. melindamyers.com.