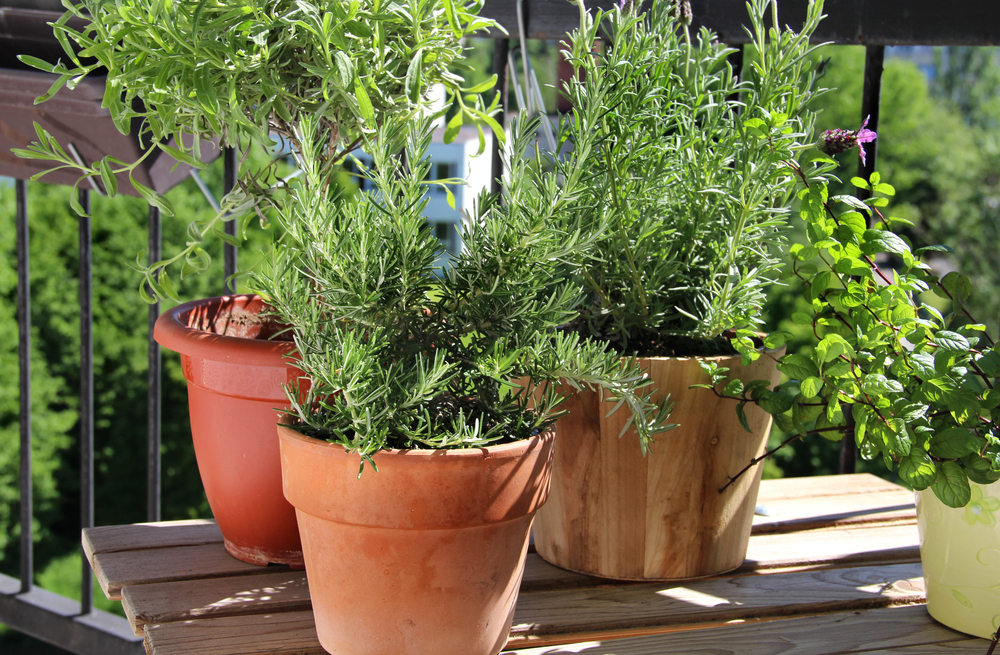 All those homesteaders and end-of-the-world preppers whom you thought were completely nuts don't seem so silly now, do they?
Now that we're all stuck in some kind of quarantine (bidud in Hebrew) wondering what there is to do with our newfound time at home, why not be as efficient as can be and make your balcony, windowsill, or backyard bloom with luscious springy greens and herbs that are, at the end of the day, FREE FOOD?
A balcony-friendly herb garden is an interesting science project in the worst case, and a lifeline of health-promoting herbs in the best.
With Israeli cuisine brimming with fresh herbs, your own culinary garden can also help you up your cooking game a few notches as well, even in the simplest of dishes.
Here's how you can make your balcony/indoor/backyard herb and vegetable garden happen right now, for you and your family.
Turn supermarket scraps into gold
Those of you who have been scouring the Internet at all hours might have already run into videos that show you how to turn food scraps into plantings.
While before it may not have piqued your interest, now seems like a good time to give it a go.
Videos like this one get into the nitty gritty of how to regrow plantings from food scraps ranging from lettuce to ginger to herbs.
Similarly, tiny seeds can be taken from items like tomatoes and strawberries, washed, dried, and planted to make flourishing patches of produce. How cool is that? The method in this video shows how to plant slices of strawberries directly into soil.
Order seeds online
The efficiency of online ordering is a 21st marvel that could save many a business from going completely under in these tumultuous times.
Websites like California based Morning Sun Herb Farm (US delivery only) have a surprisingly wide variety of herb seedlings that range from exotic Moroccan mint to the more rare minty and pungent white savory (zuta) that many Israelis enjoy in their herbal tea.
In Israel, companies like Nativity Seeds in Kfar Hess fulfill online orders (also to North America) of heirloom and organic seeds for modern and preserved biblical varieties of vegetables and herbs. It's a goldmine of information on when and how to plant which seedlings in Israel year-round.
Bone up on the seasons of the garden
Whether you're planting nine stories up or on ground level, in Israel or abroad, gardening calendars like Ilana Stein's A Year in the Garden are valuable sources of insight into the Israeli garden.
While months may have to be shifted to accommodate the information for those who live in other parts of the world (for example, the Israeli winter is more like an American or European spring), the cute and quirky illustrations, wisdom – and bonus recipes – help focus your gardening goals from planting to harvesting to preserving your goods.
Curate a gourmet Israeli herb garden
Whether you decide to replant your scraps or order little envelopes of seeds, you'll need to know what makes a killer Israeli herb garden.
Part of what makes Israeli food taste so fresh and seasonal is a farm-to-table approach (in your case it could also be balcony planter-to-table) and lots of freshly cut herbs. However, these go far beyond the obvious cilantro and parsley combo we see so often in Israeli dishes like shakshuka.
To make your Israeli dishes sing, you'll need fresh basil (check out this video on how to get the most out of one grocery-store-bought basil plant), zaatar (oregano's Middle Eastern cousin), rosemary (the kind that grows into tall bushes in Israeli parking lots), dill, chives and nana – the Mediterranean spearmint that gives tabbouleh its earthy irresistible taste.
While fennel is seldom used in Israeli dishes, fennel stocks grow wild, popping up like weeds each spring in the forests of the galilee. Plant a bulb of fennel, and your garden will smell, and even look, like the Holy Land.
Take it to the kitchen
With a little sun, herbs can grow indoors in a kitchen window, or any sunny spot, as shown here.
Or you could try a nifty countertop kit sold on Amazon. They use high-efficiency LED lights to give you a luscious indoor herb and greens garden that will brighten your day all year round, quarantine and all.
Make a focused garden filled with herbs for soothing tea
Israelis have perfected the art of herbal tea infusions. Using herbs foraged from the side of the road, a desert bush, a nearby forest, or from a home garden, the scent of lemony herbs stewing in hot water is familiar.
Great for boosting immunity and giving you that feeling of a warm hug when we all need it most, these are the herbs that you'll need to bring the flavor of Israel into your teacup.
Aside from the aforementioned nana, which is an absolute must, tea herbs range from sheba (wormwood, which should be used sparingly to avoid dizziness or other unpleasant side effects), to lemon verbena, lemon balm (melissa) and lemongrass, lavender, rosemary, zaatar, and common sage used to make dark-brewed Bedouin chai.
Add some new greens to your diet
Sure, you stocked up on toilet paper and pantry staples, but we're guessing that package of salad you bought has run out by now.
Instead of risking it all to run out and pick up some more, how about the prospect of having your own row of greens hanging in that Ikea planter box, nine floors up?
Get your hands on some luscious chard, which is found in lots of Israeli dishes from meatball sauce to green shakshuka and has an even higher nutrition content than kale.
You'll also need rocket for salads and sandwiches, and all kinds of lettuce, which grow exceptionally well in small planters. Have you tried homegrown lettuce lately? It is spectacularly fresh, and sure to boost your mood and morale. It might even make up for all the chocolate you've been stress binging on lately.
Muster up hope for the future by planting a tree
Nothing could be more Israeli than having a backyard filled with fruit trees. If you have the space, spring is a great time to dig a few holes in your yard and get something going that will have you looking forward to better times to come.
Don't have a yard? Put a super-cute dwarf kumquat or hot pepper tree on your balcony or even in your kitchen window (you might find one in the supermarket, but you can also order them online).
Bonus time: these plants can be bought already bearing fruit, so you can reap the benefits of your new addition ASAP. Imagine homemade zhug made from your own hot peppers. Awesome.
Preserve and dry your harvest — more experiments for the kiddos!
Once you've got a successful thing going, you'll want to preserve it for future gobbling. Replenish your dried spice collection and feel like a gourmand in the process by drying your own homegrown herbs.
Bunches of herbs can be dried by hanging in paper bags, in the oven on a low heat, or even in the microwave! Pick one method, or try them all, and see which one suits you best.
Or go big: If you're seeking a long-term project whose progress you can track and share over the several months that we all could be hunkered down, try growing cucumbers in a box on your balcony. See how here.
Nothing could be more Israeli than chowing down on a whole cucumber alongside your sandwich, but here's the kicker: Growing your own cucumbers means you can also make your own pickles! Use recipes from Israeli-American expert forager and sustainable food systems educator Leda Meredith's 2019 book, Pickling Everything.
Bonus points for getting the book sent straight to your electronic reader and sparing the delivery person a trip to your doorstep, and even more bonus points for posting the mouthwatering pics to Instagram and encouraging others.
Make your leaves into art
In every plant lies an inspirational art project, at least according to Israeli artist Suzanne Tamar Dekel, who uses foraged plants to make natural dyes for decorating luxurious textiles.
In a more basic form, however, leaf art is an excellent project for bored children who have already gone way over the recommended screen time. Since it's not recommended or even allowed to venture outside in this new corona reality, why not use homegrown plants and herbs as your decorating tools? Pinterest is full of ideas, like this one from The Imagination Tree blog.
Article courtesy ISRAEL21c.