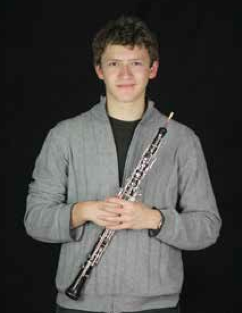 Sometimes growing up Jewish in a small town can be an isolating experience, but not for Gabe Young. The 18-year-old senior from Ashland, who begins his second year as a member of the prestigious National Youth Orchestra this summer, credits his small, vibrant Jewish community for giving him a strong, self- confident Jewish identity. "I don't feel different for being Jewish," Gabe declares. "Our Jewish community is small in Ashland, but it's very active."
Gabe's fundamental connection to his Jewishness is rooted in his passion for music. As the current state champion on oboe, a title he's held for the past three years, and as a working alto saxophonist at various venues around Ashland, Gabe's world revolves around music-making, as it has since he was 2 years old. "I got a toy sax for my second birthday, which ignited my passion," he says. "From then on I considered myself a sax player." Gabe probably would have stayed exclusively with the saxophone but for his desire to play in the Youth Symphony of Southern Oregon, which didn't need sax players. Undeterred, he took up the oboe at age 10, and today the oboe is his primary focus of study.
Making music is a central activity in the Young family. "My dad has a dance band, and I play with them for bar mitzvahs and weddings," he explains. "We also formed the Young Family trio with my dad on guitar and my sister, Abby, on violin." Gabe has also played in several jazz and blues bands with friends. "My dad says I channel Paul Desmond – his tone, his relaxed nature – but I'm also inspired by John Coltrane, Cannonball Adderley, Miles Davis and all the musicians who developed and furthered the genre, culture and tradition." On the second Friday night of every month, you'll also find Gabe and his father, David, ushering in the Sabbath at Temple Emek Shalom's Shabbat Shirah service.
Young's Jewish education focused on the religious and spiritual practices of Judaism, but not surprisingly he feels most at home with Jewish music.
"I connect most to the cultural side of Judaism," he says. "It's not just a religion; it's a way of life for most Jews. Within that way of life there are certain traditions: food, holidays and, for me, music. The biggest part of being Jewish is connecting to those elements that make up the Jewish people and preserving them for the next generation. My parents have given me that example by raising me in an all- vegetarian kosher home, for example."
Because he was raised with music as the central focus of his life, Gabe also intuitively understands the essential part music played in Eastern European Jewish communities. "Music was held in such high importance. It's more than entertainment; it tells stories, connects with emotions," he says. "Klezmer music is such an emotionally powerful style: weeping, sobbing, crying. It's really helped me to bring out the emotions in other music I play and connect to it as more than notes on a page. I've been playing klezmer for so long it's in my blood."
Gabe hopes to make a career in music, but unlike many other young classical musicians, he's not narrowing his options to oboe-only opportunities. "There are too many great musicians who don't have jobs because there aren't enough spots for all the talented players," he explains. "It's unwise to limit myself. I love music so much that I would be overjoyed if I could turn it into making a living: solo work, orchestral work, studio work, teaching." His teachers encourage him to bridge the gap between classical and klezmer music – "they want me to be a complete musician." He hopes to continue that cross-cultural focus in college. He's auditioned at five schools, and has already been accepted to Indiana University, U of O and the University of Southern California.
After he graduates high school this spring, Gabe will head off to New York to begin rehearsals with the National Youth Orchestra, whose members are drawn from all 50 states. The 120 musicians, ages 16-19 and led by conductor David Roberston, will perform at Carnegie Hall, Tanglewood, the Jackson Hole Music Festival in Wyoming and Grant Park in Chicago, and end their season at Disney Hall in Los Angeles. They'll be performing Leonard Bernstein's "Symphonic Dances" from "West Side Story," Benjamin Britten's "Violin Concerto" with acclaimed soloist Gil Shaham and a newly commissioned work; they'll finish with Modest Mussorgsky's virtuosic "Pictures at an Exhibition."