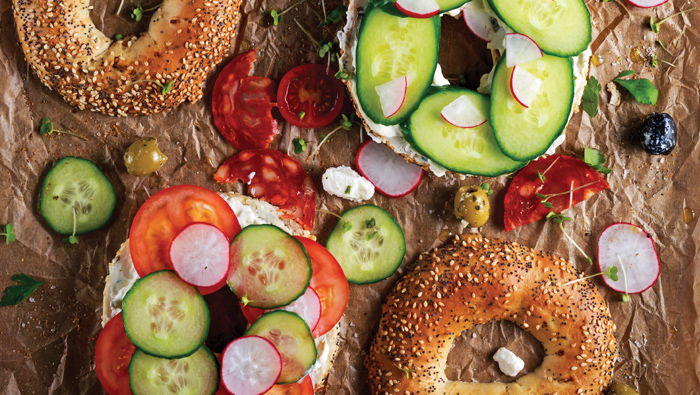 From farmers' markets to restaurants, Portland has become a culinary destination. The state's kosher options have expanded too.
The rules regarding what foods are proper to eat originate in the Bible. The Israelites were given a long list of forbidden foods, including animals that didn't both chew their cud and have split hooves, rodents, birds of prey, shellfish and fish without fins and scales. Exodus added the restriction: "You shall not boil a kid in its mother's milk."
The evolution of Jewish dietary laws evolved from there as Talmudic rabbis strove to ensure the mandate was upheld giving rise to the separation of milk and meat. Jewish concerns extend to how food is slaughtered, prepared and served. For an animal to be kosher, or fit for consumption, it must be killed in a prescribed way – the swiftest, most painless and humane death for an animal.
Although kosher laws have their origin in the Bible, with modern food production concerns, kosher is considered the gold standard by many consumers looking to verify the safety and purity of the food they eat.
Our food pages include both kosher and non-kosher listings.
CERTIFYING AGENCY
OREGON KOSHER
6698 SW Capitol Hwy.
Portland, OR
503-343-3497
oregonkosher.org
FARMERS MARKETS PORTLAND FARMERS MARKETS
portlandfarmersmarket.org
Portland State University (SW Park & Montgomery): Saturdays year-round (Mar-Oct) 8:30 am-2 pm; (Nov-Feb) 9 am-2 pm
Pioneer Courthouse Square (SW 6th & Yamhill): 10 am-2 pm Mondays, June 20-Sept. 26
Shemanski Park (SW Park & Main): 10 am-2 pm, Wednesdays, May 4-Nov. 23
Northwest (NW 19th & Everett): 2- 6 pm Thursdays, June 2-Sept. 29
Kenton (N McClellan & Denver): 3-7 pm, Wednesdays, June 1-Sept. 28
King (NE 7th & Wygant): 10 am-2 pm Sundays, May 1 to Nov. 20
Lents International (SE 91st Ave. & Foster): 9 am-2 pm, Sundays, June 5-Oct. 30
BEAVERTON FARMERS MARKET
beavertonfarmersmarket.com
CANBY SATURDAY MARKET
thecanbyfarmersmarket.com
CEDAR MILL SUNSET FARMERS' MARKET
cedarmillfarmersmarket.wordpress.com
CLACKAMAS SUNNYSIDE GRANGE FARMERS' & ARTISTS' MARKET
windancefarms@comcast.net
CULLY FARMERS MARKET
cullyfarmersmarket.com
DAMASCUS FARMERS MARKET
damascusfarmersmarket.org
ESTACADA FARMERS' MARKET
estacadafarmersmarket.com
FOREST GROVE FARMERS MARKET
adelantemujeres.org/fg-farmers-market
GRESHAM FARMERS MARKET
greshamfarmersmarket.com
GRESHAM SATURDAY MARKET
gatsatmarket.com
HILLSBORO FARMERS MARKET
hillsboromarkets.org
HILLSBORO TUESDAY MARKETPLACE
tuesdaymarketplace.org
HILLSDALE FARMERS' MARKET
hillsdalefarmersmarket.com
HOLLYWOOD FARMERS' MARKET
hollywoodfarmersmarket.org
IRVINGTON FARMERS MARKET
irvingtonfarmersmarket.com
LAKE OSWEGO FARMERS' MARKET
ci.oswego.or.us/farmersmarket/default.htm
LLOYD FARMERS MARKET
lloydfarmersmarket.com
MILWAUKIE SUNDAY FARMER'S MARKET
milwaukiefarmersmarket.com
MONTAVILLA FARMERS MARKET
montavillamarket.org
MORELAND FARMERS MARKET
morelandfarmersmarket.org
OHSU FARMERS MARKET
ohsu.edu/farmersmarket
OREGON CITY FARMERS' MARKET
orcityfarmersmarket.com
PARKROSE FARMERS MARKET
parkrosefarmersmarket.org
PEOPLE'S FARMERS MARKET
peoples.coop/farmers-market
RAINIER MARINA MARKET
rainier97048.org
SANDY PUBLIC MARKET
sndy.us/20
SCAPPOOSE COMMUNITY FARMERS' MARKET
503-543–3469
SHERWOOD SATURDAY MARKET
sherwoodmarket.blogspot.com
SOUTH WATERFRONT FARMERS MARKET
southwaterfront.com/farmers-market
ST. JOHNS FARMERS' MARKET
sjfarmersmarket.com
SUNNYSIDE FARMERS MARKET
windancefarmsandart.com
TIGARD AREA FARMERS MARKET
tigardfarmersmarket.org
THE BULL MOUNTAIN FARMERS MARKET
tbmfm.org
TUALATIN FARMERS MARKET
tualatinfarmersmarket.com
WEST LINN FARMERS MARKET
tasteoftuesday@gmail.com
WOODLAWN FARMERS MARKET
woodlawnfarmersmarket@gmail.com
WOODSTOCK FARMERS MARKET
woodstockmarketpdx.com
FOOD PRODUCERS
HEAVENLY HALLAH
P.O. Box 66004
Tucson, AZ
888-520-9080
sales@challah.com
heavenlyhallah.com
Heavenly Hallah is a moist, sweet, delicious homestyle challah with a twist. Heavenly Hallah is made with kosher parve margarine, fresh eggs and optional golden raisins. Varieties include plain or whole wheat challah. Heavenly Hallah giftpacks contain a 1-pound round Heavenly Hallah, apple, 8-ounce jar of honey and a greeting card personalized with your own special greeting. Heavenly Hallah giftpacks make a warm and welcome gift for friends and family. College students love them too.
SUNSET VALLEY ORGANICS
31567 Hwy. 99 West
Corvallis OR
541-752-0460 (8 am-6 pm only)
sunsetvalleyorganics.com
Sunset Valley Organics is a certified organic, multi-generation family-owned farm, operated by the Wilt Family and located in Corvallis in Oregon's central Willamette Valley. Our berries are GMO Free. Find Organic Blueberries, Aronia Berries and Organic Red and Black Raspberries, Organic Blackberries at our 4th generation family Farm in Corvallis. Hours: 10 am-4 pm, Monday- Friday on 99W South of Corvallis, just one half-mile south of the Airport exit, on the east side. Frozen berries available for shipping.
KOSHER GROCERIES
ALBERTSONS AT SHATTUCK
5415 SW Beaverton-Hillsdale Hwy.
Portland, OR
503-246-1713
BURLINGAME FRED MEYER
7555 SW Barbur Blvd.
Portland, OR
503-452-3000
NEW SEASONS MARKET
16 stores in greater Portland area
SAFEWAY
(Bakery certified by Oregon Kosher)
8145 SW Barbur Blvd.
Portland, OR
503-452-6068  ext. 1210
TRADER JOES
503-777-1601
Trader Joe's locations offer a pamphlet listing their kosher items.
WHOLE FOODS MARKET
Nine Locations in Washington and Oregon
RESTAURANTS
(Includes kosher and non-kosher listings)
CAFE AT THE J
(Certified by Oregon Kosher)
6651 SW Capitol Hwy.
Portland, OR
503-535-3630
BOWERY BAGELS
(Bagels certified by Oregon Kosher)
310 NW Broadway
Portland, OR
503-227-NOSH (6674)
bowerybagels.com
DAIRY HILL ICE CREAM
(Most flavors and some toppings certified by Oregon Kosher)
6352 SW Capitol Hwy.
Portland, OR
503-246-2374
KRISPY KREME
(Certified by Oregon Kosher)
16415 NW Cornell Road
Beaverton, OR
503-645-2228
SUNNY'S LEGENDARY FROZEN YOGURT
(Yogurts and most toppings certified by Oregon Kosher)
4397 SW Vermont St.
Portland, OR
971-271-8348