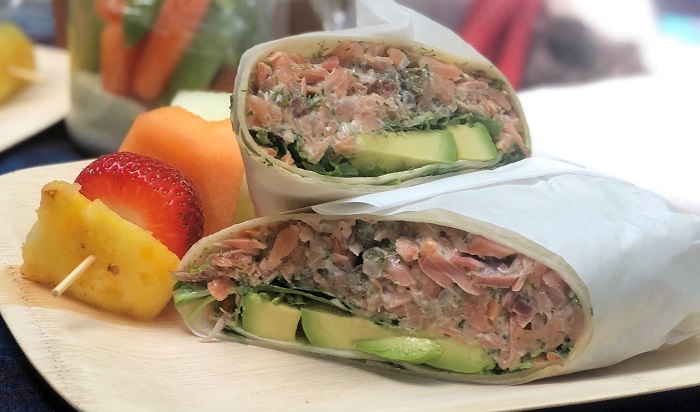 Through June, there had better be a "plan B" for anything scheduled to take place outdoors. When summer finally arrives, we head outside in droves to soak up all that long-awaited Oregon sunshine streaming through the lush trees and flowers. The grass is soft and green, just waiting for us to flop down on a blanket to soak up the sun or enjoy an impromptu summer picnic.
It's easy to find a spot in one of Portland's many beautiful city parks to spend a relaxing evening with a light supper and a nice cold bottle of Oregon wine. We like to invite some friends to join us at one of the city's many outdoor concerts and share a potluck of easy-to-eat foods that are both delicious and hassle free to eat outdoors.
Finger foods are always a good idea and are easily shared with no need for utensils. Small individually wrapped sandwiches or wraps are perfect to eat with one hand while you balance a glass of wine in the other. Fill Mason jars with a few inches of your favorite dip and add some crisp veggies – one jar per person. That way they can be easily dipped into with no need for one precariously positioned bowl – double dip away! Mason jars also work beautifully for individual hand-held salads or side dishes.
Place chunks of summer fruit or cooked grilled meat on skewers for an attractive presentation and easy sharing. Grilled marinated breast of chicken with roasted peppers is deliciously easy, and melon, strawberries, pineapple and grapes and are sturdy enough to hold up while being transported. For dessert, I like to use small "Chinese food" containers to create an assortment of sweet treats.
Oregon summers are the best! We wait all year for warm summer nights that give us the opportunity to appreciate this beautiful place we call home. And here's some advice for those who are aren't lucky enough to have been raised here; when the sun goes down, make sure to have packed that cozy blanket or jacket … you're gonna need it!
Smoked Salmon, Arugula and Avocado Wraps
Makes four whole wraps
8-10 ounces cured salmon (lox)
8-10 ounces hard smoked salmon (such as "Tony's" brand)
One small shallot, minced
1 tablespoon capers, roughly chopped
Juice of ½ lemon
¼ cup heavy whipping cream
½ cup chopped fresh dill (use only fresh)
Fresh pepper to taste
1 ripe avocado
2 cups baby arugula
4 flour tortillas
Place salmon and lox on a cutting board and use a large chef's knife to roughly chop. Place in bowl and add shallots, capers, lemon juice, whipping cream and dill. Season with pepper. Warm flour tortilla gently on a griddle or grill to soften. Place 4-5 ounces (about half a cup) of salmon in center of tortilla. Top with ¼ sliced avocado and a handful of arugula. Fold in sides of tortilla and roll burrito style. Slice in half and individually wrap halves. Repeat with remaining tortillas and salmon.