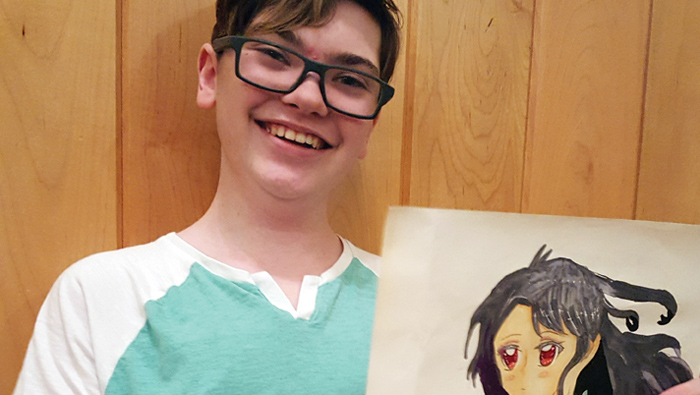 "We're saying, 'ORA welcomes you and wants you to use your passion,' " says past-president Eddy Shuldman about the middle-school art exhibit that kicks off Jewish Arts Month this year. The exhibit is open to young artists of all abilities in grades five through eight; it runs from Feb. 26 through March 4 in the MJCC lobby.
Entrants to the Young Artists Show must complete an application and may submit up to five pieces for jury consideration on Sunday, Feb. 12, between 10:30 am and noon at Neveh Shalom,  2900 SW Peaceful Lane, Portland, Room 105.
"This is an opportunity to learn the ropes," Eddy says. "We want kids to feel like they went through a process. They have to fill out an application, bring artwork dry and ready, and learn to talk about their art. During jurying, ORA members will offer specific encouraging comments, like 'We want you to use a frame or mat board.' "
Miles Smith, a seventh-grader at Jackson Middle School, looks forward to exhibiting his work. He hopes to become a conceptual or manga artist.
"I've been drawing since I could hold a crayon," he says. "My grandma taught me the basics, and I watched people paint on YouTube. "The show is a good opportunity to get out there, and it's cool how they're judging the artwork. It will be good to get constructive criticism – opinions on what I can fix. I have three pieces I'm thinking of submitting, and I'm working on a fourth – a mermaid."
Young artists must attend the reception, are encouraged to create a business card and may sell their art during the show. Prizes will be awarded.
For more information and an application, visit northwestjewishartists.org or email YoungArtistsShow@gmail.com.