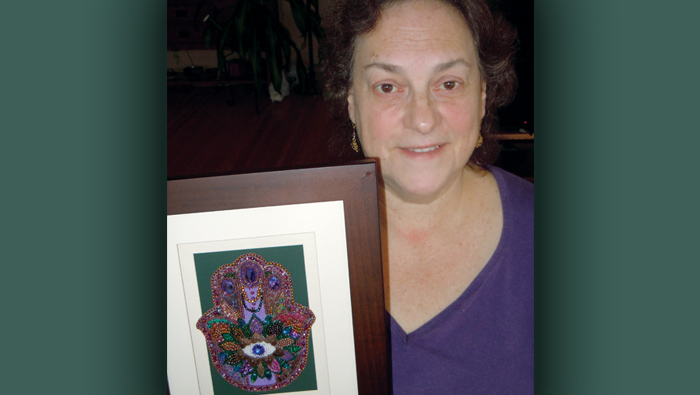 Welcome to Jewish Arts Month, the annual exhibit of paintings, fiber, beadwork, metals, glass, ceramics and more co-sponsored by ORA: Northwest Jewish Artists and the Mittleman Jewish Community Center. This year's show takes place in the MJCC lobby from Sunday, Feb. 26, through Friday, March 31, and includes rotating displays, an offbeat film screening and a new opportunity for young artists throughout the area.
"ORA has celebrated Jewish Arts Month for at least six years," says past-president Eddy Shuldman. "Last year we added Portland Jewish Academy students' work. This year, for the first time, we're also including middle-school students. They do not need to be affiliated with a Jewish organization. We want to give kids who are more serious about art an introduction to exhibiting and selling."
Different sets of artists will display their work each week, beginning with middle-school students on Feb. 26 and ending with the PJA art program. Everything displayed is for sale. Proceeds from a special wall of $36 pieces will go toward a scholarship fund for young artists.
The March 16 screening of "Herb and Dorothy" concludes with a panel discussion titled "Why Buy Art?" This "extraordinary story about an ordinary couple" shows how a retired postal worker and librarian bought from then unknown artists to eventually build a world class collection.
ORA President Esther Liberman will exhibit beadwork. "I use ancient techniques or materials in modern ways," she says, pointing out a beaded hamsa. "For example, the hamsa's netting style is from ancient Egypt, but the beads are computer generated and from Japan."
Esther includes antique African trade beads, which early European traders used as currency. "I've seen charts with beads sewn onto heavy paper – this one's for sugar, this one for oil, these for slaves," she says. "A class of blue Russian beads was traded for fur."
Esther and other artists will be on hand to answer questions and sometimes provide demonstrations.
"By putting the exhibit in the MJCC lobby, people who may not have intended to look at art can have a wonderful discovery," she says. "We'll have four to six artists exhibiting each week – paintings, beadwork, sterling silver jewelry, ceramics, glasswork, textiles and photography. It's interesting what shows up from year to year. People love to come look and talk to the artists."