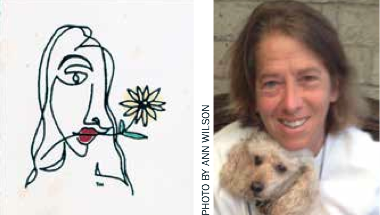 Artist Sheila Lynn Lawton spent three weeks interacting with, and creating art personifying the hopes and interests of, residents of Kehillah Housing, a new Portland affordable housing project for adults with special needs.
Kehillah, which means community, welcomed 14 residents with developmental disabilities last September to the new apartment building on the southwest Portland campus of Cedar Sinai Park; until the addition of Kehillah, the Jewish community campus had served only seniors. One of the Kehillah residents is Cole Takahashi, Sheila's nephew. Cole's adoptive father, Mark Lawton, taught at Portland Jewish Academy High School during its short existence and then at Catlin Gable for several years before moving to California. He commissioned his sister, who lives in San Diego, to create a piece of art representative of each resident.
Known for her use of continuous flow drawing in her abstract realist art, Sheila says she created the basic pen and ink drawings as she got to know the residents during the first of two sessions she had with each of them. Thirteen of the residents participated in the project, with one saying he preferred to "leave no trace."
With the extra blank canvas, Sheila drew a circle for each of the residents and asked them to paint their own vision of their favorite things to create a community canvas.
During one session with each resident, Sheila had each draw three cards from a deck of picture cards that contained an image and a pair of words/concepts, such as denial and divine helper or suffering and divine teacher. As each resident reflected on how the words and images made him or her feel, Sheila drew.
"I don't plan what I draw, an image just comes out of me," says Sheila. "I'm just feeling as I learn about them. It's very clairvoyant."
She says the basic, continuous line drawings that form the basis of the finished artwork are her signature style. Her pieces hang in galleries on four continents. The continuous line "pulls the eye around the canvas."
Sheila also asked residents to talk about their favorite things and colors, and hopes and dreams, which Sheila then incorporated into her finished watercolor.
"I draw things they will relate to," says Sheila, noting she thinks the residents opened up and connected well with her because, "I've had a lot of help myself. I was diagnosed with paranoid schizophrenia over 20 years ago. But the limitations I've had, none exist anymore. … I often find people are hopeful and encouraged from talking to me."
"I included hopes in the paintings to encourage dreams," she says.
Her brother also paid to have each piece of art framed to hang in the common areas of Kehillah. Sheila says the building is well designed to draw the residents into the community room and hallways, and she hopes the paintings will provide more interactions between residents.
A former tax lawyer, Sheila has found art a more satisfying profession. The fifth child of seven, whose parents were born in Austria and Belgium, she says her grandparents were art collectors, and "I stared at beautiful art my whole childhood."
The latest project at Kehillah fit into her own future dreams on many levels.
She hopes to expand the process she used at Kehillah for future workshops she is developing with her sister-in-law, Ann Wilson, who has launched Out and About PDX to help improve the lives of people with disabilities through culture, art and health. Being on a Jewish campus fit into her goal "to focus on Jewish art the rest of my career." Additionally, the process of recording lives and dreams fits into her goal to focus on being a scribe. "I want to be a scribe for Judaism. I want to continue this heritage by being a scribe of what exists with my art."
A member of the Reform congregation Temple Emanuel in San Diego, she says she realized she wanted to use her art in the manner of a scribe when she started to study Kabbalah last year. At Kehillah she hopes her drawings create the same sense of community and happiness for the residents that the project has given her.
"I've had a void filled in me of total joy working with these kids," says Sheila.