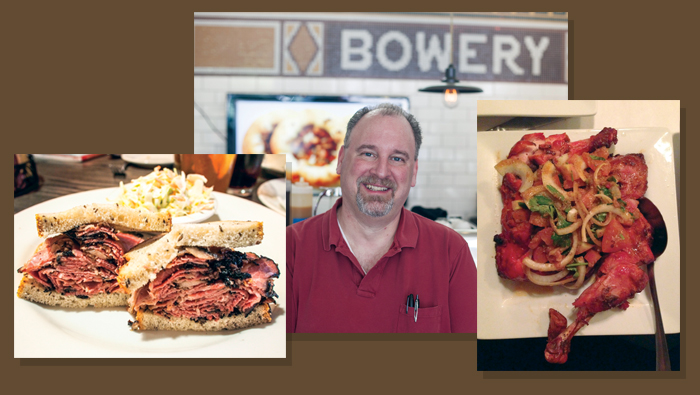 Portland has become renowned as a culinary destination.
Drawing on traditional cuisines from New York, Israel and beyond, Portland food has its own personality.
Kornblatt's New York Style Delicatessen
In 2011 the New York Times food blog called Kornblatt's Delicatessen "one of the truly great New York delis outside the five boroughs."
Established in 1999, Kornblatt's has fresh (never frozen) deli meats and fish flown in from the east coast every week.
"We do our best to make our restaurant as authentic as possible," says Daniel, Kornblatt's owner and president. The big bucket of pickles always on hand is one of the things that make Kornblatt's feel like the Jewish-style, New York delicatessen it emulates.
In addition to serving breakfast all day, lunch and dinner, Kornblatt's also offers catering with a variety of popular platters. For instance, the Long Island Sound platter features a selection of our tasty smoked fish, professionally arranged on a bed of greens with red onions, tomatoes and pickles. Fish includes Nova Scotia lox, whitefish salad, herring salad and herring in wine or sour cream. Served with fresh baked bagels and cream cheese. Other fish choices are available.
"We are famous for our hot pastrami sandwiches and lox plates," adds Daniel.
But there is one big difference from New York delis; in recognition of Portland culture, the local deli offers the Vegetarian Reuben, a Kornblatt's original.
That mix of authenticity and local was noted in the Times blog: "This displaced ode to New York deli counter culture strives for authenticity (Nova lox, pickles and meats imported from New York City), and yet it can't help but reflect the differences between Manhattan and Portland. For starters, there are four local beers on tap … as well as a spacious, relaxed dining room."
628 NW 23rd Ave.Portland, OR 97210
503-242-0055
kornblattsdelipdx.com
Bowery Bagels
Bowery Bagels creates Portland's best kosher bagels with delicious schmears and a full Stumptown barista set-up at its Old Town bagel shop with custom tile works from the store's namesake subway station in New York City. Additionally, earlier this year Bowery Bagels opened their new 5,000-square-foot kosher production bakery in the North Portland, Kenton neighborhood to keep up with the growing demand for Portland's best bagels. A blind taste test earned the restaurant that designation when a panel of five rabbis unanimously chose Bowery Bagels as the best bagel in Portland.
"As a transplanted New Yorker, I founded Bowery Bagels to replicate the high quality bagels I grew up enjoying," says owner Michael Madigan. "A genuine New York-style bagel should have a light crunch on the crust, a chewy but not dense interior and a malty richness. To obtain these characteristics, each bagel we make is hand rolled. The dough is fermented to develop flavor and texture. After a long, slow proof, the bagels are boiled in small batches, then baked to perfection and delivered within hours."
The new bakery will house Bowery's entire all-kosher baked goods production, including the fresh bagels found at their shop, as well as par-baked, frozen and fully baked packaged line, Old Town Bagels located in the bread aisle of many Northwest supermarkets. Other kosher baked goods include Bowery's popular Purim hamantaschen cookies.
Catering information is available on the website.
7 am-2 pm daily
310 NW Broadway, Portland, OR97209
503-227-NOSH (6674)
bowerybagels.com
Bombay Cricket Club
Piquant curries and garlicky kebobs draw patrons to Portland's Bombay Cricket Club.
With relatives in India, Lebanon and Israel owners, Karim and Sherri Ahmad decided to include both Indian and Middle Eastern cuisines on their menu.
"Indian cuisine really complements Middle Eastern cuisine, and vice versa," says Karim, adding that while they offer both cuisines, they do not serve fusion cuisine. Each dish on the menu is part of a long culinary tradition.
Says Karim of his homemade flatbreads: "Our naans are the tribal naans – the ones that are made in the Northern territories in India and Pakistan. They complement both the hummus and the Indian food."
Chicken tikka masala, chicken is cooked in a tandoori oven and then smothered in a tasty saffron sauce, is a popular dish for both dine-in and takeout. "We do 30 or 40 take-out orders of this a night," says Karim.
Mango margaritas, made with mango pulp imported from India, are popular cocktails. Karim says that India produces the best mangoes in the world.
His commitment to quality ingredients extends from his produce to his spices. "All the ingredients we use are the freshest I can find. Our spices we try to bring in from India, and we try to use them as fresh as possible."
The Ahmads say that around 90% of their customers are repeat visitors.
5-9 pm, Tues.-Thurs; 5-10 pm Sat.
1925 SE Hawthorne Blvd. Portland, OR 97214
503-231-0740
BombayCricketClubRestaurant.com