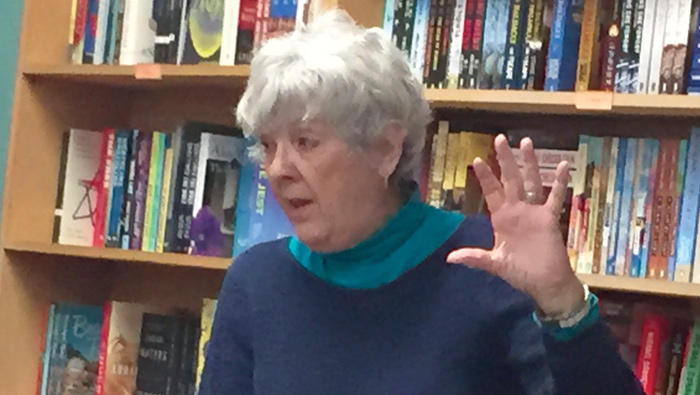 "Linnie Ann Adams Walcott came early to her first class in medical school: anatomy and physiology. … She and a skeleton were the only people in the room, but as the other students arrived, Linn became an island in a sea of males who left two or three seats between her and themselves."
So writes Pamela Lindholm-Levy in her first book, Count the Mountains. The historical-fiction novel, published in late-2015, is set in Denver at the end of the 19th century. Like Linn, the pioneering female protagonist at the center of her book, Pam always was an intellectually curious and independent woman; today, well past legal retirement age, she continues to be.
"I have a friend who's a poet, another who's a printmaker, old college friends (I keep in touch with) and another friend who sails," says Pam, 76. She recounts this during an interview over coffee and GF goodies with her husband, Larry Levy, 82, at Tula Gluten Free Bakery on Portland's Eastside. "Honestly, I don't know what they all do all day."
Larry, a Connecticut native and former securities lawyer, who cheered on Pam through her six-year, novel-writing process, pipes in, "Neither of us think of ourselves as our age, because we're blessed with good health and have interests. We feel much younger than we are."
Pam's new moniker of author rests atop a long list of them. She is a very involved and longtime Irvington Home Tour volunteer and, in 2010, was instrumental in helping her adopted neighborhood receive a Historic District designation.
She reads voraciously, audits courses at Portland State University, spends time with her two grandsons (who also live east of the Willamette River), fosters cats, travels internationally and takes in as much culture as Portland has to offer.
Sacha Reich, executive director of Jewish Theatre Collaborative, calls both Pam and Larry "culture consumers." Pam and Larry both served on JTC's board.A horse lover, Pam also owns and cares for Pascal, a 25-year-old draft horse, who is living out his dotage in Scholls and whom she used to ride and jump. (Pascal's mother, raised by a Jewish family, was named Kadima.)
"He has a beautiful view of Mt. Hood from his paddock," Pam says of Pascal in a tone reserved for a dear friend. "We're both retired from all that stuff."
Born in Silverton and raised an only child in Salem, Pam says her parents influenced her to be curious and active throughout life. Her dad was involved in Salem's Kiwanis Club and Junior Chamber of Commerce, and, during World War II, in which he was unable to serve due to bad eyes and a bad heart, did all he could to earn an income and help the war effort his four brothers all took part in.
In addition to raising her daughter, Pam's mom volunteered at a thrift store that supported an animal shelter and pored over Silverton and Salem history.
"That's what I grew up seeing, as a kid," Pam says.
Pam is a 1961 University of Oregon alumna. Shortly after graduation, she set out for Denver, which became her home for the next 40 years and was where her two children were born.
The city, her master's degree in biology from the University of Colorado, her decades of work in the field of tuberculosis research and her dedication to her two children form the backdrop of Count the Mountains.
"My son was very involved in soccer; my daughter was very involved in music," Pam says, adding, "For the record, I was never the Girl Scout leader."
Pam and Larry both were divorced when they met in Denver in 1980; they married four years later, and in 2002, they made Portland their home.
During her first reading, at Broadway Books in late-February, Pam told her intimate audience that her work as a medical technologist at Denver's Saint Joseph Hospital and, later, at National Jewish Health taught her that 100 years earlier Colorado's capital had become a haven for TB sufferers.
"It was thought that the high, dry, sunny climate would be a cure for TB," Pam says.
National Jewish Health (née National Jewish Hospital) was founded by a group of Jewish women wanting to help their own and convalesce TB patients.
Many passages in Count the Mountains recount the TB scourge, the era's then-nascent research on and treatment of the disease, and a new group of sufferers and settlers: Jewish immigrants from Eastern Europe.
To ensure historical accuracy of the immigrants' story, Pam turned to Portland State University's Natan Meir, history professor, expert on Eastern European Jewry and chair of the Harold and Arlene Schnitzer Family Program in Judaic Studies.
Pam wanted to give the TB patients' medical institution a fictitious name. "I was going to call it New Jerusalem," she says. "But Natan said, 'That sounds too Christian.' So we called it Maimonides Mountain Hospital for Consumptives."
As for her writing, Pam credits Tom C. Bissell's 2011 Intermediate Fiction Writing course at PSU.
Bissell, no longer with the university, recalls of his then over-enrolled class: "It's sometimes difficult when a student who's considerably older than his or her fellow classmates sits in on a class, but Pam was exemplary.
"I still remember both pieces Pam turned in," he continues in an email. "They were filled with memorable characters and sharp dialogue, and were obviously written by someone who had already thought deeply about her own experience in the world."
Indeed, PSU – which Larry calls his "second home" – figures prominently in the couple's post-retirement lives. As beneficiaries of lifelong learning opportunities, they've become passionate benefactors.
Their names adorn a number of scholarships and programs, including the Lawrence Levy and Pamela Lindholm-Levy Judaic Studies Program Fund to support speakers, performances, symposia and more.
Lisa Wright, Pam's daughter, says her mom is an inspiration and often busier than she is as a full-time working mom of two young sons.
"We often have to schedule well in advance to make our free time match up," Lisa says. Her mom always was a reader, so her foray into becoming an author didn't necessarily surprise her. "My mom has an amazing work ethic," she says.
Pam doesn't shy away from the very lengthy path she took to becoming a published author; she has a second book in the works, but for now its topic is secret.
Maybe she'll dive in during long flights this summer to the U.K. and Iceland.
In the meantime, Pam and Larry can be spotted at PSU.
"PSU has meant different things for the two of us," Larry says. "For me, it's the intellectual environment I'd been seeking. For Pam, it's been more than that.
"For Pam, it ignited her writing," he continues. "It planted the seed for the book."
By Jenn Director Knudsen