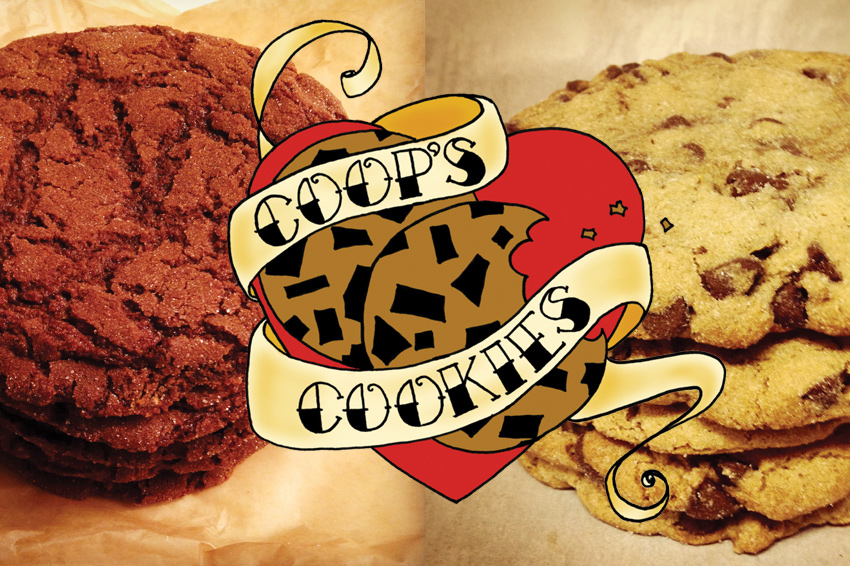 Several delivery options exist for the sleep-deprived, housebound new mom in Portland. Instacart delivers groceries, Farm to Fit brings prepared meals with assorted calorie counts and Local Farmers Delivery offers twice-weekly milk, bread and coffee. But until recently, there was no way to order up an assortment of giant, fresh-baked cookies. Since November 2014 Jessica Cooper, baker/owner of Coop's Cookies, has transformed the local delivery landscape with her amazing plate-sized cookies. Offered in eight tantalizing flavors like triple chocolate and rainbow oatmeal, Jessica's creations are a great gift for both new and veteran mothers (and anyone else who craves sweets at midnight).
The baker operates her home delivery service from 7 pm-3 am, Thursday through Sunday. Why such strange hours? "(During the day) I walk dogs," explains Jessica. "It's actually really fun. I get sunlight and exercise – it's nice to have with all the stress of growing the business." She also waxes nostalgic for the festive nighttime atmosphere of the "old" Voodoo Donuts. "Ten years ago, Voodoo's hours used to be 10 pm to 10 am. It was tiny, you would walk in and there was room for maybe eight people huddled in together. It felt really fun, there was a party atmosphere with people out at night getting donuts; I liked the idea. Obviously, it's great now that Voodoo is open anytime, but I kind of miss that you could only get them at night."
Jessica sometimes gets an idea for a new cookie while out walking dogs. She is particularly proud of her butterscotch-cashew creation. "The butterscotch cashew is pretty much mine," she says. "I'm really proud of it, with its caramel and butterscotch flavors. Many (commercial) cookies are made with butterscotch chips that are artificially flavored. I love really old-fashioned flavors that are made from butter, sugar and (use) different temperatures. You make caramel from browning sugar, butterscotch is from browning butter – it brings out a really different flavor. The crunch of the cashew and the salt on top kind of seal the deal."
Jessica, whose father is Jewish, grew up in Hillsdale. She baked for her family from an early age. "I was an early reader, and I got into recipes and I definitely was doing that by myself. I was probably 8; I always made the macaroons for Passover." Soon she was baking for friends and receiving rave reviews for her cookies.
When asked how she conceived of the idea of a cookie delivery service, Jessica says, "Portland has a lot of ice cream, cupcakes and all kinds of treats, but I couldn't think of a really good cookie place." So far, her chocolate chip cookies, which are based on the toll house recipe, are the customer favorite, with triple chocolate a close second. Jessica wants to add new flavors. "We are talking about maybe doing a monthly rotating flavor …," she says. (We currently have) three every day and two rotating ones every day." All but one of her cookies (triple chocolate) use whole grains, which she thinks improve the flavor. "It's kind of nutty and richer. Both the oatmeal cookies are majority whole grain. Unless you're talking about something really light like a lemon cookie, I think whole wheat improves the flavor."
Coop's Cookies also delivers Cellar Door coffee, which may soon figure into a new cookie flavor. "I love the coffee we use," says Jessica. "It's the Puddletown blend from Cellar Door. It's already kind of chocolaty, and the first time I smelled it, I thought this belongs with cookies. I like the idea of using it to make a mocha one, something coffee flavored."
The baker also loves spices and likes "the idea of developing something with cardamom in it, or chai."
This Mother's Day, you can surprise your mom with a Coop's Cookiegram: three cookies wrapped up with your own personal note.