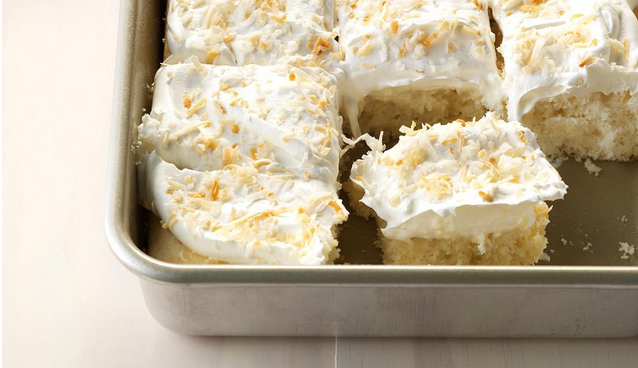 Craving coconut? This indulgent-looking cake is actually lower in fat than many desserts. Try it – I bet you won't be able to tell!
Recipe by Deborah Protzman for Taste of Home
Ingredients:
1 package white cake mix (regular size)
3 large egg whites, room temperature
1-1/4 cups water
1/3 cup sweetened shredded coconut
1 can (14 ounces) fat-free sweetened condensed milk
1 teaspoon coconut extract
TOPPING:
1-1/2 cups reduced-fat whipped topping
1/3 cup sweetened shredded coconut, toasted
Instructions:
1.Preheat oven to 350°. Coat a 13×9-in. pan with cooking spray.
2. Beat cake mix, egg whites, water and coconut on low speed 30 seconds. Beat on medium 2 minutes. Transfer to prepared pan. Bake until a toothpick inserted in center comes out clean, 20-25 minutes. Cool on a wire rack 10 minutes.
3. Mix milk and extract. Using a large meat fork, poke holes in cake. Gently spread half of the milk mixture over cake; let stand 3 minutes. Spread with remaining milk mixture; cool 1 hour.
4. Spread with whipped topping; sprinkle with toasted coconut. Refrigerate, covered, until cold, about 4 hours.