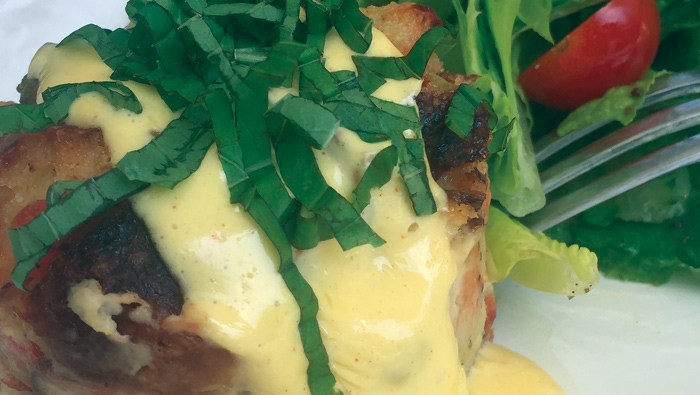 Finding a new home for our family is always a challenge. We need a home large enough to accommodate our two home offices and with a spacious and efficient kitchen for me, sufficient outdoor space for our dog and a storage room for a teenager with too many hobbies and toys to count. After months of searching we finally found the perfect home. It has all the space we need, a great kitchen, a large fenced backyard, ample storage and one big unexpected bonus – it came with a chicken coop and four beautiful egg-laying hens!
The bad news is I know NOTHING about raising and caring for chickens. When we chose this house, we did have the option to keep the birds … or not. Initially I thought the chickens would have to go. On the other hand, these chickens seemed perfectly happy right where they were, and the coop was already in place. How hard could it be? I immediately began to search the Internet to find out how to keep our adopted feathered friends happy, healthy and giving me those four beautiful eggs every day!
Information about caring for backyard chickens is abundant on the Web. Instructions for building coops, choosing breeds, deterring predators, feeding and caring for my new hens were readily available. Websites and blogs answer any and all questions, and nearby breeders and farm supply stores are happy to administer advice and replenish my supply of wood shavings and mealworms to keep the girls full, warm and happy.
Spring and summer are the perfect time to build a coop and start to raise your own backyard chickens. If you begin when the weather is warm, chicks and young birds have the opportunity to grow big enough to become acclimated to the upcoming cold weather. It's also a wonderful summertime project the whole family can enjoy. Kids will love caring for your girls and gathering the eggs. Plus nothing beats the taste of fresh eggs for breakfast!
This year, instead of planning our summer vacation, we will "staycation" as we settle into our new home, put things in place and enjoy our new "friend hens." Now I just need to get my dog on board.
Summer Fruit Clafoutis
Clafoutis (pronounced claw-foo-tee) is a classic French dessert. The French make theirs with big, ripe red cherries, but raspberries, blueberries, pears or plums work beautifully. Deliciously easy to make, this dessert is made especially rich with my backyard eggs!
½ cup whole milk
½ cup heavy cream
3 eggs
½ cup sugar
Seeds from one vanilla bean (or ½ teaspoon vanilla extract)
2 tablespoons butter, melted, plus more for buttering dish
½ cup all-purpose flour
1 cup pitted ripe cherries
Preheat the oven to 325°F. In a large bowl or blender whisk together the milk, cream, eggs, sugar, vanilla and 2 tablespoons butter until the sugar is dissolved. Add the flour and blend until smooth. Butter an 8-inch pie pan or cast iron skillet. Scatter cherries evenly around pan. Pour the batter evenly over the cherries.
Bake until the clafoutis is beautifully puffed and golden, 35-40 minutes. Serve immediately dusted with powdered sugar.
Savory Smoked Salmon Bread pudding
Serves 6
Use a six-cup "Texas" muffin pan or six 8-ounce ramekins
3 tablespoons unsalted butter (plus extra for buttering dishes)
1 medium leek, white and light green parts, rinsed and finely chopped, about ½ cup
½ cup asparagus, cut into ½-inch dice
¼ cup dry white wine
2 cups half and half
2 eggs
3 egg yolks
2 tablespoons mayonnaise
1 teaspoon Dijon mustard
1 teaspoon Old Bay seasoning
½ teaspoon salt
¼ teaspoon fresh black pepper
6 ounces hard smoked salmon, crumbled
½ loaf pugliese or other rustic Italian bread, torn into 1-inch pieces
1 cup grated Tillamook Cheddar cheese
Melt 3 tablespoons butter in a medium skillet and add leeks. Sauté until soft, about a minute or so, and add asparagus and artichokes. Sauté for another minute or so and add wine. Reduce till wine evaporates and set aside to cool. In a smaller bowl, mix half and half, eggs and yolks, mayo, Dijon, Old Bay, salt and pepper. Fold in salmon, cheese and vegetables. Add bread and toss to coat. Allow bread to soak up custard for about a half hour. Generously butter the Texas muffin tins. Fill muffin cups or ramekins to almost full. Place in another roasting pan with hot water reaching about halfway up the sides of the tins. Cover with foil, place in a 325º oven and bake for 35 minutes. Uncover puddings and bake another 10 minutes or until custard is just set. Do not overbake! Serve warm or at room temperature with warm hollandaise sauce (see recipe below).
Easy Blender Hollandaise
3 egg yolks (at room temperature)
¼ teaspoon salt
Pinch of cayenne pepper
2 tablespoons fresh lemon juice
½ cup unsalted butter
Place egg yolks, salt, cayenne and lemon juice in blender. Cover and blend for 10 seconds on high. Melt butter in a pyrex glass measuring cup in the microwave until melted and very hot (30 to 60 seconds). Turn on blender and slowly pour hot butter into blender using a towel to prevent splattering; continue blending till butter incorporated. Discard solids at the bottom of the cup. Use sauce immediately.
Lisa Glickman is a private chef and teacher who lives in Portland. She has made TV appearances on COTV in Central Oregon and appeared on the Cooking Channel's "The Perfect Three."
She can be reached at lisa@lisaglickman.com.