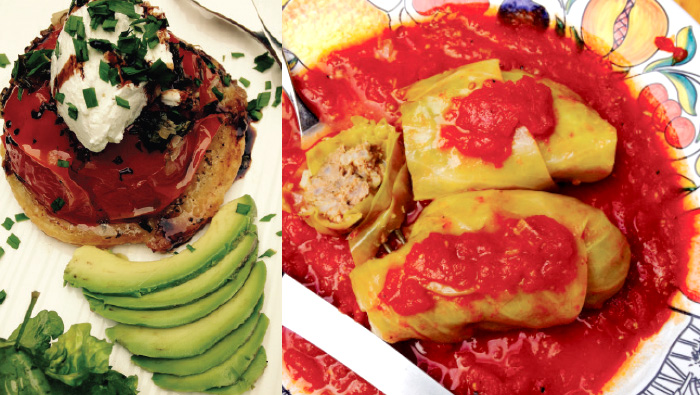 The last couple of months will go down in the record books as one of the warmest summers the Pacific Northwest has had in some time. While Oregon is typically recognized for an abundance of rain, this summer's unusual string of consecutive sweltering days makes most of us eager for a more temperate forecast. Although few Oregonians would complain about sunshine, I think it is safe to say that folks are looking forward to coming out of the AC and putting on a sweater for a change. The months of September and October cue kids going back to school, the High Holidays and the conclusion of the backyard BBQ. It also marks the winding down of our beloved local farmers markets.
When I shopped at the farmers market yesterday, I started to notice changes in the produce available from the local merchants. Colorful berries, tender asparagus, spring peas and fresh corn on the cob are being crowded out by late summer's variety of eat-over-the-sink peaches, ripe juicy melons, root vegetables, and mountains of vine-ripened heirloom, cherry, Roma and beefsteak tomatoes. Broccoli, cabbage, cauliflower and leafy greens like kale, collards and Swiss chard begin to show up because they are sweeter when harvested in cooler weather. Ripe red peppers, fresh garlic and horseradish root are all harvested in the fall, and it won't be long before pumpkins, acorn squash and sweet potatoes color the markets harvest gold. Farmers markets have also become my go-to source for artisanal cheeses, nut butters, freshly laid farm fresh eggs and locally grown grass-fed beef. It won't be the same when you're gone!
Now is the time to preserve a little of nature's bounty by canning plenty of those rich, red, fresh-off-the-vine tomatoes to enjoy right from your own pantry. Canning your own tomatoes is much easier than you might think, and it's a delicious opportunity to capture their flavor at its peak. Safety instructions for hot water canning can be found easily on the Internet, and this time of year canning jars and supplies go on sale regularly at local grocery and hardware stores. Preserving the sweet taste of late summer tomatoes is a great way to amplify the flavor of many of your upcoming holiday dishes.
As soon as the solemn day of Yom Kippur is behind us, we focus on the traditions of the approaching holiday of Sukkot. Sukkah is a Hebrew word meaning "booth" or "hut." The booths that characterize the holiday are made of organic material thatched together with an open roof for viewing the stars. They may originally have been temporary structures that people would have used while taking in the harvest – a small, cozy place to share a meal and give thanks for the bounty of fall. The sweet flavor of summertime tomatoes is temporary, too, so the time is now to celebrate, share and hopefully preserve some of the abundant flavor this quickly passing season has to offer.
Beefsteak Tomato Tarts with Fresh Herbs and Goat Cheese
These individual tomato tartlets showcase the flavor of sweet beefsteak tomatoes and creamy goat cheese. Serve with a salad for a light lunch or for dinner as a side dish. Serves six.
Ingredients
6-cup Texas muffin tin pan
(makes the super big muffins)
6 baseball-size beefsteak tomatoes
6 tablespoons good-quality olive oil
6 teaspoons chopped fresh herbs (thyme, savory, basil, oregano)
6 teaspoons chopped shallot
Kosher salt
Freshly cracked pepper
1 package frozen puff pastry, defrosted but very cold
About a cup of soft goat cheese such as Montrachet
Balsamic syrup for drizzling.
Preheat oven to 375ºF. Cut about one inch off the tops (stem end) of each tomato and use your finger to scoop out seeds and squeeze out as much juice as possible. Place 1 tablespoon of oil, 1 teaspoon each of shallots and herbs, a pinch of salt and a few grinds of pepper in each of the cups of the muffin tin. Place tomatoes cut side up in each of the muffin cups. Use a ring cutter or bowl to cut puff pasty into rounds just slightly bigger than the muffin cups and top each with pastry. Bake tartlets in hot oven for 20-25 minutes or until pastry is rich golden brown and puffed. Remove from oven and place a baking sheet over the top of tartlets. With a quick motion, invert tartlets onto baking sheet. Use a spatula to plate tarts and top with a spoonful of goat cheese and a drizzle of balsamic vinegar. Serve immediately.
While researching this recipe, I found recipes for the cabbage rolls (referred to as both prakas and holishkes) that are typically served during Sukkot. Though the recipes were similar, I did find slight variations. My recipe uses my own preserved tomatoes and a hint of spice to make them my own. These freeze well and make a delicious meal to share in the sukkah.
Prakas (or Holishkes)
1 large head green cabbage
Filling
1 pound good-quality ground sirloin
½ onion, grated or chopped fine in a food processor
1/3 cup cooked white rice
1 egg
1 teaspoon kosher salt
A few grinds of black pepper
Sauce
3 tablespoons olive oil
2 shallots, chopped
2 quarts canned tomatoes
¼ cup chili sauce (such as Heinz)
3 tablespoons brown sugar
Juice of 1 lemon
Kosher salt and pepper to taste
¼ cup golden raisins
2 whole star anise
1 cinnamon stick
Cheesecloth and string
Bring a large pot of salted water to a boil. Carefully core the cabbage (without cutting through the leaves) and plunge into boiling water. Blanch for about a minute and remove. Carefully peel leaves whole. You might get two or three and then have to put the cabbage back into the water to blanch inner leaves. Continue blanching and peeling until you have about 12 large leaves softened and still intact. Preheat oven to 325ºF. Mix ground beef, onion, rice, egg, salt and pepper. Place a cabbage leaf on a cutting board with the stem side pointing toward you. Starting about three inches from the top of the leaf, use a paring knife to remove the thick spine. Bring the edges together and place about a golf-ball-sized scoop of meat filling in the center of the leaf. Fold in sides and roll into packages. Continue rolling packages out of remaining cabbage and filling.
Heat a large Dutch oven over medium high heat. Add olive oil and shallots. Cook shallots until soft and golden brown. Use the cheesecloth and string to make a bouquet garni with the raisins, star anise and cinnamon stick. Place whole tomatoes in a large bowl and use your hands to crush them into small pieces. Add tomatoes, chili sauce, brown sugar, lemon juice, salt, pepper and bouquet garni to pan with shallots and bring to a boil. Taste and adjust seasoning. Gently place cabbage rolls into sauce. Cover and place in oven for 1 hour. Cool slightly before serving.