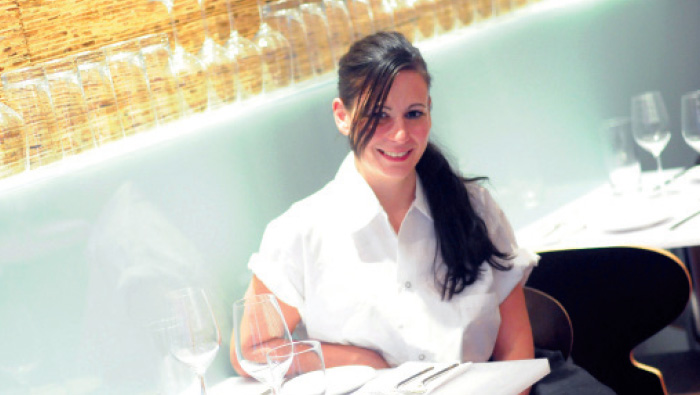 Chef Amanda Cohen has been winning accolades for her stunningly creative vegetarian cuisine. On more than one occasion, the Michelin Guide has recognized her New York restaurant, Dirt Candy, for excellence, and Gourmet Magazine calls her cooking "so good it will stop your heart." Portlanders will soon get a chance to experience Cohen's culinary magic at the 2015 edition of Bon Appetit's Feast Portland. The popular foodie fest takes place Sept.  17-20; Cohen's event, "More Girls! Girls! Girls! With Domaine Serene and Stoller Family Estate," will be held on Sept.  17 at 7 pm.
The Ottawa-born Cohen grew up in a large Jewish family. She waxes nostalgic about her childhood, which was spent mostly in Toronto. "Growing up Jewish was all about the food to me … we'd all go over to my aunt's and uncle's house for giant Friday night suppers. I'd sit in temple on Rosh Hashanah, and all I'd think about were the apples and honey and challah waiting for me at the end. I'm a fiend for horseradish, and so to me, all my Passover memories are about putting unwise amounts of it on everything. Hanukkah was latke time."
When Cohen was 15, she made the decision to become a vegetarian. She jokes, "It was the best way to irritate my parents. Back then, there was a fear that if you didn't eat enough protein you'd die, so it gave us one more thing to fight about. After a while, I didn't die, and it became a habit."
While the chef now eats fish, her restaurant is entirely vegetable focused. "Vegetables are still the wallflowers at food prom: no one much is asking them to dance. But that just means more vegetables for me!"
Diners have much to enjoy at Dirt Candy. Each dish is like a meditation on a featured vegetable. Charred black radish spaghetti with butter-poached radishes is a customer favorite, as is the carrot waffle dish with peanut mole sauce and pickled carrots. Broccoli "dogs" in hot dog buns come with broccoli slaw, and eggplant is pickled, fried, grilled and broiled in just one dish. Even the desserts are vegetable focused; a corn cake is accompanied by popcorn ice cream, and carrot meringue pie comes with candied carrot chips.
At Feast Portland, Cohen will collaborate with Lincoln's Jenn Louis, Irving Street Kitchen's Sarah Schafer and New York chef Elizabeth Falkner. Cohen is excited about returning to Portland. "I've been to Portland a couple of times; I'm a big fan of Powell's, and you guys seem to have turned food trucks into a science."
Tickets for Feast Portland 2015 can be purchased at feastportland.com.