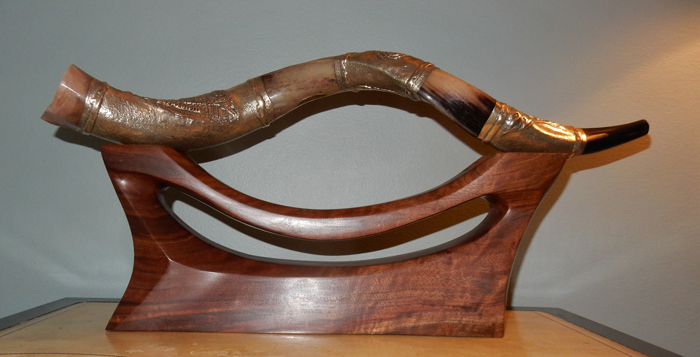 Photo: Morrie carved this stand from black walnut for a shofar he bought from Israel as a birthday gift.
Two years ago Morrie Jackson's wife Gerry went to ORA's annual Celebration of Art at the Mittleman Jewish Community Center and told Morrie he should exhibit his work.
Last year Morrie took a few of his wood carvings and was very gratified by the comments from people about his art. He also joined ORA: Northwest Jewish Artists and now serves on the board. With more awareness of his art, he was hired to carve a commission, which has absorbed much of his attention this summer.
This fall, the 79-year-old plans to display a larger collection of recent carvings at the annual art celebration (see box).
Morrie spent his working life as a draftsman – initially designing homes for builder in Beaverton and later designing various elements of industrial buildings. But drafting didn't quite satisfy his artistic cravings and he pursued art as a hobby throughout his life.
"Art is part of my soul, something I have to do," says Morrie. "It completes me."
With more time on his hands, a few years ago Morrie enrolled in sculpture class at the Pacific Northwest College of Art. He still enjoys working with clay and glass casting, but much of his focus has been on wood for the past two years.
"Wood kind of guides you with the grains and other things," he says. "I follow the flow of the wood and usually it becomes very visible what it should be."
He generally leaves his pieces untitled "so the viewer can interpret what they see." But sometimes the shape that emerges from the wood is so obvious or suggests a meaning of life, that he will give the piece a name.
A lifelong Portlander and member of Congregation Beth Israel, Morrie has a lot of friends in town whom he hopes will come see his work at the J. He's also looking forward to meeting new admirers of his art, too.
ORA's 14th Annual Celebration of Art
WHEN: 7-9 pm, Saturday, Nov. 2
10 am-4 pm, Sunday, Nov. 3
WHERE: Ballroom, Mittleman Jewish Community Center, 6651 SW Capitol Hwy., Portland
SATURDAY: Join us for a Free fun and exciting evening with ORA's talented artists. Be the first to preview and purchase the artists' new and affordable art, including photography, fabric, fused glass, jewelry, paintings, pencil drawings, pottery, wood, sculpture, quilts and more.
Refreshments will be available.
SUNDAY: You won't want to miss the 14th Annual art exhibit and sale in the MJCC Ballroom (admission is free). Hosted by ORA: Northwest Jewish Artists, the only arts organization devoted to promoting art created by Jewish artists in Oregon and Washington. Perfect for Hanukkah and hostess gift needs.
SPONSOR: MJCC, Jewish Federation of Greater Portland, and ORA: Northwest Jewish Artists
CONTACT: northwestjewishartists.org | choosearttoday@gmail.com | 503-244-011