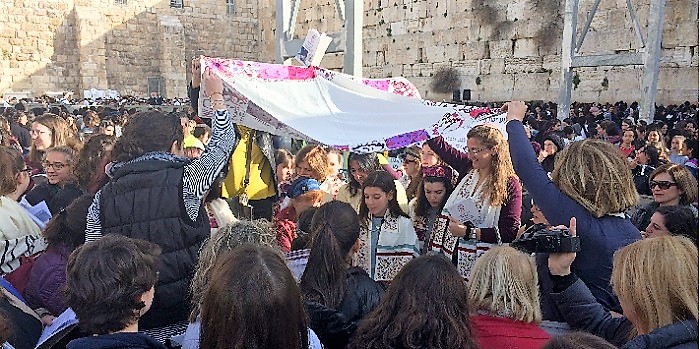 PHOTO: A girl celebrates her bat mitzvah at the Western Wall with Women of the Wall. PHOTO BY MIRI TZACH
You might be surprised to learn that egalitarian prayer services, including celebrations of bar/bat mitzvahs, continue regularly at the Kotel (Western Wall). Lost amid the controversy concerning the Government of Israel's decision to renege on its agreement to expand and renovate the temporary prayer plaza located at the southern end of the Kotel is the fact that the egalitarian section of the Kotel continues to be open for business.
Inaugurated in August 2004 and renovated in 2013 under then Minister of Religious Services Naftali Bennett, who named it "the area for all of Israel" (Azarat Yisrael), the prayer space hosts egalitarian prayer services on a regular basis. My friend David Ebstein has helped more than 1,000 families celebrate a bar/bat mitzvah in Israel, almost all of them opting to hold the ceremony at Azarat Yisrael. David is an ordained Conservative rabbi and a licensed tour guide (israelbarbatmitzvah.com; davidebstein@gmail.com).
I asked David to reflect on his wealth of experience with families celebrating a bar/bat mitzvah in Israel and to provide some helpful tips for people thinking of doing so. David works in partnership with his wife, Rena Magun (who formerly worked in Jewish communal service and Zionist education), and what follows was written jointly by them.
We never cease to be amazed at the magic that is created at b'nai mitzvah celebrations at Azarat Yisrael. Regardless of their knowledge base, the families we work with are lovers of Israel. They love walking through the narrow alleyways of Jerusalem's Jewish Quarter, seeing the remains of Jewish resistance on Masada and sunbathing along the Mediterranean coast. They are certainly aware of the political situation here in Israel, and their ears are highly attuned to warnings about terror, but that is not the focus of their journey.
Our b'nai mitzvah families are not here to make a statement. This 10-day trip is not a political act but rather a spiritual one. Much more than just another family vacation, for most of the families we work with this is an experience of a lifetime and part of a spiritual and educational pilgrimage.
Crafting this magic takes clear thinking and planning. What follows are just a few tips that we have learned over the years:
The first step in planning your trip is to decide on your dates of travel. Once you have those selected, then choose your rabbi. Next, schedule the date of your celebration according to the rabbi's availability. Then build the itinerary around that date. Sadly, many people build an itinerary first and then try to fit in the bar/bat mitzvah – only to find that the rabbi they want is unavailable.
Try very hard not to hold your simcha the day after you land, as your child will be exhausted. However, do not wait until the end of your trip, as your child may be too nervous and unable to fully enjoy the journey beforehand. The ideal time for the bar/bat mitzvah is about one-third of the way into your trip.
Don't let restaurants determine your schedule; there are scores of good restaurants in Jerusalem to choose from. If there is a conflict between the rabbi of your choice and a particular restaurant's availability, go with the former. It's not about the food.
If this is your family's first time travelling in Israel, consider working with a licensed tour operator who will create an itinerary that is educationally sound. If you are on a budget, drop down a hotel star but don't give up on the professional planning. It is the touring before and after the bar/bat mitzvah that will help to create a meaningful and fun trip for everyone.
Don't wait until the last minute to begin teaching your child how to read Hebrew and to chant Torah. Give him/her plenty of time (at least a year) so that they are not pressured.
Along with all of our colleagues in Israel, in addition to strengthening Jewish identity and marking a life-cycle event, our overall goal is to help you and your family create a lifelong relationship with Israel. We want you to get to know your homeland, have fun and be aware that you are not just a tourist – you are also a pilgrim on a spiritual journey. What better place to begin that journey than in Israel, the homeland of the Jewish people?
Teddy Weinberger, Ph.D., writes from Givat Ze'ev, a suburb of Jerusalem. He and his wife, Sarah Jane Ross, made aliyah in 1997 with their five children. Teddy is director of development for Meaningful, a company that works with Israeli nonprofit organizations.