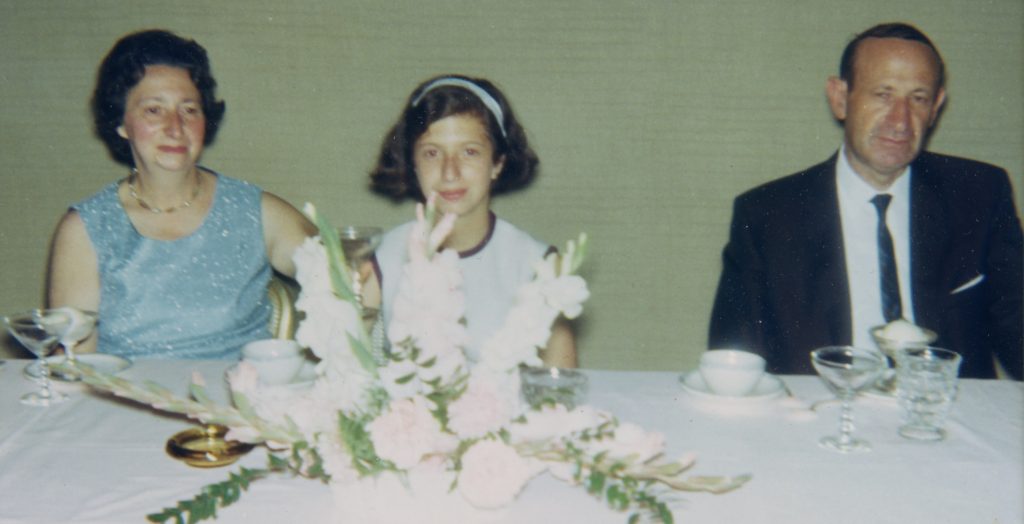 PHOTO: Eddy Shuldman and her parents at her bat mitzvah (1966).  OJM 07171
The tradition of girls having bat mitzvah ceremonies in the United States is relatively new. Bat mitzvahs weren't customary until the 1960s, and it took until the 1980s for it to be commonplace for girls to read from the Torah.
The Reform movement in the United States embraced the change early, and the Conservative movement slowly came on board. But most Orthodox communities still do not hold full bat mitzvah ceremonies for girls.
The most widely recognized first bat mitzvah in the United States took place in 1922 for the daughter of Rabbi Mordecai Kaplan, the founder of Reconstructionist Judaism.
According to Ellen Eisenberg's The Jewish Oregon Story, the first recorded bat mitzvah in Portland was at Ahavai Sholom, a Conservative synagogue. Linda Potter celebrated her bat mitzvah in 1953. Next, Karen Sue Shulkoff became the first bat mitzvah at the Reform Congregation Beth Israel in 1956.
Lifelong Portland resident Eddy Shuldman became a bat mitzvah at Congregation Neveh Shalom in Portland in 1966. She says her bat mitzvah was at a time when Conservative synagogues were performing the ceremony for more and more girls.
"I wasn't allowed to read out of Torah, but was allowed to do aliyah and haftorah," she says.
Today in the Conservative movement, most girls read from the Torah.
"It was really upsetting to older men in particular when the girls started being called up to the Torah. They would walk out of shul," Eddy says of Neveh Shalom. She recalls her father telling her "so what, let them walk out," even in regard to her own bat mitzvah ceremony.
"Rabbi (Joshua) Stampfer was very positive and very supportive of it," she recalls.
Eddy remained involved at Neveh Shalom and now teaches bar and bat mitzvah students as they prepare. She's been doing so for 30 years.
Francine Abolofia became a bat mitzvah at Congregation Neveh Shalom in 1965. Her bat mitzvah story was featured in a 2013 exhibit at the Oregon Jewish Museum and Center for Holocaust Education, in which she was quoted recalling her mother asking Rabbi Stampfer, "Does my daughter need to do this?" He replied that if Francine wanted to do it, then the clergy would support her.
Her ceremony was on a Friday night. She made a speech and helped lead the Shabbat service. She remembers that "her gifts weren't as numerous or nice as those that her brother received
from his bar mitzvah; perhaps they didn't know what to get (because bat mitzvah was a new idea) or that a girl's ceremony wasn't as important."
The white dress Francine wore for her bat mitzvah was on display at the museum for the exhibit.
Eddy says she sees a lot of changes in the way students connect with their ceremonies today compared to when she and Francine had their ceremonies.
"The movement in general is empowering kids to do more learning," she says. "It's more service proficient, possibly doing even a little more in-depth study."
For girls, this also helps establish a deeper connection to Judaism and dig roots in the community. "I think there's been a little more effort in that regard," she says.
"It isn't just asking kids to be involved in the one year they are training, rather they can understand that tzedakah or social justice requires commitment beyond this year."
Another noticeable change is the way the ceremonies are celebrated. Today, kids host large parties, often with DJs and extravagant gifts. Back then, a Friday night dinner celebration was more common.
Invitations to the ceremonies were always formal, Eddy says. The main difference today is the spike in evite usage. "The bigger change of course now is everyone using the internet for invitations. They are more informal and leave room for more creativity," she says.