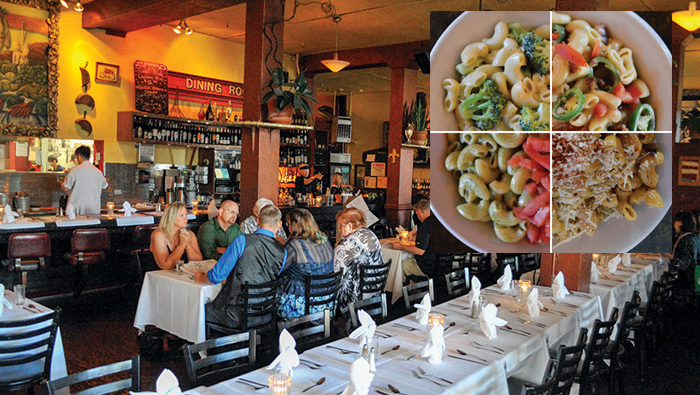 Cajun cuisine is a heady mix of European, West African and Native American influences. It's intensely flavorful, spicy and rich. Unfortunately, this cuisine is usually off-limits for those with dietary restrictions. But Portland is home to a Cajun restaurant with something for everyone: Le Bistro Montage. This local landmark has been satisfying the vegetarian, vegan and even the gluten-free diner since 1992.
General manager Barry Brown said "Members of Portland's Jewish community have been patrons since the very beginning."
At Le Bistro Montage, ingredients such as Andouille sausage, frog legs and alligator are easily avoided (or added, for those who do not follow the rules of kashrut). The well-spiced red beans and rice are dairy- and meat-free, and like most dishes at Le Bistro Montage, they come with a sweet cornbread muffin. Carnivores can enjoy blackened chicken breast or flatiron steak; they can avoid the inclusion of dairy in their meal by omitting the blue cheese and substituting beans and rice for the garlic mashed potatoes. Vegetarians will love the giant heaps of veggie jambalaya. Even the decadent hush puppies can be served vegetarian.
The restaurant keeps a binder with detailed lists of ingredients so that all diners might find something to fit their needs. One of the most popular dishes is the macaroni and cheese, of which there are many varieties. Many customers seem to fancy the Spold Mac (a blend of old and spicy), the creamy garlic Old Mac or the jalapeno-spiked Spicy Mac. Pasta lovers can also order pesto macaroni or basil vegetable linguini. For those who want to eat lighter, there's a Hoppin' Jon salad with black-eyed peas.
Spices also find their way into the creative cocktail menu, which includes a jalapeno martini and a Dark and Stormy with freshly grated ginger. The diverse wine list features selections from France, Chile, South Africa and Argentina, among other countries.
For dessert, there's peanut butter pie, rum raisin bread pudding made with sourdough baguettes, and, for the chocoholics, a Mississippi mud pie and a chocolate pot de crème.
While Le Bistro Montage's dinner service starts at 5 pm, the restaurant is also quite popular late at night. It's open till 4 am on weekends. Thronged by hordes of expectant diners, Le Bistro Montage was forced to expand into its former garage, which is now a lounge named La Merde. We recommend that you arrive early to avoid the lines; there are no reservations.
Le Bistro Montage: 301 SE Morrison St. | 503-234-1324 | montageportland.com
Photos courtesy of Le Bistro Montage