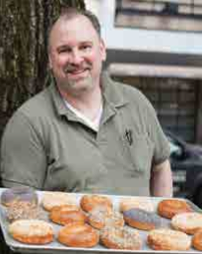 Bite into a bagel from Bowery Bagels and it's like being transported to the Lower East Side of Manhattan. The bagel is dense and chewy with a crisp exterior; it in no way resembles the overly sweet, puffy version so often found in Portland. The recipe, which was perfected by Bowery Bagels founder Michael Madigan, is based on that of an old German bakery in New York. It contains no sugar. "There is no reason to put sugar in a bagel," declares Madigan.
Madigan, a veteran of the tech industry with a longtime interest in food, decided to introduce his brand of bagels to Portland after the Kettleman Bagel Company was sold. "They made an OK bagel," he explains. "It was middle of the road – bigger and softer and sweeter. It was passable." But after the sale of the company to a national chain, Madigan felt there was a dearth of good locally made options. Many bagels were reminiscent of a "hamburger bun with a hole."
He began by making 10 bagels at a time in his home kitchen, using a KitchenAid stand mixer. He would proof the bagels for two days, temper them, and then boil and bake them. (Boiling is a crucial step to ensure a toothsome crust; the fluffiness of some Portland bagels is apparently due to steaming.)
And so the concept for Bowery Bagels was born. The store began as a Saturday pop-up that operated out of the KitchenCru Culinary Prepspace, Madigan's culinary incubator. On the first Saturday, Madigan sold out of his 180 bagels in only 20 minutes. The pop-up had to start ration- ing bagels to six per customer. It was obvious that there was a demand for real New York bagels in Portland.
Wholesale orders began to file in; Duane Sorenson of Stumptown Coffee Roasters was the first customer. After joining forces with Stumptown in March of 2012, Bowery Bagels went from producing 180 bagels a weekend to 1,100 a day. The bakery, which was constructed to the specifications of Oregon Kosher, opened in June of 2012, with whole uncut bagels certified kosher parve. Production currently stands at around 4,000 bagels per day. Bowery Bagels wholesales to 85 locations (not including the Burgerville chain, which uses Bowery Bagels for breakfast sandwiches). New Seasons, which offers the bagels in its deli section, is the bakery's largest wholesale customer. As of mid-August, a retail six-pack is also being sold at several Whole Foods locations.
While Madigan's recipe is from New York, his ingredients are local and all natural. His kosher bagels and bialys use non-GMO flour from Shepherd Grain, which sources from Oregon and Washington. He uses line-caught Columbia River salmon in his house-cured gravlax and cures his own pastrami, roast beef and turkey. Even the sauerkraut is pickled in house.
Madigan is especially proud of his pumpernickel bagels. "At some local bakeries, if you ask them how they get their deep brown color, it is usually due to caramel color." Bowery Bagels uses only rye flour, cocoa and a slight hint of coffee. Other bagel flavors include plain, poppy seed, sesame seed, sea salt, salt and pepper, onion, garlic and herb, everything, multigrain, cinnamon raisin spice and jalapeno salt. Madigan once created a concoc- tion known as the "MSG" for noted food critic Karen Brooks; it contained miso, black soy sauce, fresh ginger, and black and white sesame seeds. However, he has his limits. "I don't plan to ever do a blueberry bagel."
No bagel is complete without a schmear; Bowery Bagels offers plain cream cheese, smoked salmon and roasted vegetable spreads as well as kimchi, hummus and vegan savory, which is made with a no-soy cashew base. There's also a nice selection of sandwiches. According to Madigan, the most popular bagel continues to be the "everything" bagel, but on this writer's recent visit, the sea salt bagel was sold out by 11 am.
Bowery Bagels continues to innovate; whitefish salad, gefilte fish and chopped liver may be in the works. Madigan is trying to convince Tahlia Harrison, his wholesale account manager, to part with her family's potato knish recipe. His shop also bakes the hamantaschen for Oregon Kosher's Purim baskets. The sweets come in three flavors: apricot, prune and poppy seed hazelnut. This last enterprise arose after rabbis complained to Madigan about the lack of fresh hamantaschen in Portland – apparently, everything used to be sent from a bakery in New York. Now, at Purim, hamantaschen orders can be placed on the Bowery Bagels website.
At the same time that Madigan focuses on Bowery Bagels, he is also the majority owner of Remedy Wine Bar in the Pearl, and he runs KitchenCru across the street. Of KitchenCru, he explains, "We help start-up companies launch." His unique shared-use kitchen/business development company currently serves around 30 clients including several caterers, a salsa company and Bluebird Bakers. "You should try their macaroons," he advises.
KitchenCru hosted "Dessert for Dinner," a Feast Portland dinner series on Sept. 18.
For a more casual culinary experience, head over to Bowery Bagels for a traditional New York deli fix. Try the Sarah's Special: gravlax with red onion and a delectable caper schmear. It's cheaper than flying to New York.
Bowery Bagels: 310 NW Broadway, Portland | 503-227-6674 | bowerybagels.com
KitchenCru: 337 NW Broadway, Portland | 503-226-1400 | kitchencru.biz