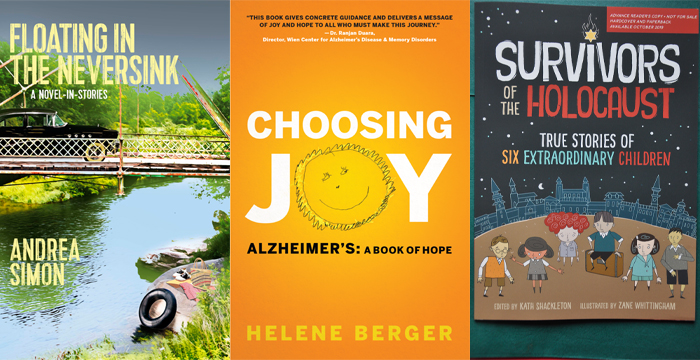 November is Jewish Book Month – in time for the Hanukkah gift-giving season. Sponsored by the Jewish Book Council, this annual event highlights the Jewish community's contribution to the world of publishing. The following are some titles we wanted to share.
KIDS BOOKS
It's a Mitzvah! by Julie Merberg, illustrations by Beck Feiner, Downtown Bookworks (Sept. 24, 2019), board book, 20 pages, ages 0-3, $10.99
In this colorful book, clever illustrations accompany rhyming text about important Jewish do's and don'ts. From feeding the hungry to telling the truth to repairing the world, each page highlights a different mitzvah, or good deed, in a way that's engaging and totally understandable for the preschool set. This adorable introduction to mitzvot doubles as an early guide to socially conscious behavior.
My First Jewish Baby Book by Julie Merberg, illustrated by Beck Feiner, Downtown Bookworks, (Nov. 2018), board book, 28 pages, ages: 0-3, $10.99
Adorably illustrated alphabetical entries provide a fun taste of all things Jewish. Perfect for any Jewish baby's nursery, this tiny tome covers quintessential foods, such as bagels and brisket, important cultural references (with a little Yiddish thrown in), and rituals and holidays, including Bar and Bat Mitzvahs, Shabbat, and Hanukkah. Adults will love sharing every concise, funny entry with the little ones in their lives.
YOUNG READERS
Survivors of the Holocaust: True Stories of Six Extraordinary Children by Kath Shackleton, illustrated by Zane Whittingham, Sourcebooks Explore (Oct. 1, 2019), ages 10-14 years, paperback, 96 pages, $14.99
Between 1933 and 1945, Adolf Hitler and the Nazi party were responsible for the persecution of millions of Jews across Europe. This extraordinary graphic novel tells the true stories of six Jewish children and young people who survived the Holocaust. From suffering the horrors of Auschwitz, to hiding from Nazi soldiers in war-torn Paris, to sheltering from the Blitz in England, each true story is a powerful testament to the survivors' courage. These remarkable testimonials serve as a reminder never to allow such a tragedy to happen again.
SELF HELP/LIFE
The Alef-Bet of Death Dying as a Jew: A Guide for the Dying out of Jewish Traditional Sources by Rabbi Ariel Stone, Lulu Press (2019), paperback, 130 pages, $18
A big part of Rabbi Ariel Stone's job is helping people cope with their own death. Her new book, The Alef-Bet of Death: Dying as a Jew, grew out of a question one of them asked: "Where is the book for me, I who am dying?" There are many guides to grief written for mourners, but not for those struggling with how to die. In this book, she shares stories and traditional Jewish lessons to help the dying on their path. The rabbi of Portland's Congregation Shir Tikvah, she serves on the Oregon Board of Rabbis and is co-founder of the Oregon Jewish Indigent Burial Society, which gives a Jewish burial to those who can't afford it.
This is a valuable guide that teaches the meaning of death in the Jewish tradition while offering clarity, light, and comfort to those walking the often vague and dark path to dying.
CHOOSING JOY: Alzheimer's: A Book of Hope by Helene Berger, Reiberg Press (May 10, 2019), paperback, 228 pages, $18.95
A few months after their 50th wedding anniversary, Helene Berger's husband, Ady, was diagnosed with Alzheimer's. When he got the news from the doctor, he responded, "I don't want to live anymore." From that moment on, Helene faced her husband's diagnosis with a fierce determination to find creative ways to make their lives as fulfilling as possible, for as long as possible. She chronicles this journey in her touching new book. This is a rare success story — the story of a woman who refused to surrender to the implications of her husband's diagnosis, instead inspiring him to join her in making every moment they had together meaningful and precious.
Helene was the National Chair of the Jewish Education Service of North America; on the Council of Jewish Federations Board and Executive Committee, where she was National Chair of the CJF -Women's Department; and for 30 years on the board of the American Jewish Joint Distribution Committee.
FICTION
Once Upon a Time in France by Fabien Nury, DEAD RECKONING (September 2019), paperback, 368 pages, $29.95
Based on a true story, the graphic novel Once Upon a Time in France follows the life of Joseph Joanovici, a Romanian Jew who immigrated to France in the 1920s and became one of the richest men in Europe as a scrap-metal magnate. For some, he was a villain. For others, a hero. As Germany occupies France, Mr. Joseph thinks his influence can keep his family safe, but he soon finds that the only way to stay one step ahead of the Nazis is to keep his friends close and his enemies closer. Though he plays both sides of the fence as a Nazi collaborator and French resistant, a tangled web of interests forms around him.
Floating in the Neversink by Andrea Simon, Black Rose Writing (Oct. 3, 2019), trade paperback, 176 pages, $17.95
Rich in descriptive detail, character development and pathos Floating in the Neversink is a novel-in-stories that opens in the summer of 1955, when 9-year-old Amanda (Mandy) Gerber tearfully leaves Brooklyn's Flatbush to visit her grandmother's home in the Catskill Mountains among the city's Jews, who flock to countless hotels and bungalow colonies in the heyday of the Borsch Belt. Through the following summers, interspersed with the heightened drama of her emotionally charged city life, Mandy faces severe tests to her survival mechanisms, including the pain of loss, abuse and betrayal, while family secrets threaten to disrupt her life even further.
The Misadventures of Rabbi Kibbitz and Mrs. Chaipul: a midwinter romance of laughter and smiles by Mark Binder, hardcover, 120 pages, $29.95
This humorous and heartwarming novel of stories is written by the Audie Award-nominated Jewish author and storyteller Mark Binder. The book follows wise old Rabbi Kibbitz and elderly Mrs. Chaipul, the caterer, over several years, through weddings and celebrations. Many of the chapters have been pub­lished as stand-alone stories. Set in Chelm, the famous village of fools, the characters are far from stereotypical, although many of the stories revolve around misunderstandings, mistakes and reconciliations.
NONFICTION
CITIZEN 865: The Hunt for Hitler's Hidden Soldiers in America by Debbie Cenziper, Hachette Books (Nov. 12, 2019) hardcover, 320 pages, $28
CITIZEN 865 is the powerful, character-driven story of the search for the men of an obscure SS training camp in Trawniki, Poland, who helped the SS murder 1.7 million Polish Jews. The Office of Special Investigations, a small unit in a far-flung office inside the Department of Justice, would identify more than a dozen men who were hiding in plain sight in cities and suburbs across America, including Miami, Chicago and New York. (Jakob Reimer, Citizen 865, was found in Lake Carmel, NY.) Drawing on Nazi documents and previously undisclosed government records, CITIZEN 865 is a definitive account crisscrossing multiple countries and cities, from Poland to Prague to the back halls of Washington, D.C. The story spans 75 years, from the Holocaust to present day, and perhaps beyond.
The Volunteer: One Man, an Underground Army, and the Secret Mission to Destroy Auschwitzby Jack Fairweather, Custom House (June 25, 2019), hardcover, 528 pages, $28.99
The incredible true story of a Polish resistance fighter's infiltration of Auschwitz to sabotage the camp from within, and his death-defying attempt to warn the Allies about the Nazis' plans for a "Final Solution" before it was too late. Over two and half years, Pilecki forged an underground army within Auschwitz that sabotaged facilities, assassinated Nazi informants and officers, and gathered evidence of terrifying abuse and mass murder. Pilecki realized he would have to risk his men, his life, and his family to warn the West before all was lost. To do so, meant attempting the impossible – an escape from Auschwitz itself. Completely erased from the historical record by Poland's post-war Communist government, Pilecki remains almost unknown to the world.
The Man Who Lit Lady Liberty: The Extraordinary Rise and Fall of Actor M. B. Curtis by Richard Schwartz, RSB Books (Aug. 6, 2019), paperback, 320 pages, $19.95
As the Statue of Liberty stood unlit and unloved by American politicians in 1886, one of her saviors was creating a theatrical sensation at New York's 14th Street Theatre. Actor M. B. Curtis, who had achieved overnight success in Sam'l of Posen, a groundbreaking play that transcended the common stereotypes of Jewish characters current at the time, was basking in public accolades at every curtain call when he came to Lady Liberty's aid. Curtis's rise to the top of his profession and his resulting fall from grace is a dramatic arc that rivals anything created for the stage.
The Millionaire Was A Soviet Mole: The Twisted Life of David Karr by Harvey Klehr, Encounter Books (July 16, 2019), hardcover, 288 pages, $25.99
David Karr was the Zelig of 20th Century American life. Karr popped up at key moments and important places, next to such notables as every American president from FDR to Gerald Ford, Alan Cranston, Drew Pearson, Armand Hammer, John Tunney, Sargent Shriver, Scoop Jackson, and Jerry Brown. He preoccupied J. Edgar Hoover, and hobnobbed with Aristotle Onassis, Henry Wallace, and the political movers and shakers in France and Russia, not to mention Israel.
With loyalty only to himself, as a young man, he tried to befriend Nazis supposedly to expose them. He spied for the Soviets in the '70s and was tight with Israeli intelligence. The Millionaire Was a Soviet Mole exposes the long history of American politicians doing clandestine deals with the Soviets and other foreign powers for financial and political gain.
Social Vision: The Lubavitcher Rebbe's Transformative Paradigm for the World by Philip Wexler, Herder & Herder (July 6, 2019), hardcover, 300 pages, $34.95
Rabbi Menachem Mendel Schneerson (1902-1994), known as the Lubavitcher Rebbe, was one of the most influential personalities of the 20th century and the only rabbi ever awarded the Congressional Gold Medal. Despite wide recognition of Schneerson's impact, this is the first volume to seriously explore his social ideas and activism. Schneerson not only engineered a global Jewish renaissance but also became an advocate for public education, criminal justice reform, women's empowerment, and alternative energy. From the personal to the global, his teachings chart a practical path for the replacement of materialism, alienation, anxiety and divisiveness with a dignified and joyous reciprocity. Social Vision delves into the deep structures of social reality and the ways it is shaped and reshaped by powerful ideologies.
POETRY
Souls in the Garden: Poems About Jewish Spain by Henry Rasof, Temescal Canyon Press (2019), paperback,198 pages, $18
The book contains 50 poems inspired by the author's trips to Spain in search of voices and traces of medieval and modern Jewish Spain. Voices encountered include those of poets like Yehuda Halevi and Qasmuna, philosophers like Maimonides, mystics like Moses de Leon, religious figures like St Teresa of Avila, legendary figures like Leaping Mary, and royalty like Queen Isabella – men and women, mostly Jewish but also Christian and Muslim. Although the focus is mostly on the past, unfortunately, the themes of persecution, xenophobia, ethnic cleansing and lament are still relevant.