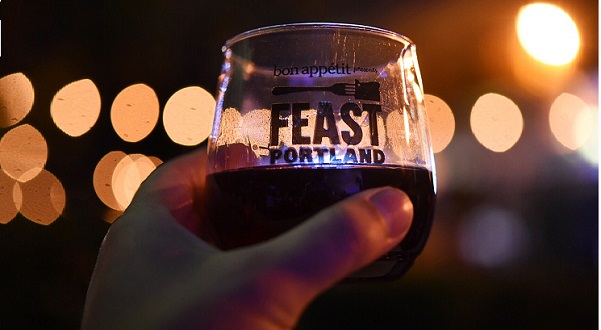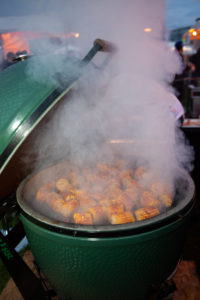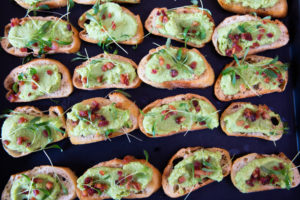 PHOTOS: Above, Nouveau Bistro at Feast Portland last year. Right, tastes from Grand Tasting  and Smoked (far right) at last year's Feast. Photos by Alan Weiner.
Now in its eighth year, Portland's biggest food festival promises to impress both locals and natives alike. The festival attracts thousands of foodies each year with a jam-packed schedule of indoor and outdoor culinary workshops, food and beverage tastings, and themed dinners. This year's highlights include East Coast vs. West Coast, which supplants last-year's '80s vs. '90s event; the wildly popular Night Market at Zidell Yards; Brunch Village; and Smoked, which perfumes the Pearl District with the irresistible aromas of barbecue. The Big Feast at Waterfront Park expands on the Grand Tasting of years past; there will be lots more space to admire and sample the great bounty of Oregon preserves, cheese, wine, cider and more.
Feast Portland 2019 includes some beloved local chefs who happen to be Jewish: Ken Gordon of Kenny & Zuke's Delicatessen and Lisa Schroeder of Mother's Bistro & Bar. Ken will contribute an open-faced Reuben on a mini rye bagel to the East Coast vs. West Coast event, while breakfast wizard Lisa will serve up some shakshuka at Brunch Village.
"I love Feast because it's all about good food," says Lisa. "We're all there to taste delicious dishes, and this year Brunch Village is going to be even better since there's an international theme with breakfast dishes from around the world."
The festival will also feature culinary and literary luminary David Tanis, who grew up in a Jewish home in Ohio. According to Tablet Magazine, David considers matzoh brie to be a "primal craving" and hankers for the herring from New York's Russ & Daughters.
David is world-renowned for cookbooks such as David Tanis Market Cooking: Recipe and Revelations, Ingredient by Ingredient; A Platter of Figs and Other Recipes; and One Good Dish: The Pleasures of a Simple Meal. David currently writes a column for The New York Times. The chef-author presided over Chez Panisse in Berkeley, CA, for almost 25 years.
David will be featured in two events: the two-hour Market Cooking with David Tanis class and a collaborative dinner: Troy MacLarty + Sarah Minnick + David Tanis.
Get your Feast Portland tickets (before they sell out!) at www.feastportland.com. The festival takes place Sept. 12-15.