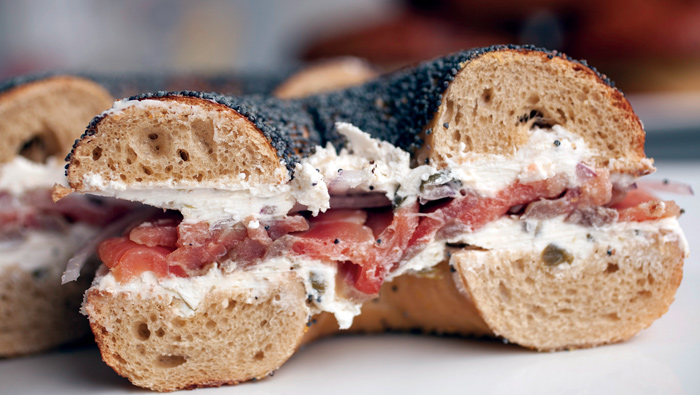 Portland is fiercely proud of its locally sourced cuisine. That pride extends even to bagels. So, when Colorado-based Einstein Noah Restaurant Group bought the locally owned Kettleman Bagel Company in 2011, customers were dismayed. Bagel mavens no longer had a place to purchase their beloved boiled bagels, as the new owners soon discontinued the kettle-boiling process.
Fortunately, this void proved to be only temporary. Great local bagels are increasingly being found all over town. Says Bowery Bagels' owner Michael Madigan, "People have jumped into the opportunity created when Einstein came (in)." Asked why Portlanders prefer local food producers, Madigan says, "It is in large part because of quality. There is a very well-founded belief, particularly in the food world, that we do it better here. Portland has this unique intersection for everything that you need for an end-to-end food shed … great farmers, ranchers and raw ingredients. We have craftsmen who like to make really good, really high-quality delicious products, whether that's bagels or hot sauce or ketchup or whatever it might be."
But does Portland have its own style of bagels? Local opinions differ. "Come on, it's all about the New York style, right?" proclaims Noah Bernstein of Portland's newest bagel company, Bernstein's Bagels.
Rick Spielman of Spielman Bagels concurs: ""Because we innovated on the typical 'New York style' bagel by using a natural sourdough leavening, we first called them 'Portland style.'  But that's misleading and confusing. Our bagels are in the New York tradition – let's say 'New York-ish' – with a neo-traditional twist provided by the natural leavening."
No matter where you stand on the Portland versus New York bagel debate, one thing is hard to argue: there are some incredibly delicious bagels being made in Bridgetown these days. Spielman says, "Our bagels are uniquely flavorful. Yes, of course, they are boiled (they wouldn't be bagels if they weren't), and consequently they've got a great chew, a dense crumb and a lovely crust. But it's their flavor that sets them apart. This 'flavor-fullness' derives primarily from our bagel-making process, namely, our unique use of natural leavening – a 'sourdough starter' – and not industrial yeast." While Spielman's most popular flavors are "everything," plain and sesame, he has also branched out into more exotic flavors such as raisin-fennel.
Jazz saxophonist-turned-bagelmeister Noah Bernstein takes a traditional approach. "Bagels are all about this crazy long tradition from 1600s' Poland, to New York bagel union members breaking knee caps in the '50s, to Lender's and the rise of the bagel machine. But I just want a simple, hearty, savory boiled bagel that's hand-rolled. I want it to be straight out of '70s Brooklyn with nothing precious about it in the least bit. And that's what I'm making." Bernstein has been partnering with several different cafes, farmers markets and pop-up shops. While he does not yet have a brick-and-mortar store, he does provide a bagel delivery service. Orders may be placed via bernsteinsbagels@gmail.com.
Kosher parve Bowery Bagels have been celebrated in the pages of Portland Monthly and The Oregonian. There's now such demand for these hand-rolled, fermented bagels that Madigan recently signed a lease on a 5,000-square-foot production facility. He has big plans for Bowery Bagels: "Once we have the capacity, (we aim) to open up three to five more shops in the Northwest over the next 18 to 24 months … initially in Portland but then eventually regional as well." While Madigan grows the business, he is adamant about maintaining the tradition of quality that Portland is known for. "It's all driven by the fact that customers enjoy our product and keep buying it, and we're very grateful for that. Our aim is to maintain our quality and consistency even as we continue to grow," he says.
Spielman is also expanding his bagel empire. "Within the next five months, we will have three big, beautiful retail locations in Southeast, Northeast and Northwest Portland," he says. "Specifically, our remodel of 2111 SE Division should be finished in December; our recent acquisition of the former Einstein's at 2200 NE Broadway is proving to be a huge success, and by next February we hope to open our doors on another former Einstein's location at Northwest Lovejoy and 23rd."
No matter how you slice it, Portland's bagel scene is improving fast.
Where to find Portland bagels
Bernstein's Bagels: facebook.com/bernsteinsbagels
Bowery Bagels: 310 NW Broadway
503-227-6674 | bowerybagels.com
Spielman Bagels: 2200 NE Broadway
503-477-9045 spielmanbagels.com