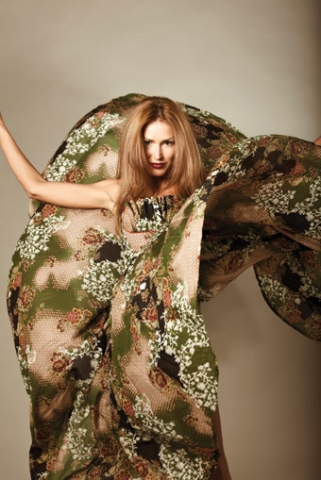 While there might not be a lot of women who check to see if Mercury is in retrograde before heading out on a shopping spree or clicking on "buy," there are considerable numbers who are interested in astrology.
So interested in fact, that a recent article in the trade publication of The Fashion Group International, Inc., suggests that "retailers consider putting a segment of the selling floor and cyber outlet dedicated to clothes and accessories selected especially for the sign of the month." This column is inspired by that suggestion.
LEO THE LION: She is the queen of the Zodiac. She expects first-class quality and revels in luxury and luxury fabrics. This woman is drawn to anything gold, and likes a choice in the amazing number of luxury fabrics. This gal would not be opposed to wearing a tiara! Some notable Leo ladies are Madonna, Jennifer Lopez and the ultimate fashion icon, Jacqueline Kennedy-Onassis.
VIRGO: This lady likes everything pure and unadulterated. Pure cotton, wool, linen and silk are sure to please her. "Virgo-the-perfectionist" will notice the smallest of details and likewise she appreciates clothes with refined details.
LIBRA is the sign of balance. "Only an out-of-balance Libra would buy a dress with an asymmetric hemline!" Astrologers say that purple is her color. Some famous Libra designers are Isaac Mizrahi, Donna Karan and Ralph Lauren.
SCORPIO: This is the sign of the sting! Scorpio's sixth sense is her biggest fashion asset. She knows instinctively which styles to embrace and which to bypass. Scorpios love sunglasses, the perfect cover for their secretive sides.
SAGITTARIUS, the sign of the archer, aims high and shoots for the best. She will often wear clothes that are blatantly outspoken. In jewelry she will choose the amethyst, the most uplifting shade in the rainbow.
CAPRICORN is the sign of the goat. If you want to get the goat of a woman born under this sign, accuse her of a fashion impropriety! This explains why she likes to embrace fashion correctness at all times. One could say that it is a Capricorn's right to be dressed "right!"AQUARIUS: Ruled by the planet of change, these women are always ready for change. The water-bearer can hardly wait for the next new wave in fashion to emerge. "They can straddle fashion present with fashion future," by knowing just how to update last year's plaid skirt into next winter with the addition of a shearling jacket!
PISCES: Audrey Hepburn's impeccable style gives testimony to the fact that good design is never out of style. Wise fashion investments come easy to the wise Pisces, because she understands the difference between timeliness and timelessness in fashion. Some timeless pieces she would pick are a peacoat, a good trench coat, a parka, shirtdress or caftan.
ARIES is the first sign of the Zodiac and a fire sign ruled by Mars, making those born under it pioneers and trailblazers in both fashion and life. Aries is bored with retro, she's been there, worn that! Aries designer Marc Jacobs loves breaking the rules. He loves red, a hot fashion color and one that always gets noticed. And speaking of getting noticed, yes, Lady Gaga is an Aries!
TAURUS: The sign of the bull is both earthy and ethereal. Barbara Streisand is a notable woman of this sign. Taurus' fixed nature means she resists change and usually relies on classic shapes instead of following trends. This woman does not like fabrics that don't feel nice. She goes for cashmere, silk, satin!
GEMINI: Sign of the twins, she seeks out double-duty clothes. Gemini designer Sonia Rykiel was the first to give clothes a double life by turning them inside out. In French there is a saying that has to do with playing a double game, to be both a public woman and a private woman in clothes as well as in life.
CANCER: This sign of the crab will get really crabby if anyone forces her to give up a treasured object. The one common thread in the closet of a Cancer woman is comfort! Stretch fabrics, caftans, sweatshirts, anoraks, drawstrings are her favorites! In her closet is the history of fashion, each decade marked by the clothes she couldn't give up.
Remember that fashion is evolutionary not revolutionary, so by all means do keep those "oldie but goodie" fashions that you really love, knowing that they will return and can be recycled with the change of a hemline, waist or shoulder treatment!
Women are great at re-inventing themselves many times, so why not re-invent our wardrobes too.
Adrienne Souther-Geffen started her career in San Francisco with I. Magnin then moved to New York City where she was the fashion director for the Allied Corporate Buying Office. She returned to her native Portland as Fashion Director for Nordstrom Portland stores and then opened up the Saks Fifth Avenue Market in the Pacific Northwest.