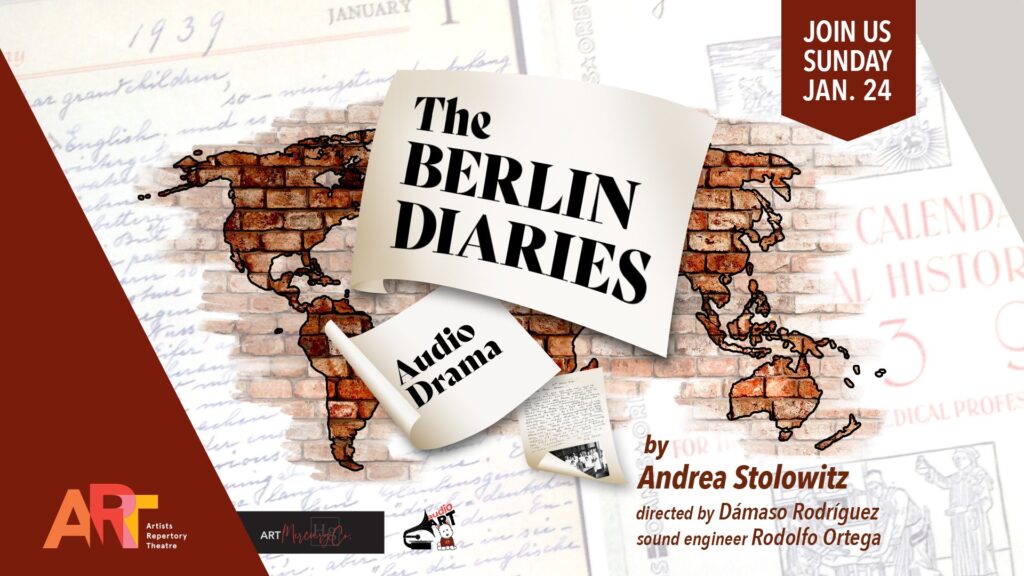 Andrea Stolowitz's great-grandfather kept a journal for his descendants after escaping to New York City in 1939 as a German Jew. Using her German-Jewish great-grandfather's diary, Lacroute Playwright-in-Residence and three-time Oregon Book Award-winning playwright, Andrea created "The Berlin Diaries," the autobiographical story of Andrea's quest to untangle her family's history. The record keeps as many secrets as it shares. How do people become vershollen, lost, like library books?
Join Artists Repertory Theater for the Virtual Release Party event on Sunday, Jan. 24 at 3 pm from the comfort of your home. You'll be the first to hear the new audio drama recorded during ART: Mercury Company. The virtual doors open at 2:30 so bring your favorite beverage and mingle with other guests and artists in break-out rooms. After the show, you will get to hear from the Director, Dámaso Rodríguez and Playwright, Andrea Stolowitz. Then there will be time to chat with the cast and crew of "The Berlin Diaries." Run time is approximately 100 min with no intermission.
For tickets, visit. artistsrep.org/performance/berlin-diaries-audio-drama.
After the event, the audio drama will be available from Jan. 25 through June 30. Access will be on a sliding scale. Additional paid sliding scale options will also provide bonus material for a more immersive experience.