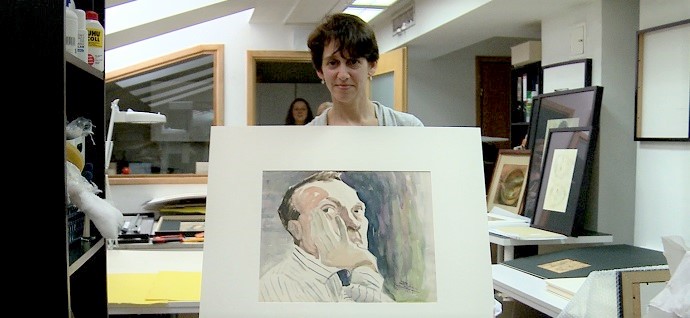 PHOTO: Elizabeth Rynecki holds her great-grandfather's self-portrait  at the Jewish Historical Institute in Warsaw. Photo by Sławomir Grünberg
Holocaust scholar shares her quest to find her great-grandfather's lost creations
Polish artist Moshe Rynecki (1881-1943) completed more than 800 paintings and sculptures before being incarcerated in the Warsaw Ghetto and ultimately perishing in the Majdanek concentration camp. His vibrant paintings capture the essence of the Polish-Jewish community, people in the midst of everyday acts. At the outbreak of the World War II, Moshe decided to divide his oeuvre into a number of bundles and hide them in and around Warsaw. After the war, Moshe's widow (who survived by hiding outside the ghetto) went to see if any of the bundles survived. She found just a single package.
For many years the Rynecki family believed that just this single bundle endured. But many more pieces remained intact.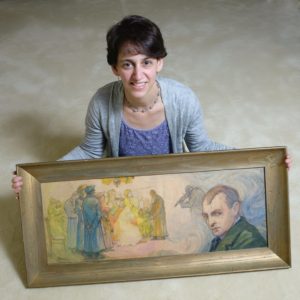 Decades later, his great-granddaughter, Elizabeth Rynecki, a scholar whose MA project focused on the children of Holocaust survivors, embarked on a quest to find the remaining works. She relates the intriguing story of her search in a book, Chasing Portraits (Penguin Random House 2016), and now in a film of the same title, which will be screened in Portland Nov. 27.
Rynecki, who will be present at the showing, says that "after seeing my great-grandfather's art, the audience will gain a better understanding of the rich and vibrant world of Polish-Jewish art that was lost during the war. If the film inspires audiences to be curious about their own family history, that would be ideal."
She also says she hopes "that by sharing my own deeply personal experience of navigating my Holocaust legacy, audiences will begin to see how the effects of war cascade down to subsequent generations."
The filmmaker says she is often asked "why I am not a claimant fighting for the return of my great-grandfather's paintings." She is not because she believes "There are different forms of historical and social justice. My great-grandfather painted because he was passionate about the Polish-Jewish community, and he wanted to record the people he knew and loved. I hope that my book and documentary film help to give voice to that history and my family's story. I like to think he would be happy to see that audiences are still engaged with his work."
 "Chasing Portraits," a film by Elizabeth Rynecki
The filmmaker will give a short talk before the showing and will be on hand to answer questions and sign books.
WHEN: 7 pm, Nov. 27
WHERE: Whitsell Auditorium, inside the Portland Art Museum, 1219 SW Park Ave., Portland
SPONSORS: Oregon Jewish Museum and Center for Holocaust Education in partnership with Northwest Film Center, the Institute for Judaic Studies and the Mittleman Jewish Community Center.
TICKETS: nwfilm.org/films/chasing-portraits; OJMCHE members use code OMJCHE 18CP for $2 off on adult tickets
FILM INFO: chasingportraits.org
Presented as part of Portland's Jewish Book Celebration.