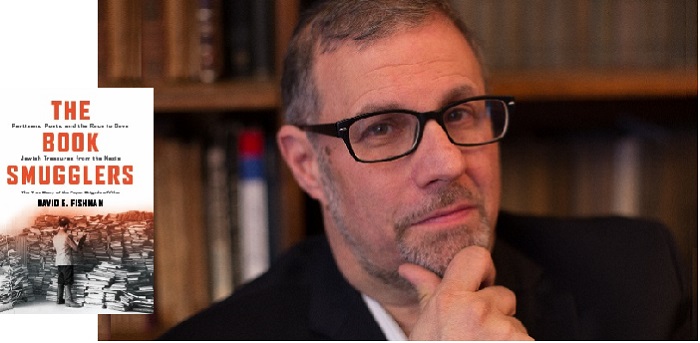 The eighth annual Many Stories, One Community: Portland Jewish Book Celebration begins with a focus on one book: The Book Smugglers: Partisans, Poets and the Race to Save Jewish Treasures from the Nazis, by David Fishman.
The Book Smugglers is the true, nearly unbelievable story of ghetto residents of Vilna, who rescued thousands of rare books and manuscripts and cultural treasures – first from the Nazis and then from the Soviets – by hiding, burying them and smuggling them across borders. It is a heroic story of conscious resistance to thwart the German's attempt to wipe out not only Jewish lives, but also Jewish existence.
Events focused on The Book Smugglers will be featured in November and January. The book celebration continues in March 2019 when the Mittleman Jewish Community Center hosts three authors.
The public is invited to participate in all of the exciting and interesting events listed below:
Sunday, Nov. 4, 4 pm, Pages and Pixels—Book and Film Discussion, Neveh Shalom, 2900 SW Peaceful Lane. Join us to discuss the Jewish Book Celebration selection, The Book Smugglers, by David Fishman. Following discussion, the 2011 film Aftermath (Poklosie) will be screened. Called the most controversial film in the country's history, Aftermath tells a fictional account of a real life event in a Polish town in 1941, and its aftermath in the present day. For more information, email: kgoldhammer@nevehshalom.org. Sponsored by Neveh Shalom.
Thursday, Nov. 8, noon-1 pm, Brown Bag Lunch Discussion with Rosalyn Kliot, Oregon Jewish Museum and Center for Holocaust Education, 724 NW Davis St. Portland. Part of the OJMCHE series of informal lunchtime conversations. Bring a lunch or buy a brown bag lunch in Lefty's Cafe and join us in the museum's auditorium for a lively give and take as we share and explore ideas, experience and expertise. November features Speaker's Bureau member Rosalyn Kliot, who will share her story, from origins in Vilna and Lodz, to life in Oregon today.
Tuesday, Nov. 27, 7 pm. Whitsell Hall, Portland Art Museum, 1219 SW Park Ave., Portland. Chasing Portraits: A Film by Elizabeth Rynecki. This film documents Elizabeth Rynecki's quest to find the art works, close to 800 paintings and sculptures, of her great-grandfather lost during the Holocaust. Decades later, Elizabeth sought to rediscover his legacy; setting out on a journey to find what had been lost but never forgotten. Elizabeth Rynecki will be present at the showing, and there will be a Q and A following the film. This program is in conjunction with the exhibitions, Memory Unearthed: The Lodz Ghetto Photographs of Henryk Ross, Portland Art Museum, and The Last Journey of the Jews of Lodz, Oregon Jewish Museum and Center for Holocaust Education. This event is sponsored by the Northwest Film Center, the Institute for Judaic Studies, OJMCHE, Mittleman Jewish Community Center and the Portland Art Museum. Tickets: https://nwfilm.org/films/chasing-portraits/
Tuesday, Jan. 22, 7-8:30 pm, Book Discussion: Unpacking The Book Smugglers, Havurah Shalom, 825 NW 18th Ave. Portland. In anticipation of author David Fishman's presentation in Portland on Jan. 27, we will explore Fishman's powerful account of the "paper brigade" of Vilna (now Vilnius) during World War II. Light refreshments. Stimulating discussion. Please RSVP to Havurah (503-248-4662) or contact Ruth Feldman (ruthtenzerfeldman@gmail.com). Sponsored by Havurah Shalom.
Sunday, Jan. 27, 1 pm, Portland State University, Browsing Lounge (Room 238) Smith Memorial Student Union, 1825 SW Broadway. Author Talk: The Book Smugglers by David Fishman. Join author, David Fishman, as he brings a gripping and compelling book to life with his recounting of how he came to learn about this story, illustrated by many photographs. This event is sponsored by Congregation Beth Israel, the Mittleman Jewish Community Center, Portland State University's Judaic Studies Program, and Congregation Shaarie Torah.
Information on the MJCC's Authors Series, which will be held in March 2019, will be available soon.
Please join us for these creative and thought-provoking events to explore the ideas, themes, and information in The Book Smugglers. For more information on all events, go to www.oregonjcc.org/arts-culture/jewish-book-celebration.