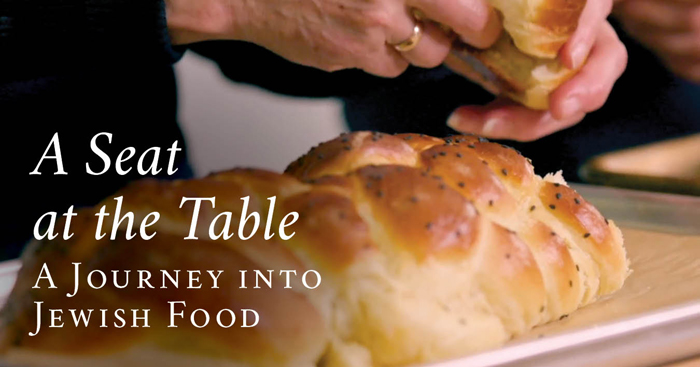 YIVO Institute for Jewish Research – whose preeminent archives contain more than 23 million documents and artifacts about Eastern European Jewry – collaborates with an esteemed cohort of chefs, restaurateurs, cookbook authors, scholars, and writers for a one-of-a-kind seven-week educational course, A Seat at the Table: A Journey Into Jewish Food. Never before has the world had such unprecedented access to more than 100 hours of inspiring digital content at their fingertips, including in-depth interviews, roundtable discussions, cooking demonstrations, and the debut of 300 archival objects for an inside look at an often mystified cuisine. Lauded purveyors of Jewish fare and culture lead a riveting exploration into the Ashkenazi Jewish experience and its modern culinary renaissance.

A Seat at the Table: A Journey Into Jewish Food features cultural visionaries such as Joan Nathan (Jewish Cooking In America), Michael W. Twitty (The Cooking Gene), Alice Feiring (The Dirty Wine Guide), Mitchell Davis (James Beard Foundation), Niki Russ Federman and Josh Russ Tupper (Russ & Daughters), Jake Dell (Katz's Delicatessen), Darra Goldstein (Founder, Gastronomica: The Journal of Food and Culture), Liz Alpern and Jeffrey Yoskowitz (The Gefilteria), Lior Lev Sercarz (La Boîte), Adeena Sussman (Sababa), Ilan Stavans (Amherst College), Leah Koenig (The Jewish Cookbook), Michael Wex (Born to Kvetch), and more!

The dynamism of Jewish cuisine is at once steeped in tradition, and embedded with great curiosities of a traveling migration of people evolving flavors and ingredients as they trekked across Eastern Europe, the Americas, and ultimately the cosmopolitan mecca of New York City. For thousands of years, Jewish dishes were confluent with the seasons and practices of sustainability. Recipes use flavors and textures from garden root vegetables, whole grains, fresh herbs, beef, lamb, and accompanied by seasonal fruit drinks, jellies, and a plethora of other nutritious foods. The Jewish food repertoire was at the heart of families and annual holidays.

A Seat at the Table already has more than 10,000 online participants for an odyssey into the Ashkenazi Jewish kitchen through the lens of the brightest personalities within the field while supported by YIVO's extensive archives, including the largest collection of Yiddish cookbooks. Learn from experts the staples of Jewish food, sourcing of rich and flavorful ingredients, influence of South America on over 2,000 types of moles (served with latkes), lox slicing, the rise in national popularity of bagels, emergence of Jewish restaurateurs, evolution of Jewish delicatessens and cafes, cross-culturalization within immigrant groups on the Lower East Side (Jews, Chinese, Japanese), women's perseverance to provide nourishing meals, Vegetarianism, and much more.

"A Seat at the Table shows the diversity of Jewish culture and the richness of Jewish history. Jews in Eastern Europe found ways to negotiate difficult times (political, social, economic, cultural) – the result is a cuisine that shows their culinary creativity, resilience, and ability to find happiness, meaning, and nourishment (spiritual and physical) even in challenging times," says Jonathan Brent, executive director and CEO of YIVO.

"A Seat at the Table takes a deep delve into YIVO's food-related archival collections, examining the full history of Ashkenazi Jewish foodways in collaboration with acclaimed scholars, chefs, and cookbook authors. The project lies at the center of YIVO's mission: rediscovering history, breaking through stereotypes, and reclaiming Jewish culture as a vibrant, living tradition – one that can help shape our experiences," says Ben Kaplan, director of education, YIVO

Authentic Ashkenazi Jewish cuisine often reflects Jewish spiritual resistance as Jews faced extreme circumstances in their fight for survival and freedom. While food served to sustain and comfort people during the most difficult moments, A Seat at the Table offers foodies the opportunity to discover the cornerstones of the Ashkenazi Jewish kitchen. A process of assimilation and openness to new lands, people, and cultures uniquely identifies Jewish food as a traveling immigrant cuisine. The arrival of 3.5 million Jews to America from the 1880s — 1920s provided access to an abundance of new foods and opportunities. What had become emblematic of the Jewish holidays throughout generations of hardship became more integrated into everyday life. A tragic history came full circle to centuries past for a cherished existence in America with new beginnings.

YIVO's devotion to the study of Jewish history and folklore – YIVO holds the largest collection of original Holocaust artifacts outside of Yad Vashem in Israel – brings into focus its latest online educational program to center on Jewish food as the perfect aperitif for the greater understanding of Jewish culture. A Seat at the Table is among many exciting programs within the Shine Online Educational Series (LINK). Join YIVO and over 10,000 participants across the U.S. and 59 countries around the world for this powerful journey through Ashkenazi Jewish foodways.

To sign up for A Seat at the Table, please visit: yivo.org/Food.