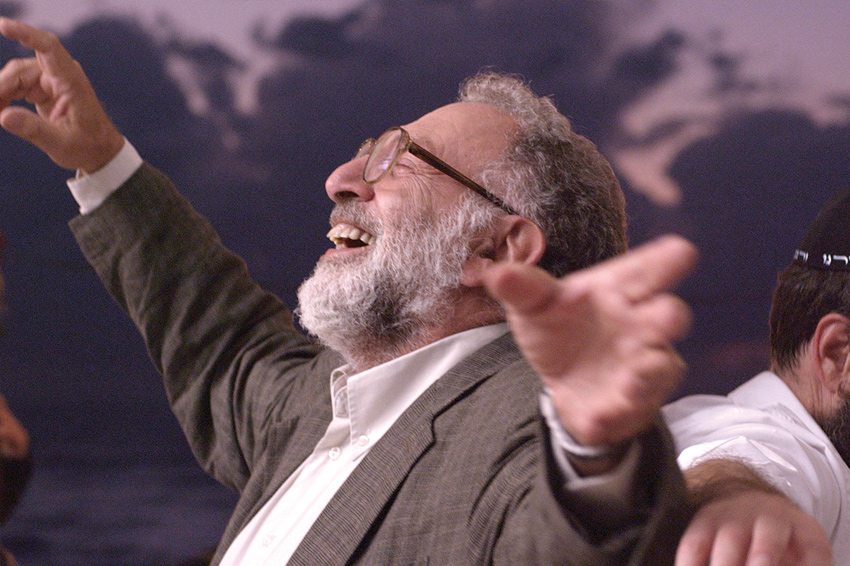 Films ranging from touching comedies to thought-provoking documentaries will entertain and enlighten thousands during the 23rd Portland Jewish Film Festival June 14-28.
The festival is produced by the Northwest Film Center and co-presented by the Institute for Judaic Studies, with an opening night reception presented by Oregon Jewish Life magazine (https://orjewishlife.com/oregon-jewish-life-presents-film-festival-opening-reception/).
Rabbi Joshua Stampfer and the Institute for Judaic Studies hosted the first festival with a weekend at the coast; since then the Portland Jewish Film Festival has grown into a two-week festival of 18 films annually attracting thousands of Jewish and non-Jewish filmgoers alike.
"The success of Rabbi Stampfer's small weekend screenings/retreats was the inspiration to do something larger," says Northwest Film Center Director Bill Foster. So in 1997 the Northwest Film Center produced the festival co-sponsored by the Mittlemen Jewish Community Center and IJS. Last year about 3,000 people attended the festival, continuing a trend of increasing attendance each year, says Bill.
Each year the festival includes films that speak to both the Jewish experience and a broader non-Jewish audience.
"As the Northwest Film Center, we are first and foremost interested in showcasing films that are of a quality and universal appeal that they could hold their own in any context," explains Bill. "While the stories and subject may be rooted in Jewish culture, they should resonate as compelling cinema."
While the festival doesn't have a specific theme this year, Bill says, "I think there is an increasing interest by filmmakers in exploring Israeli-Arab relationships on a personal level and, of course, intergenerational family relationships."
That family theme is the centerpiece of this year's opening night film, "Magic Men," a moving road trip comedy. Greek-born atheist and Holocaust survivor Avraham and his estranged, middle-aged, Hasidic rapper son travel from Israel to Greece searching for the man who saved the father's life during World War II. The journey leads them to absurd encounters, and ultimately brings them to a final confrontation of father and son. "Magic Men" was nominated for four Israeli Academy Awards, with a win for Best Actor Makram Khoury.
"I know people are going to enjoy 'Dough' (screens June 20) and 'Magic Men' – funny, well-told stories," says Bill.
The theme of Israeli-Arab relationships is portrayed on a very personal level in "Borrowed Identity" (https://orjewishlife.com/stellar-coming-of-age-saga-explores-a-borrowed-identity/). The film tells the story of Eyad, the first and only Arab at a prestigious Jewish boarding school in Jerusalem, as he tries desperately to fit in with his Jewish schoolmates and Israeli society.
All showings are at the Whitsell Auditorium at the Portland Art Museum, 1219 SW Park, Portland.
Tickets are $9 for general admission; $8 for students and seniors; $125 for the patron pass (festival pass). Tickets are available at nwfilm.org.
See the full film schedule below:
JUNE 14 SUN 7 PM
MAGIC MEN
ISRAEL 2013
DIRECTOR: GUY NATTIV, EREZ TADMOR
In this moving road trip comedy, 78-year-old Greek-born atheist and Holocaust survivor Avraham and his estranged, middle-aged, Hasidic rapper son travel from Israel to Greece searching for the man who saved the father's life during World War II. Arriving there against the backdrop of the ongoing financial crisis, the two are forced to confront their prickly relationship and a cross-cultural, cross-generational adventure takes shape as the men reclaim the past. (100 mins.)
JUNE 15 MON 7 PM
THE M– USES OF
ISAAC BASHEVIS SINGER
ISRAEL 2014
DIRECTORS: ASAF GALAY, SHAUL BETSER
Considered one of the most influential Jewish writers of the twentieth century, best known for YENTL THE YESHIVA BOY and GIMPEL THE FOOL, Singer received the Nobel Prize for Literature "for his impassioned narrative art which, with roots in a Polish-Jewish cultural tradition, brings universal human conditions to life." Betser's and Galay's fascinating film reveals Singer's literary inspirations, including his "harem full of translators"—dozens of women who translated his signature Yiddish prose to reach international audiences. (72 mins.)
PRECEDED BY REVERENCE (2015), Collin Korfeind's exploration of custom and branded yarmulkes. (12 mins.)
JUNE 16, 25: TUE 7 PM, THUR 8:30 PM
A PLACE IN HEAVEN
ISRAEL 2013
DIRECTOR: YOSSI MADMONI
In this tale within a tale, an uncompromising army officer nicknamed Bambi, who wins every military battle in the name of Zionism, somehow fails the daily tests of life. Returning from a daring mission, the secular military man strikes an unholy bargain with a devout young Holocaust survivor. The impulsive decision has providential consequences over the ensuing decades, as Bambi struggles in his pursuit of the Yemenite woman he loves and an illustrious career cut short by scandal. Tackling big themes of parenthood, the afterlife, and unrequited love, Madmoni's emotional meditation was nominated for ten Israeli Academy Awards including Best Screenplay, Best Actress, and Best Cinematography. (113 mins.)
JUNE 17 WED 7 PM
TO LIFE
FRANCE 2014
DIRECTOR: JEAN-JACQUES ZILBERMAN
Zilbermann sets his engaging drama in postwar Paris where Hélène (Julie Depardieu), a young Auschwitz survivor rebuilds her life while searching f or her friends Lily and Rose (Johannater Steege, Suzanne Clément). When the women are finally reunited, they share a watershed vacation in the seaside town of Berck-Plage, enjoying the intimacies of life, love, and faith. An emotionally complex film about the sustaining power of women's friendship is "…delicate and profound…an infectious ode to life and collective ritual to overcome horror through friendship, irony, the most intimate confessions and a desire to look towards the future."– Cineuropa. (105 mins.)
JUNE 18, 24: THUR 7 PM, WED 8:30 PM
THE DOVE FLYER
ISRAEL 2013
DIRECTOR: NISSIM DAYAN
Kabi and his family face an uncertain future, as do all Jews living in Baghdad. It's 1950 and each member of Kabi's circle has a different dream: his mother wants to return to the Muslim quarter where she felt safer; his father wants to emigrate to Israel; Salim, his headmaster, wants Arabs and Jews to be equal, and Abu just wants to care for his adored doves. Nissim Dayan's film—based on the popular novel of the same name—recalls a l ost and treasured time before expulsion to Israel, when almost 130,000 Jews lived in Iraq using the almost-extinct language of Jewish Iraqis, Judea/Arabic. (105 mins.)
JUNE 20 SAT 8 PM
DOUGH
UK 2014
DIRECTOR: JONATHAN GOLDSCHMIDT
Widowed and down on his luck, Nat Dayan is desperate to save his bakery in London's East End. His customers are dying off, his sons have no interest in keeping the family afloat business, and hostile businessman Sam has his own greedy plans for the property. In a p inch, Nat reluctantly enlists the help of teenager Ayyash, a refugee from Darfur. The Muslim boy assists with the bakery's daily chores while selling cannabis on the side to help his struggling mother make ends meet. One day, when Ayyash accidently drops his stash into the dough, the challah starts flying off the shelf, and an unlikely friendship forms between the old Jewish baker and his young apprentice. (94 mins.)
JUNE 21, 23: SUN NOON, TUE 8:30 PM
SECRETS OF WAR
NETHERLANDS 2014
DIRECTOR: DENNIS BOTS
During World War II, everyone had to keep secrets to survive, but at what price? Lambert and Tuur, two 12-year-old boys living in a small village in Nazi-occupied Holland, share a strong friendship. But even this bond is put at risk with the arrival of a lively young girl named Maartje, carrying with her a heavy secret about her past. As Tuur and Maartje become close, the estranged Lambert grows increasingly jealous and acts irrationally, exposing Maartje's secret with far-reaching consequences that are beyond his understanding. The danger and the humanity of wartime friendships asks three children to find maturity far beyond their years. (95 mins.) Ages 10+.
JUNE 21 SUN 2 PM
EAST JERUSALEM/
WEST JERUSALEM
ISRAEL 2014
DIRECTORS: EREZ MILLER, HENRIQUE CYMERMAN
This rousing and inspiring documentary focuses on iconic Israeli singer/songwriter David Broza, who sets out to realize his dream of cooperation and dialogue between Israelis and Palestinians through music. During eight days and nights of creation with American musician/producer Steve Earle and a host of international artists in an East Jerusalem studio, a hopeful message of equality and unity arises. In Arabic, English, and Hebrew with English subtitles. (80 mins.)
JUNE 21 SUN 5:30 PM
ALMOST FRIENDS
ISRAEL 2014
DIRECTOR: NITZAN OFIR
ALMOST FRIENDS is a touching documentary about two Israeli girls—an Arab and a Jew—who live only 67 kilometers apart but in wildly different circumstances. Participating in an online program that fosters educational exchange and friendship, the two eventually get to meet face-to-face, and the result is a profoundly moving experience for them and their families. In Arabic and Hebrew with English subtitles. (60 mins.)
JUNE 21 SUN 7 PM
A BORROWED IDENTITY
(AKA DANCING ARABS)
ISRAEL/FRANCE/GERMANY 2013
DIRECTOR: ERAN RIKLIS
Eyad, who grew up in an Arab town in Israel, is given the chance to go to a prestigious Jewish boarding school in Jerusalem. The first and only Arab to be accepted there, he desperately tries to fit in with his Jewish schoolmates. After falling in love with a Jewish girl named Naomi, Eyad has to leave school when their relationship is discovered, forcing the realization that he will have to sacrifice his identity in order to be accepted. Faced with a difficult choice, Eyad will make a decision that will change his life forever. In Hebrew and Arabic with English subtitles. (105 mins.)
JUNE 22 MON 7 PM
THEODORE BIKEL: IN THE SHOES OF SHOLEM ALEICHEM
US 2014
DIRECTOR: JOHN LOLLOS
Portraits of beloved icons Sholom Aleichem and Theodore Bikel are woven together to reveal two men with much in common: wit, wisdom, and talent—all shot through with deep humanity and Yiddishkeit. Theodore Bikel, the unstoppable performer whose career spans more than 150 screen roles and countless stage and musical productions, is also the foremost interpreter of Sholom Aleichem's work, including the classic "Fiddler on the Roof." (75 mins.)
FOLLOWED BY: SHOLEM ALEICHEM: LAUGHING IN THE DARKNESS
US 2011
DIRECTOR: JOSEPH DORMAN
Dorman's engrossing film tells the tale of a rebellious genius who created an entirely new literature. Plumbing the depths of a Jewish world locked in crisis and on the cusp of profound change, Aleichem was not just a witness to the creation of a new modern Jewish identity, but one of the very men who shaped it. (93 mins.)
JUNE 23 TUE 6:30 PM
RAISE THE ROOF
US 2015
DIRECTORS: CARY WOLINSKY, YARI WOLINSKY
The Wolinskys' fascinating film tells the inspiring story of how a decimated wooden Polish synagogue is brought back to life and given a permanent home in the new Polin Museum of the History of Polish Jews in Warsaw. Prior to their destruction by the Nazis, Poland was home to over 200 wooden synagogues, including the synagogue of Gwozdziec. Over a period of two summers, Boston-based artists and professors Rick and Laura Brown lead a t eam of students, traditional artisans, and builders to reconstruct Gwozdziec synagogue's complex roof. In English and Polish with English subtitles. (85 mins.)
JUNE 24 WED 6:30 PM
THE MYSTERY OF HAPPINESS
ARGENTINA/BRAZIL 2014
DIRECTOR: DANIEL BURMAN
Often called the Woody Allen of Argentinian cinema, Daniel Burman's wistful comedy is part buddy movie, part detective s tory, and part romance. "Life-long business partners Santiago and Eugenio understand each other without words, care for each other, and need each other. When Eugenio vanishes without a clue, Santiago and Eugenio's wife Laura join forces to solve the mystery of his disappearance. What they discover is neither what they set out to find nor what you would expect, and their shared journey becomes a surprising and lighthearted meditation on friendship, love, and loyalty."—New York Jewish Film Festival. In Spanish with English subtitles. (92 mins.)
JUNE 25 THUR 6:30 PM
LET'S GO
GERMANY 2014
DIRECTOR: MICHAEL VERHOEVEN
In 1968, 20-year-old Laura returns to Munich to attend her father's funeral. Overcome with grief, she and her mother must face the family's traumatic history. Having survived the Holocaust, L aura's parents stayed in post-War Germany to start a new life, but not without their horrific experiences looming over their daily lives. (90 mins.)
JUNE 27 SAT 8 PM
RUN BOY RUN
GERMANY/FRANCE 2014
DIRECTOR: PEPE DANQUART
Based on the r eal life s tory of Yoram Fridman, who escaped the Warsaw Ghetto when he was 8 years old, we meet Srulik on the run in winter of 1942/1943. The Polish countryside through which he traverses underscores both his diminutive frame and the sheer solitude of his trek. Through a flashback, we learn Srulik's father's parting advice: to be brave, to be strong, to change his name, but to never forget he is Jewish. And Srulik—who renames himself Jurek Staniak—is ever faithful to his father's words. Under the constant threat of Nazis, Srulik acquires the necessary skills to survive through the kindness of strangers, including a group of Jewish orphans, a kindly Catholic mother, and a compassionate blacksmith, but he can never stay in one place long. In Polish, Yiddish, Hebrew, and German with English subtitles. (112 mins.)
JUNE 28 SUN 4:15 PM
THE ZIONIST IDEA
ISRAEL 2014
DIRECTORS: JOSEPH DORMAN, OREN RUDAVSKY
This ambitious examination of the origins, meaning and future of the Jewish national movement chronicles birth at a moment of crisis to the thriving democracy of today. The film opens in the shtetls of Eastern Europe, and then recounts the early settlement of Palestine and the resulting Arab clashes, the evolution of disputed occupied territories, the rise of the revisionist movement, and the ensuing ideological debate over Zionist ideals. At a time when Israel's direction is questioned by friends and enemies more than ever, THE ZIONIST IDEA seeks to contextualize the triumphs and trials of the Jewish homeland. (150 mins.)
JUNE 28 SUN 7:30 PM
24 DAYS
FRANCE 2014
DIRECTOR: ALEXANDRE ARCADY
In 2006, 23-year-old cellphone salesman Ilan Halim was abducted on the outskirts of Paris by a multiracial gang and held for ransom. Though just an ordinary, working-class guy, the thinking was that because he was Jewish, he must be rich. Faithfully reenacting events from the perspective of various characters, 24 DAYS dramatically tracks a massive, but futile, police investigation doomed by near misses and a failure to recognize the case as a hate crime. Paralleling the hunt and Halim's harrowing captivity, is the story of a powerless family having no choice but to put their trust in the hands of authorities as they endure the torment of the captors. (110 mins.)