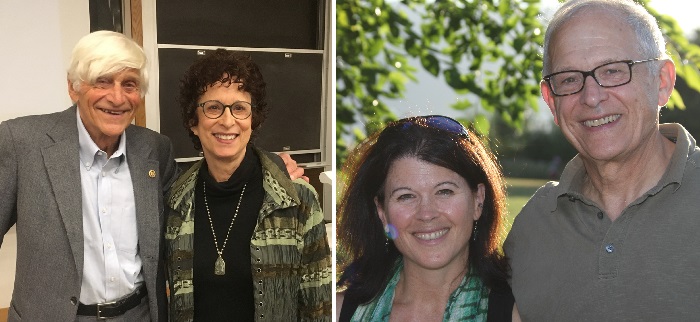 PHOTOS: Left, George Landau and filmmaker Nancy Margulies; right, Rabbi Ariel Stone and Dr. Joseph Thaler.
A Holocaust film being screened in Portland this month has a strong local connection.
"Lies and Miracles: Childhood in a Siberian Labor Camp" will screen at 7 pm, Feb. 20, at the Oregon Jewish Museum and Center for Holocaust Education. Following the film, filmmaker Nancy Margulies and the film's star, George Landau, will talk about the film and answer questions.
In 1939, World War II broke out as Nazi Germany and the Soviet Union invaded Poland. About 1.7 million Polish people — targeted for their beliefs and class — were deported to slave labor camps in remote Siberia. More than half didn't survive. But Mark and Etta Landau – along with their 7- and 9-year-old sons, George and Henry – did.
Congregation Shir Tikvah joins the museum in sponsoring the event.
"Our particular interest in this film is the family connection to one of Shir Tikvah's founders," says Katie Schneider, Shir Tikvah's director of education and interim administrator. "Dr. Joseph Thaler, medical director of the Oregon Medical Board, is George Landau's cousin. Dr. Thaler's father sponsored the Landau family to come to the United States after the war. Dr. Thaler has been a strong supporter of Shir Tikvah since its founding. He is married to Rabbi Ariel Stone."
OJMCHE publicity for the program reads: "Join us for a screening of this timely documentary chronicling the power of living one's values and discovering the miraculous during the harshest of times."
In an interview with The Ark Newspaper before a screening in California, the filmmaker said of Landau's story: "It was a very difficult, dark time, but what he told me about were these little positive moments that occurred. Instead of talking about a journey of sorrow, he talked about a journey of miracles."
A description of the film on OJMCHE's website reads: "This is the story that Montana filmmaker Nancy Margulies — George and Henry's cousin — opens up in the new documentary 'Lies and Miracles.' In about 40 minutes, interviews with George Landau and family friend and fellow survivor Irenka Taurek, archival footage and Margulies' original art skillfully present an experience that drastically changed the course of lives and history and the film's star, George Landau."
Tickets are $10, or $8 for OJMCHE and Shir Tikvah members. For tickets, visit: http://www.ojmche.org/tickets/film-screening-lies-miracles