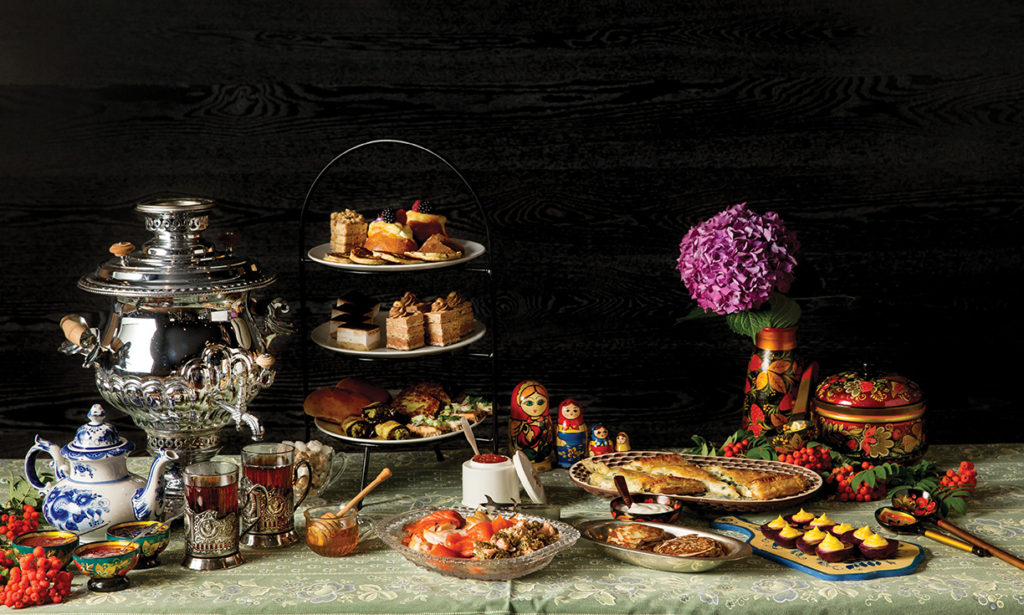 A little over a year ago, award-winning chef Vitaly Paley took the reins at the Heathman Hotel. He transformed its dining room into Headwaters, a Pacific Northwest seafood- focused restaurant. The Belarus-born Vitaly had a particularly intriguing vision for the Heathman's Tea Court Lounge, which used to offer an English-style high tea with buttermilk scones and jam. "The Heathman restaurant and bar that was there for many years had a longstanding tradition of serving tea," explains Vitaly. "When we took over the restaurant, because of my heritage, it only made sense to explore the Russian version of tea as opposed to continuing the English tradition."
When asked what is unique about the Russian tea, Vitaly waxes nostalgic for centuries-old traditions. "Russians have a ritual associated with drinking tea, and it's centered around the samovar, an urn that keeps the water hot. In the old days before electricity, you would take it outside, get some twigs and pinecones, build a fire inside the little stack that goes through the samovar, fill it with cold water and bring it to a boil. Then you would take it into the house and put it in the middle of the table." The samovar has become a symbol of Russian hospitality, and tea is a social event.
Vitaly grew up appreciating his mother's teapot collection.
As a child in the former Soviet Union, he was not allowed to practice the Judaism of his ancestors, so the tea was an important household ritual. The chef has extended that ritual to the Tea Court Lounge, which he has adorned with tea-related artifacts. His mother's precious teapots and a friend's 300-yearold engraved copper samovars are on display. As word travels about the Russian tea, the samovar collection increases. Vitaly laughs about it and says, "A woman walked in; her husband used to be a diplomat in St. Petersburg, formerly Leningrad, in the 1970s. They brought back a samovar in their suitcase.
It's all banged up and really old, but it's a wonderful piece of history."
Afternoon tea at the Heathman now features a selection of Russian savories and sweets. "Some of the dishes are pretty standard Russian fare like piroshki stuffed with mushrooms,"
remarks the chef. "There are stuffed eggs and buterbrodi, small open-faced sandwiches on black rye with a little bit of butter and a variety of different toppings like smoked salmon." There is only one meat item on the menu; the rest are all vegetarian or fish based.
Sweets include one that involves a family heirloom. "There's a cake called steopka, my grandmother's recipe. It's a layer cake with cheese and sour cream, and a little bit of sugar, vanilla and cocoa. I've been eating this cake for long as I've been eating, and it's something that's pretty special to us."
The tea started off as a holiday event at the Heathman, but Vitaly plans to continue it year-round. For reservations and more information, visit headwaterspdx.com/russian-tea.
Anche la Svizzera ha una sorta di Gosnab e Gosplan sotto forma di un'agenzia chiamata Bundesamt für Che cos'è il Vardenafil wirtschaftliche Landesversorgung BWL. Ma si occupa solo dei dati sui farmaci "essenziali". Esiste anche una fonte privata sulla situazione delle pillole nel Paese: è questo sito webLink esterno, creato dal sedicente "capo farmacista" del Paese, Enea Martinelli (Enea MartinelliLink esterno).