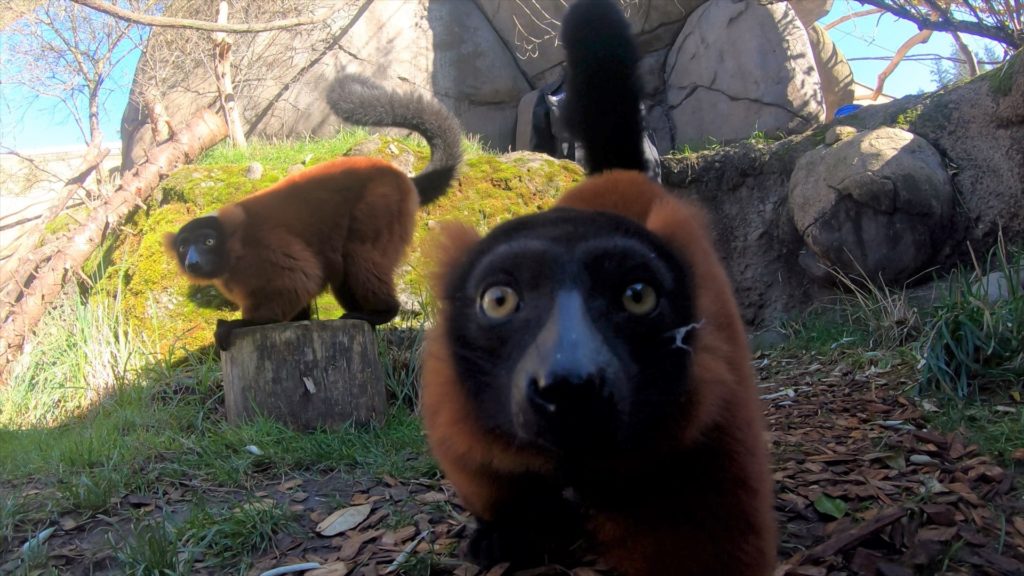 PHOTO: Red-ruffed lemurs Thalia and Calliope exploring their new habitat. Photo by Kelsey Wallace, courtesy of the Oregon Zoo.
The Oregon Zoo welcomed two red-ruffed lemurs this week, bringing the total number in the conspiracy — the name for a group of lemurs — to seven. At 2 years old, twin sisters Thalia and Calliope are the youngest members of the family, and also the largest.
"The red-ruffed lemurs are a bit bigger than the other species in the group," said Asaba Mukobi, the zoo's senior primate keeper. "And of course, their bright red fur makes them easy to identify."
Lemurs are popular at zoos around the world. In Israel, a red ruffed lemur at the Zoological Center Tel Aviv-Ramat Gan made news for his accurate predictions for the 2014 World Cup. The lemur, named Max, made his predictions by choosing a food box. There are three options: two with team flags, one with 'tie/draw' written on it. Max correctly predicted seven out of the first 12 matches, including his prognostication that defending champion Spain would be knocked out of the World Cup 2014 early on.
For video of Oregon's two new lemurs, visit: http://bit.ly/redlemurs
Visitors can see the red-ruffed lemurs exploring their new habitat on their own this weekend, and next week the zoo's three ring-tailed lemurs and two black-and-white ruffed lemurs will join them. All lemurs are native to Madagascar, and it's not unusual for several species to live in the same space.
"Lemurs are naturally very social," said Mukobi. "Wild lemurs live in big family groups, and different species do really well together. Plus, the new lemur habitat is quite large, so each family group can have their own space when they choose to."
The Oregon Zoo's lemurs recently relocated to a new home in the Africa area of the zoo. Its many water features, trees and rock formations make it easy for the furry primates to separate into family groups, but there's still plenty of room for all seven to spend time together.
Calliope and Thalia arrived at the zoo last month and have been getting to know their keepers behind the scenes. Caregivers say they're settling in well, and the two red-ruffed lemurs quickly began exploring their new surroundings and introducing themselves to the rest of the group.
Though their inquisitive faces and longer snouts resemble foxes, lemurs are actually prosimians, a suborder of primate known for their wet noses and keen sense of smell. There are more than 100 known species of lemur, all found in only one area on Earth: Madagascar and the nearby Comoro Islands. Due to a combination of deforestation, habitat loss and poaching, lemurs are one of the most endangered mammal groups in the world.
The new arrivals came to the Oregon Zoo on a recommendation by the Association of Zoos and Aquariums' Species Survival Plan for lemurs — a cooperative program among accredited zoos that helps create genetically diverse, self-sustaining populations to guarantee the long-term future of animals. These SSPs also support relevant field projects, research and public education to help prevent animal endangerment and extinction.
Support from the Oregon Zoo Foundation enhances and expands the zoo's efforts in conservation, education and animal welfare. Members, donors and corporate and foundation partners help the zoo make a difference across the region and around the world.
The zoo opens at 9:30 a.m. daily and is located five minutes from downtown Portland, just off Highway 26. The zoo is also accessible by MAX light rail line. Visitors who travel to the zoo via MAX receive $1.50 off zoo admission. Call TriMet Customer Service, 503-238-RIDE (7433), or visit trimet.org for fare and route information.